UNIZULU Language Policy at the forefront during COPAL Meeting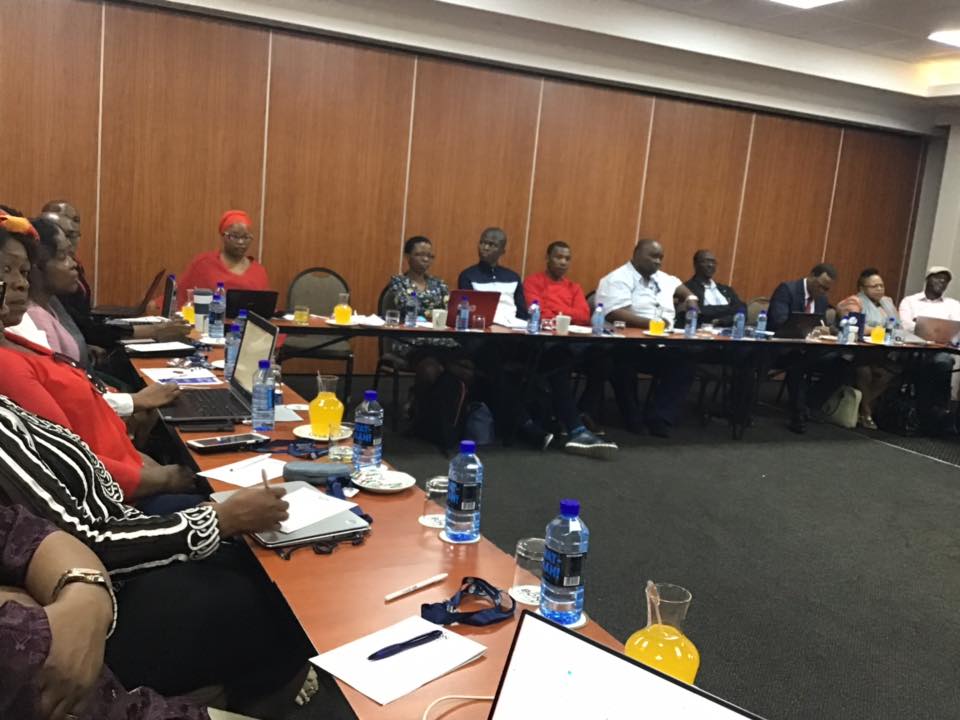 The University of Zululand hosted a group of delegates from various universities during Community of Practice for the Teaching and Learning of African Languages (CoPAL) in South Africa which was held in Empangeni on Thursday, 17th October.
CoPAL Community of Practice for the Teaching and Learning of African languages is the sub-committee of Universities South Africa (USAF). This community of practice aims among other things "… to provide a structured opportunity for members of faculty to collaborate, network and exchange ideas on issues of common interest or concern, as well as recommending strategies for the sector to enhance access and success in the teaching and learning of African languages in the public universities."
In his opening address the Deputy Vice- Chancellor: Institutional Support, Professor S. Seepe alluded that if you deny the people the opportunity to read and write in their language, you deny them their basic right of the right to be themselves which is their identity. "It will be a great gain not only for UNIZULU but for the reclaiming of our heritage when students are able to study for any degree in an African Language, each faculty must have a module that can be taught in an African Language adopted by that institution remember that language is a bout justice"he asserted.
Zooming in on the UNIZULU Language Policy was the background presentation and future plans that are in the pipeline in ensuring that issues of languages are afforded due diligence approach. Mr Nhlanhla Cele: Executive Director: Institutional Planning and Interim Executive Director: Infrastructure & ICT Services in his presentation outlined that it is important to note that we are in KwaZulu Natal and the majority of the students we get are coming from Quantile 1 to 3 which are deprived of resources. The Quantile system is the system that was introduced by government in response to unequal access to quality public schooling. Under this system, schools are categorised into 5 groups (quintiles) based on the relative wealth of their surrounding communities. Schools in the poorest communities are classified as Quintile 1 and schools serving the wealthy communities are classified as Quintile 5. Quintile 1, 2 and 3 schools are not allowed to charge fees and are often referred to as no-fee schools that is how dire their situation is perceived to be. Therefore as the majority of our students comes from such background the issue of language of instruction is the main concern as this may be a contributor to the high drop out and failure rate.
Transformation at the University is imperative and language is an integral component of the transformation agenda, Mr Cele commented. "The University of Zululand is teaching using English, it is currently in the dialogue of establishing the status  of English as a medium of instruction. The University is exploring if using English, Isizulu and Sign Language as the official languages of the University is the way to go or what are the other alternatives. The University must also establish if the  use  of Isizulu is for  teaching purpose or it is  to develop terminology or  it is an option when students are struggling"he said.
In ensuring readiness the University has developed an integrated transformation plan, reference groups for language implementation plan it has further  make  budget allocation, implementation action plan and fast-tracked conversations with experts in looking for new possible learning areas seminar, as well as exploring new learning programmes. This are some of short term planning initiatives to ensure readiness of the language policy
Long term initiatives that UNIZULU will roll out in future includes creation of a Centre of African thought leadership African languages that centre will be fully fledged e with language laboratories and dedicated infrastructure in-order to prioritise and ensure a fully-fledged centre of knowledge
It is encouraging to see more disciplines partaking in the language development initiatives. This is indicative of UNIZULU's commitment to the intellectualization of the indigenous languages. The consultation workshops is the first stage in the language policy development process. The development of the language policy is in consonant with UNIZULU's pursuit of the intellectualization of isiZulu language so that it carries the scientific rigors of research, teaching and learning. The terminology will ultimately be made accessible through open source technologies, and thus will be available for researchers, students and government departments.
Written by Gcina