BUILDING FRUITFUL RELATIONS WITH LOCAL PRINCIPALS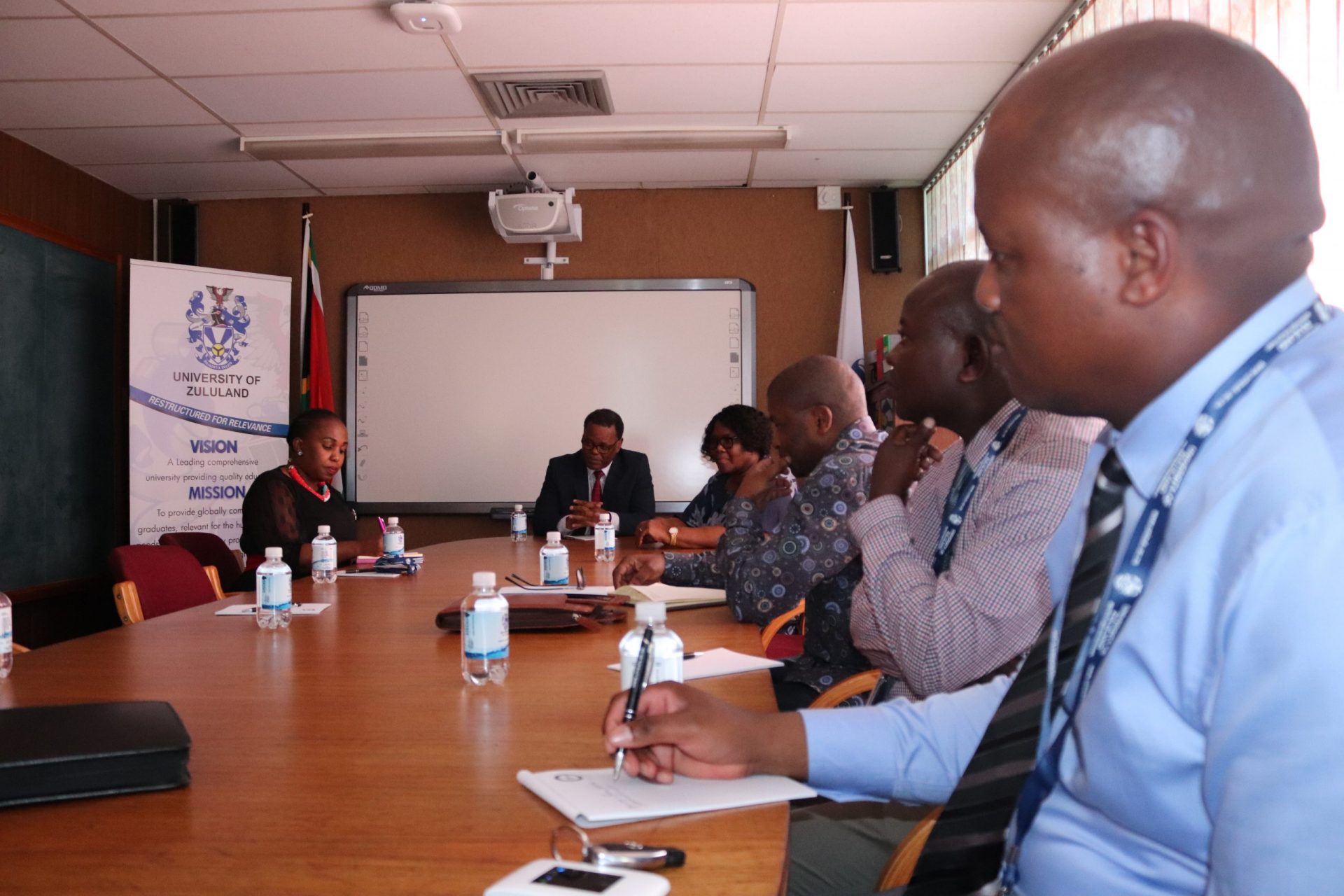 The University of Zululand Rectorate met with Principals of KwaDlangezwa school on Thursday 17th October with an aim of strengthening relations post the students protests in September. The meeting was precedented by violence demonstrations conducted by University students which saw learners being forcefully evacuated from classrooms thus disrupting the teaching and revision schedule for schools.
The University Vice-Chancellor, Professor Mtose viewed this engagement session as pivotal for the sustainability of the University. "The University is at the forefront of knowledge production and it play a major role in the Province and in S.A as a whole, our university slogan which is My Unizulu, Your Unizulu, Our UNIZULU is a clear demonstration of the university that is inclusive for all as it understood it's role and mandate very clearly as a national asset". Further the Vice- Chancellor reiterated the call by the Minister of Police when he expressed that violence and infrastructure damage will not be tolerated and all those implicated must face the consequences of their actions.
The Meeting which was also attended by the District Director for King Cetshwayo, Dr David Chonco and The Circuit Manager Mr Mthiyane agreed that the engagement session was overdue because both parties need to have ongoing robust engagements in discussing issues of mutual interests.
As part of readiness and to ensure that there is seamless communication between parties it was agreed that a database of local schools with contact information should be accessible in order to ensure that during upheaval moments the school authorities are alerted timeously for them to take decisive action towards ensuring learners safety. Further the Vice-Chancellor committed to reviving the Bursary scheme that will benefit the learners from neighbouring high schools as part of good citizenship.
The District Director, Dr Chonco on behalf of the Department of Education appreciated the gesture that was presented by the institution and he further advised that the his district stretches as far  Nkandla therefore he will appreciate if this gesture is extended to schools in that area as well. He further requested if counselling services can be arranged for schools which were affected as some learners are still exhibiting trauma signs.
Going forward it was decided that school recruitment drives will be focusing on neighbouring schools in order to restore and cement relations with neighbouring communities. Local schools will get first-hand information on UNIZULU course offerings and financial assistance information.