Celebrating UNIZULU Administrative Professionals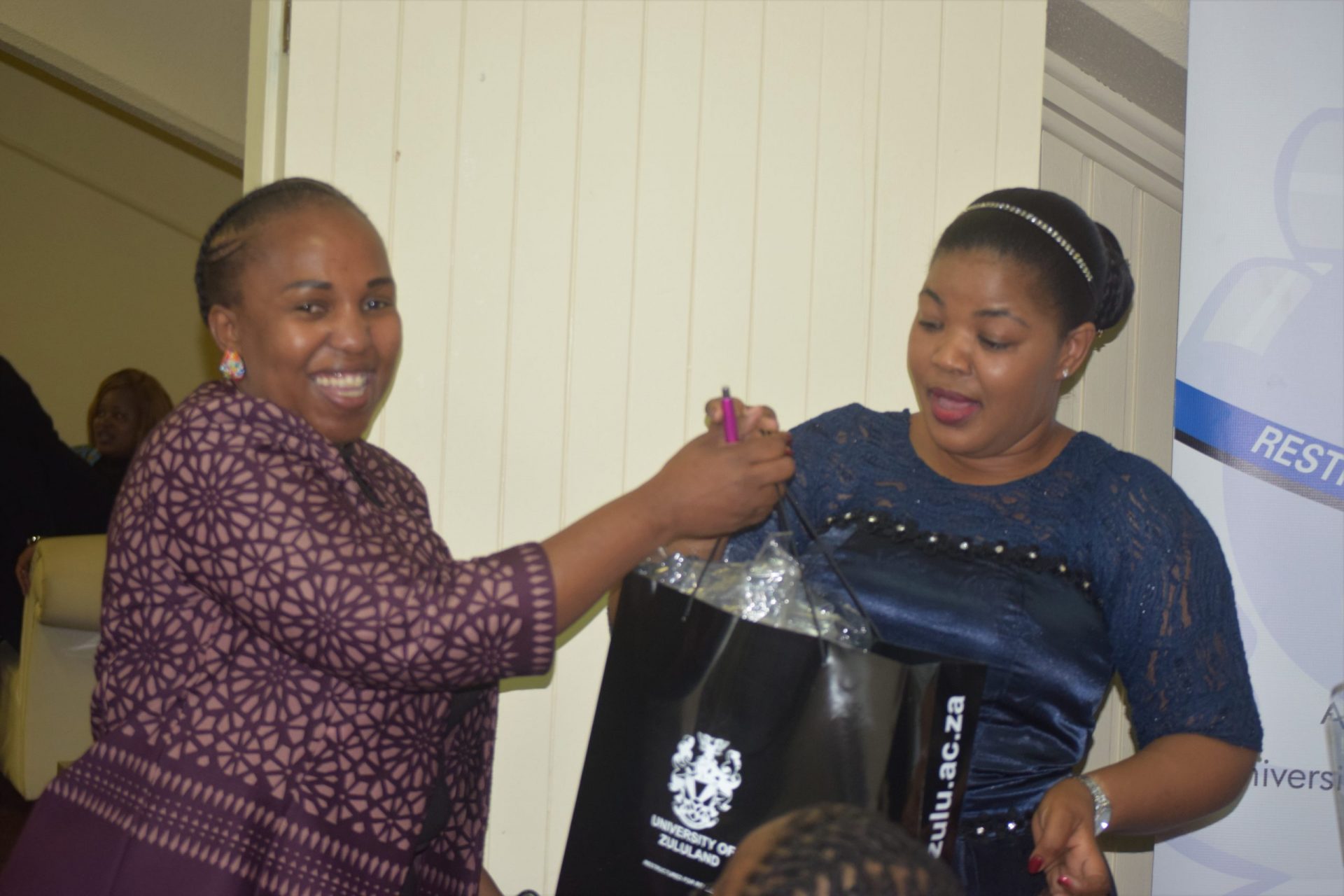 Chocolates, cards and special messages were the order of the day during UNIZULU's recent Secretaries Day event which was held at the Vice-Chancellor's Lounge in the KwaDlangezwa Campus.
Secretaries Day, also known as Administrative Professionals Day, is observed in certain countries to acknowledge and honour secretaries and administrators for their invaluable professional support to their line managers.
During their event, UNIZULU administrative staff members were seated in golden brown tables creatively decorated with assorted sweet treats and inspirational messages. The guests were warmly welcomed by Communications and Marketing Director Gcina Nhleko-Mdluli who emphasised that the purpose of the event was to show the University's deep appreciation of its most valuable support staff members. The important role played by secretaries, according to Nhleko-Mdluli, has a direct bearing on the institution's development.
The programme started on a serious note but Smangele Simelane, Specialist: Employee Wellness, swiftly shifted the mood to a lively one by facilitating some fun interactive activities which were aimed at encouraging camaraderie and unison among the administrators.
To deliver the guest speech, the institution invited radio personality Simangele Qhawekazi Myeza who shared powerful words of wisdom drawing from her personal experiences. She applauded UNIZULU's administrative staff, who, in her opinion are the backbone of their respective offices, for going beyond the call of duty. "Dedicated administrators are like trees; they will always bear fruit no matter where they are stationed. They won't beg for the approval of others nor will they lower their working standards and produce fewer fruits," said Myeza.
She further encouraged administrators to become producers in their personal and professional lives, adding that they should relentlessly pursue their dreams.
According to Deshnee Chetty-Sherief, an administrator in the Faculty of Education, the event was deeply appreciated because it showed administrators that despite being in an academic-focused environment, their integral roles within the institution were acknowledged and recognised. "Events such as these give us the energy we need to continue being effective in our roles," she highlighted.
Nothando Zungu, an administrator in the Registrar's Office, concurred with Chetty-Sherief, adding that the University chose an extremely motivational guest speaker who spoke about relatable topics that gave her knowledge she wasn't expecting.
The event ended on a joyous note with a vote of thanks from the Vice-Chancellor's Personal Assistant Mpume Bhengu who saluted her peers and paved the way to a deliciously prepared luncheon to conclude the festivities.
– Hlumelo Nyikana
Caption
Communications and Marketing Director Gcina Nhleko-Mdluli handing over an appreciation gift to guest speaker Simanagele Qhawekazi Myeza.