UNIZULU'S CMD SCOOPS AWARDS AT 2019 MACE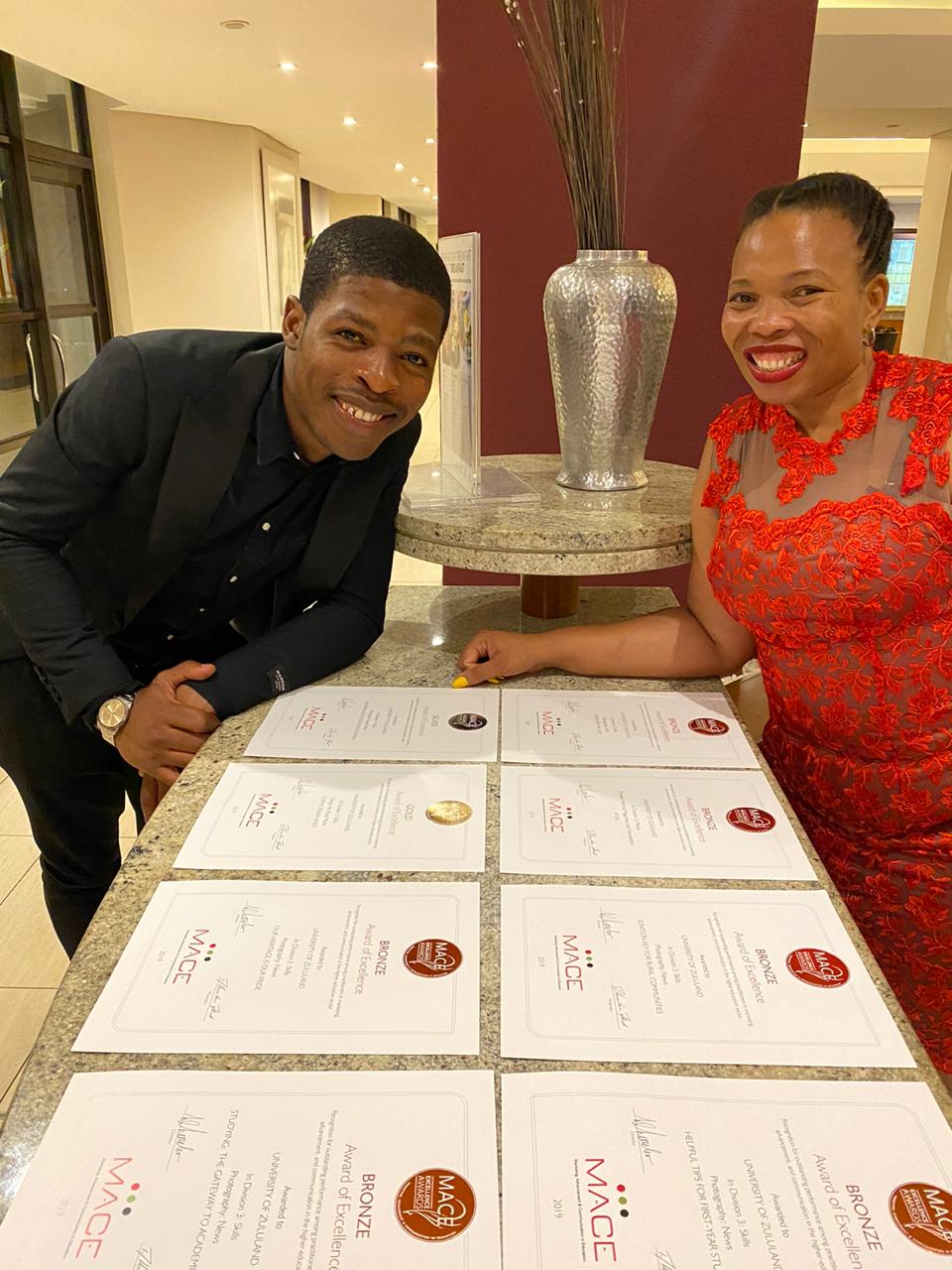 "A winner is someone who recognizes his God-given talents, works his tail off to develop them into skills, and uses these skills to  accomplish his goals.".
This quote by Larry Bird was substantial during yesterday's (28 November 2019) Marketing, Advancement and Communication in Education (MACE) Excellence Awards, when the University of Zululand's (UNIZULU) Communications and Marketing Division (CMD) scooped eight awards (inclusive of the well contested Silver and Gold).    
MACE congress is an annual event which recognises specialists from the fields of marketing, advancement and communication from the higher education sector. Here, the experts discuss and share ideas and best practices in their respective fields. This year's theme was: We are turning 30 – more has changed since MACE came into existence than in the 2 000 years before that – what's next? This coincided with MACE turning 30 years since its inception.
Aimed at recognising and celebrating excellence and the achievements by communication and marketing practitioners in the higher-education sector, the 2019 MACE Excellence Awards were held at the glamorous and gleaming gala event at Running Waters, Port Elizabeth.
CMD won six bronze awards under different categories and they were pitted against their peers from over 20 institutions from all over South Africa. This was the fifth time the University collected these awards and it was the second time bringing home gold. Further to scooping the bronze awards, CMD won a silver award in division 3, Skills for News Media for a news story titled Ntombiyevoti Votes for Education. The story was written by Precious Shamase, Communications Officer, during the 2019 graduation ceremonies. Our biggest winner in division 3, Design for Visual Media was CGPMG Teaser Video that was produced to promote the CGPMG Conference. The masterpiece was a creative by Hlumelo Nyikana, Multimedia Journalist.
Bronze Medal Categories
Our Heritage is Our Pride (picture by Sphamandla Gumede, PR Assistant)
Studying: The Gateway to Academic Success: (picture by Sphamandla Gumede, PR Assistant)
Ignition Key for Rural Communities: (picture by Samkele Sokhela, Multimedia Journalist)
Helpful Tips for First Year Students: (picture by Sphamandla Gumede, PR Assistant)
Grad on the spot (video by Samkele Sokhela and Hlumelo Nyikana, multimedia journalists)
Printed Internal Magazine and Newsletters: #Tag
Delighted for the victory, Gcina Nhleko, Director Communications and Marketing, said: "Success is sweet. But it's sweeter when its accomplished thorough co-ordination, cooperation & teamwork. Thank you for challenging yourselves and acing it every time in such an extraordinary way! Well done Team CMD, your dedication and hard work speaks for itself.  What make this achievement profound is that we are competing with 26 institutions who are rated high globally and as a rural based university with scarcity of resources we make the most with less and we pitch our entries to the judging panel who adjudicates on excellence."
-Siyanda Mntambo-
Caption:
L-R:  Samkele Sokhela, Multimedia Journalist and Precious Shamase, Communications Officer during the MACE 2019 awards ceremony in Port Elizabeth.