Thipanyane ponders relevance of universities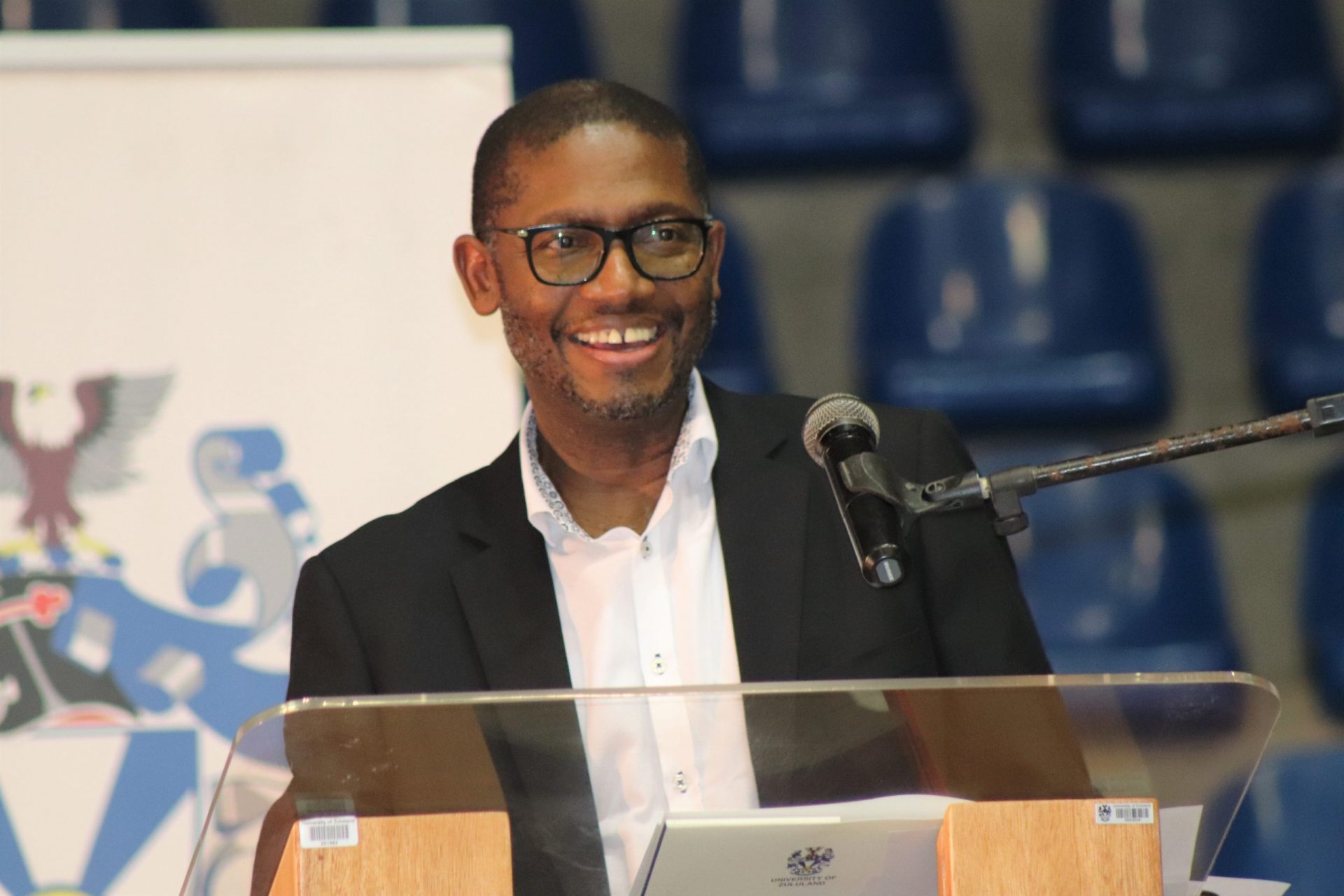 In order to produce leaders who will help improve the state of the country, institutions of higher learning need to be cognisant of the critical role they play in shaping society and thus take their rightful position.
This was the view of Advocate Tseliso Thipanyane, human rights activist and Chief Executive Officer of the South African Human Rights Commission, during his public lecture at the University of Zululand's (UNIZULU) KwaDlangezwa Campus on Wednesday, 19 February 2020.
Organised by the institution's Office for Transformation and Social Inclusion, the lecture was held in celebration of World Day of Social Justice on 20 February. The purpose of World Day of Social Justice is to promote efforts to tackle human rights issues such as poverty, exclusion, employment, gender equity and access to social well-being and justice for all.
Adv. Thipanyane's presentation was titled Upholding good citizenship and promoting a culture of human rights in a university space. In his talk, he unpacked the correlation between the state, universities and civil society and how the roles of each of these spheres impact human rights issues.
He highlighted that the core reason for the existence of universities is "to function as props in society". The graduates produced by institutions should be concerned about tackling societal issues such as poverty and the current Eskom power crisis. He said: "If everything falls apart in a society, the props have failed. The foundation; the pillars of society: this is the role one expects universities to play. Therefore, if chaos happens in our society, we must ask, 'What has happened to our props; what has happened to our foundation?'".
According to the activist, the efficacy of universities is reliant on how solid their foundation is. This, he elaborated, entails the quality and impact of the education they provide. He believes that the education provided by institutions of higher education should enhance the developmental needs of society and its members and enable members to play meaningful roles in the social, economic, political and developmental affairs of that society. It should also help maximise the potential and ability of the recipients.
Looking at the current state of institutions and the country, Adv. Thipanyane feels that the core function of universities is somewhat misunderstood. "If you look at the challenges in our society in the last five years, what does it say about those who run institutions, internally? But also what about those at a political level, who set policies and fund universities; what is their perception and understanding? What about those who are then consumers of the product, the students and staff. What is their understanding of the role of institutions? If we don't have a proper understanding it might explain then why, on one level, we burn our institutions and on the other level, we steal from institutions. We do all sorts of things that are not in line with what is expected."
Another part of the problem, Adv Thipanyane noted, is the fact that the design of our academic institutions was modelled on colonial approaches towards educating an African and therefore, their initial intent was never meant to advance and develop our societies. They were just designed to "fit and meet the needs of colonisers". The big question though is whether our institutions have transformed to play their roles as props of society.
Looking at the African continent, Adv. Thipanyane disagrees. He said the continent continues to be a mere producer of raw materials which are processed by overseas companies that yield large profits. In his opinion, university education should prompt students to think critically about finding solutions for such issues.
He concluded by saying that there will be no rest, nor peace until our institutions of higher learning play a meaningful role in advancing social justice and contributing towards the building of our societies and all its institutions into the South Africa we want; a South Africa where there will be dignity for all.
– Naledi Hlefane
Caption
Advocate Tseliso Thipanyane, Chief Executive Officer of the South African Human Rights Commission, during his lecture at the University of Zululand's KwaDlangezwa Campus, ahead of the World Day of Social Justice.