Promising Partnership Between the Department of Recreation and Tourism and the Zululand District Municipality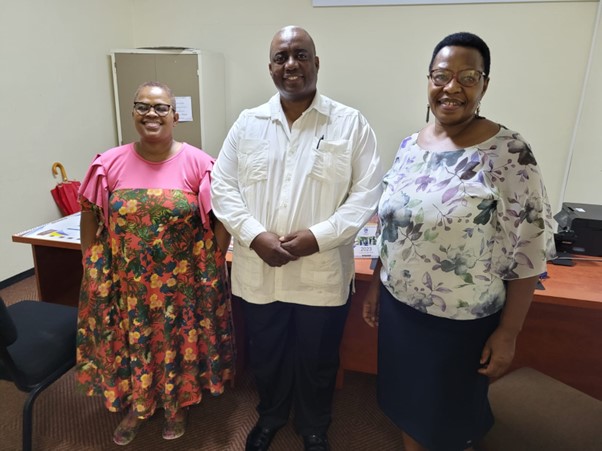 The Department of Recreation and Tourism (DRT) in the University of Zululand (UNIZULU) has started the year on a very positive note. It recently held a meeting with the tourism manager of the Zululand District Municipality (ZDM), Archie Khumalo, where a discussion about a collaboration between UNIZULU and ZDM, community development projects and the Zululand Heritage Route (R66) occurred. 
The DRT team was represented by Dr Samkelisiwe Nkwanyana, Prof Thandi Nzama, Mmeli Dlamini and Dr Gugulethu Nkosi who officially welcomed Khumalo. 
The R66 cultural heritage route is one of the core cultural heritage products which starts from Gingindlovu (Dokodweni) and stretches through Eshowe, Melmoth, Ulundi, Nongoma up to Pongola, offering Zulu culture, heritage products and experiences to domestic and international tourists. Attractions along this route include, among others the Spirit of eMakhosini, the Zulu royal family homesteads which include uMgungundlovu, Enyokeni and KwaKhangela Mankengana. Different cultural events are held annually along the R66 route such as Umkhosi wokweshwama, Umkhosi Womhlanga (reed dance), Umkhosi woswela and Indoni festival. 
The discussions on the formation of a UNIZULU–ZDM collaboration were part of data collection for departmental research led by Dr Nkwanyana and Prof Nzama. The study is titled "Igniting cultural heritage tourism in a culturally sensitive manner: The case of R66 Heritage Route in the Zululand District, KwaZulu-Natal, South Africa".  The findings will be presented at a conference that will be held on  14 and 15 June 2023 in Rotterdam, Netherlands. The conference theme is "Bridging Cultures through Travel: From theory to practice". 
One of the resolutions of the meeting was that a formal collaboration in the form of a Memorandum of Understanding between the UNIZULU and ZDM will be established. This collaboration will create more opportunities for research and also for the placement of students for work-integrated learning which is a credit bearing component of the B. Tourism degree. 
The last part of the discussions was on the participation of DRT staff and students in tourism development projects which will create opportunities for community engagement research. Through these activities, it is believed that the collaboration will be mutually beneficial to both UNIZULU and ZDM.
Caption
From left: Dr Samkelisiwe Nkwanyana, Archie Khumalo and Prof Thandi Nzama.