1st "YEAH!" FOR 1st REGISTERED STUDENT of 2019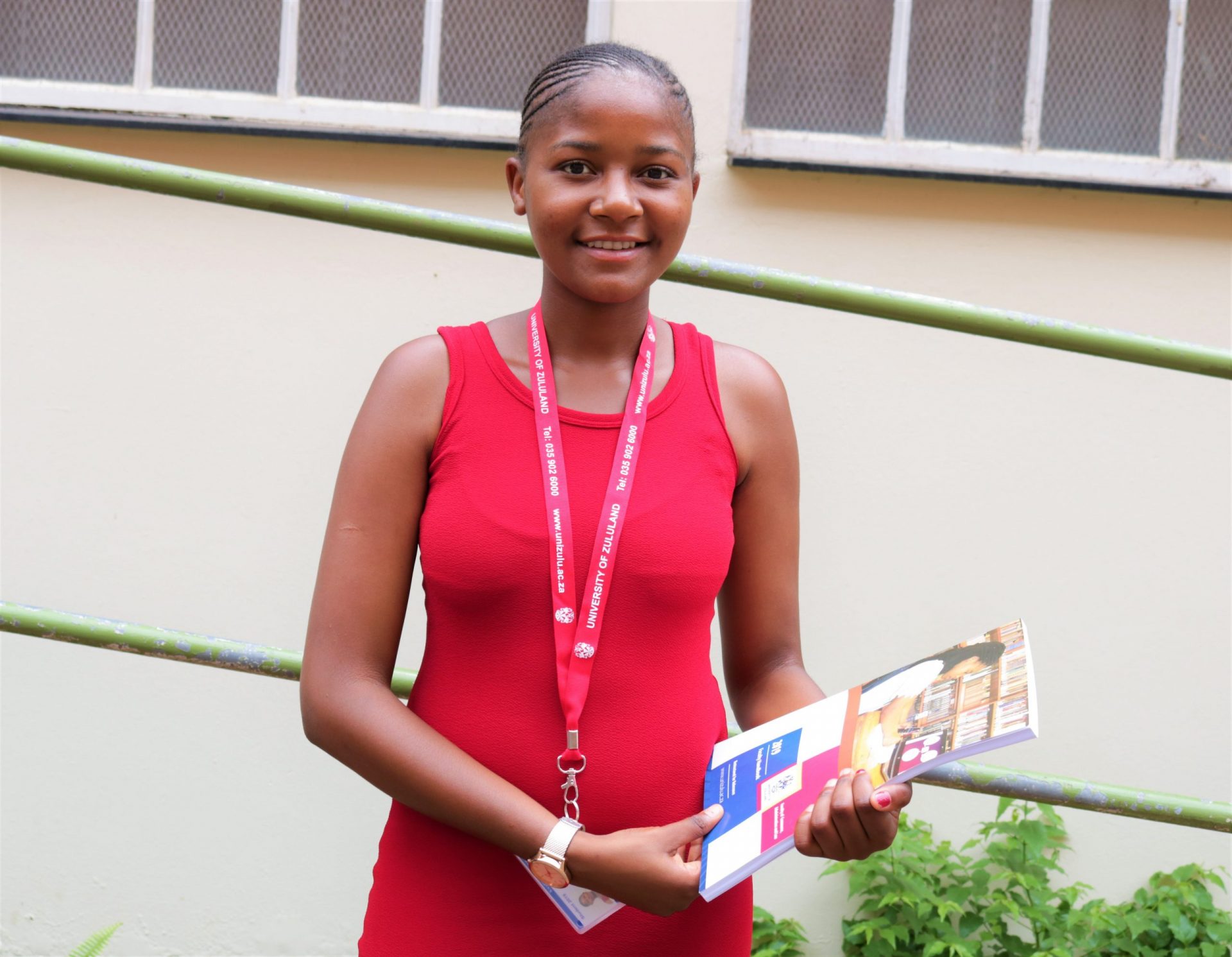 The University of Zululand's (UNIZULU) main KwaDlangezwa Campus was abuzz today (Monday, 14 January 2019) as it welcomed first-time entering students (FTENS) who had come to register for undergraduate programmes offered by the Faculty of Commerce, Administration and Law (FCAL).
Among scores of students who descended to register for various programmes in the mentioned faculty was Sindiswa Ntandokazi Biyela (17) who paved the way for all FTENS as she was the first individual to be officially registered at UNIZULU in the year 2019.
Born at Nhlangwini, Stanger, the top achiever from Ukukhanyakwezwe Secondary School's class of 2018 obtained a commendable 34 points for all her subjects, excluding Life Orientation.
Of her registration experience, Biyela expressed great excitement, saying the process had been "smooth and swift". "I have to say that, judging from the stories I always hear about registration proceedings in universities and long queues, I was anxious and assumed that I was going to stay here the whole day. But, everything went smooth and quick, because the university provided us with people by whom we were assisted with directions, basically about registration overall," she said.
On her reason for making UNIZULU her first choice, Biyela said she was attracted by the University's rich history of producing prominent individuals and leaders that playing vital roles in different industries that are helping the country in moving forward.
"I had several options. However, this university had to be my first choice because I believe and know that it is capable of providing me with quality education that I am seeking," she said.
The first-year BCom Accounting student has chosen the accounting stream based on her observation of the dire financial state of the country. To combat this situation, Biyela believes that the country requires a cohort of professionals with a commerce background to devise a strategy for intervention. She is confident she will be among the mentioned group of professionals. She also believes she has what it takes to put South Africa on the map, when it comes to solving financial and business matters.
Prospective students who received firm offers for programmes in the faculties of Arts, Education as well as Science and Agriculture will register for their courses on Tuesday, Wednesday and Thursday (15, 16 and 17 January). On Friday, 18 January, FTENS will have the final chance to register for programmes across all the four faculties.
– Samkele Sokhela
Caption
Sindiswa Ntandokazi Biyela, the first student to register at the University of Zululand in 2019.