Basic and Higher Education Meet at the UNIZULU Inaugural Principals Seminar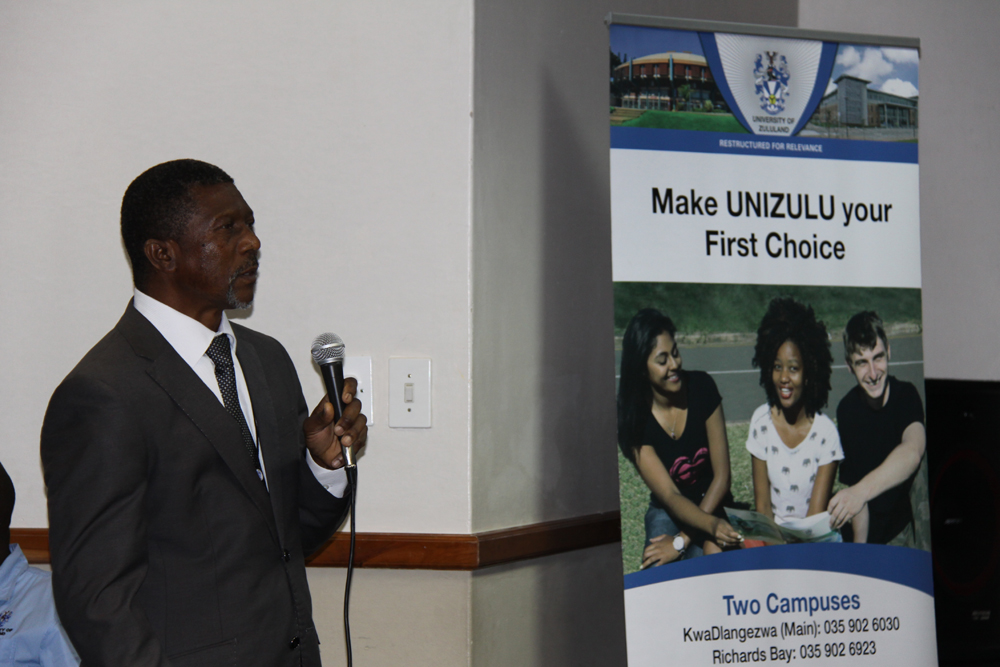 This afternoon (Friday, 28 July 2017), the University of Zululand held an informative Inaugural Principals Seminar at the Protea Hotel in Empangeni where the University and school principals engaged on issues relating to education.
Attended by high school principals from within the King Cetshwayo District Municipality, the seminar was organised by UNIZULU's Communications and Marketing department in a bid to create a sustainable partnership with the Department of Education and school principals. Another objective was to enlighten the school leaders on the UNIZULU learning model and qualifications on offer so as to assist principals in better preparing their learners for higher education.
Going forward, the event is intended to be held annually.
In his keynote address, Professor Jabulani Thwala, Psychology Department HoD at UNIZULU, likened schools, institutions of higher education, the departments of education and communities to a family; saying that together, these spheres play a critical role in moulding learners. "A motion has been taken. UNIZULU has said 'we know that it is not your sole responsibility to mould a (learner)'. We are therefore saying let us come together to mould these ideal learners," said Prof Thwala, also stressing that schools need to create environments that are conducive to learning; further elaborating that respect in schools- irrespective or race, background, gender or age- is vital.
"If we make a work environment conducive to all of us, we are likely to produce deans, registrars and students of a high calibre," said Prof Thwala.
In conclusion, Prof Thwala commended the school leaders (principals) for their great work and encouraged them to also appreciate the steps they have taken towards changing the future of their learners.
– Naledi Hlefane