Joining the Fight Against Gender-based Violence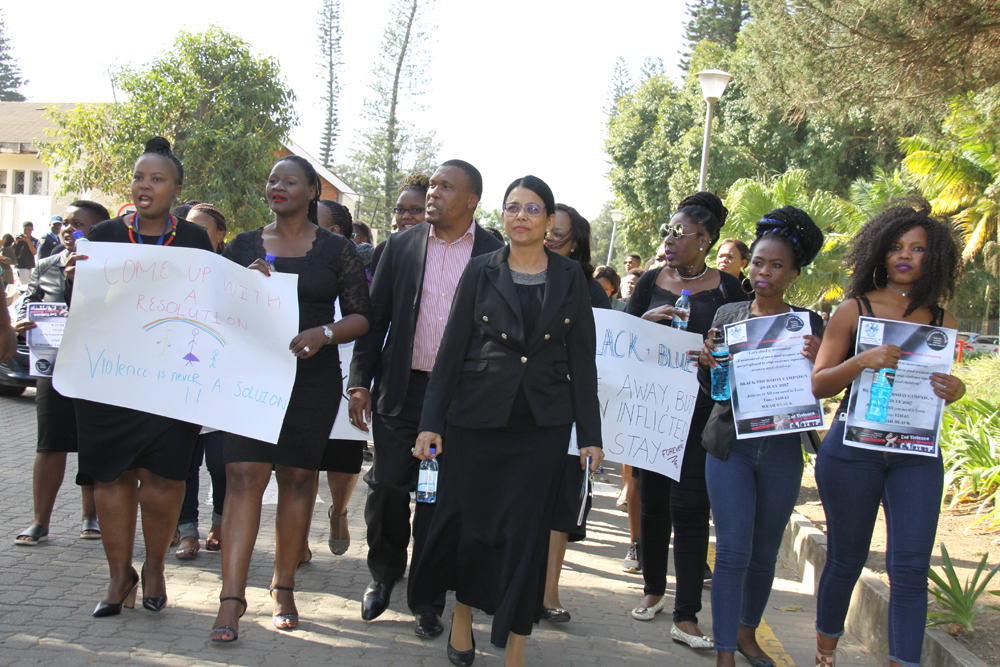 According to Statistics South Africa, one in four South African women is physically abused by a close intimate partner. The statistics also show that over 18 million South African children have suffered physical abuse.
In response to these overwhelming statistics, the Office of the Vice-Chancellor at the University of Zululand (UNIZULU) collaborated with the University's Student Services Department (SSD) in launching the Black Thursday campaign which aims to unite the UNIZULU community in the fight against the abuse against women and children as well as create awareness against gender-based violence.
Clad in black, large numbers of UNIZULU community members marched from the Student Centre Hall to the Main Gate (KwaDlangezwa Campus) on 20 July 2017, in peaceful unison; chanting strongly for the eradication of gender-based violence in society.  The message was clear: gender-based violence will not be tolerated anywhere within the University of Zululand.
"Violence against women and children remains one of the most tolerated violations of human rights; however, each one of us can do our bit to ensure that it is avoided", said Dr Yasmin Rugbeer, Director in the Office of the Vice-Chancellor. "Gender-based violence takes on many forms and affects every level and demographic of society. We as the UNIZULU community have important work ahead of us and I believe that together, we can contribute to the fight against gender-based violence," said Dr Rugbeer.
Lifeline Zululand was also invited to the event to encourage students to get tested for HIV/AIDS. The organisation implored students to "stand up" for one another. "We offer victims of violence emotional wellness regardless of gender, age and culture. We are available 24 hours a day to those people who require counselling in KwaDlangezwa, Esikhaleni, etc. Please don't wait until it's too late to contact us. Those not strong enough to stand up must ask a friend for help. Only together can we conquer gender based violence", said Purity Molalose Nzuza, Counsellor within Lifeline Zululand.
Black Thursday will be an ongoing initiative in the form of dialogue and debate within the UNIZULU community. The Office of the Vice-Chancellor in collaboration with the student Services Department also intends on raising awareness during the 16 Days of Activism in August.
UNIZULU is also in the process of implementing a Gender Forum to further add to the fight against gender-based violence.
– Hlumelo Nyikana