UNIZULU'S LEARNING AND WRITING CENTRE HOSTS ITS 4th ANNUAL CREATIVE WRITING COMPETITION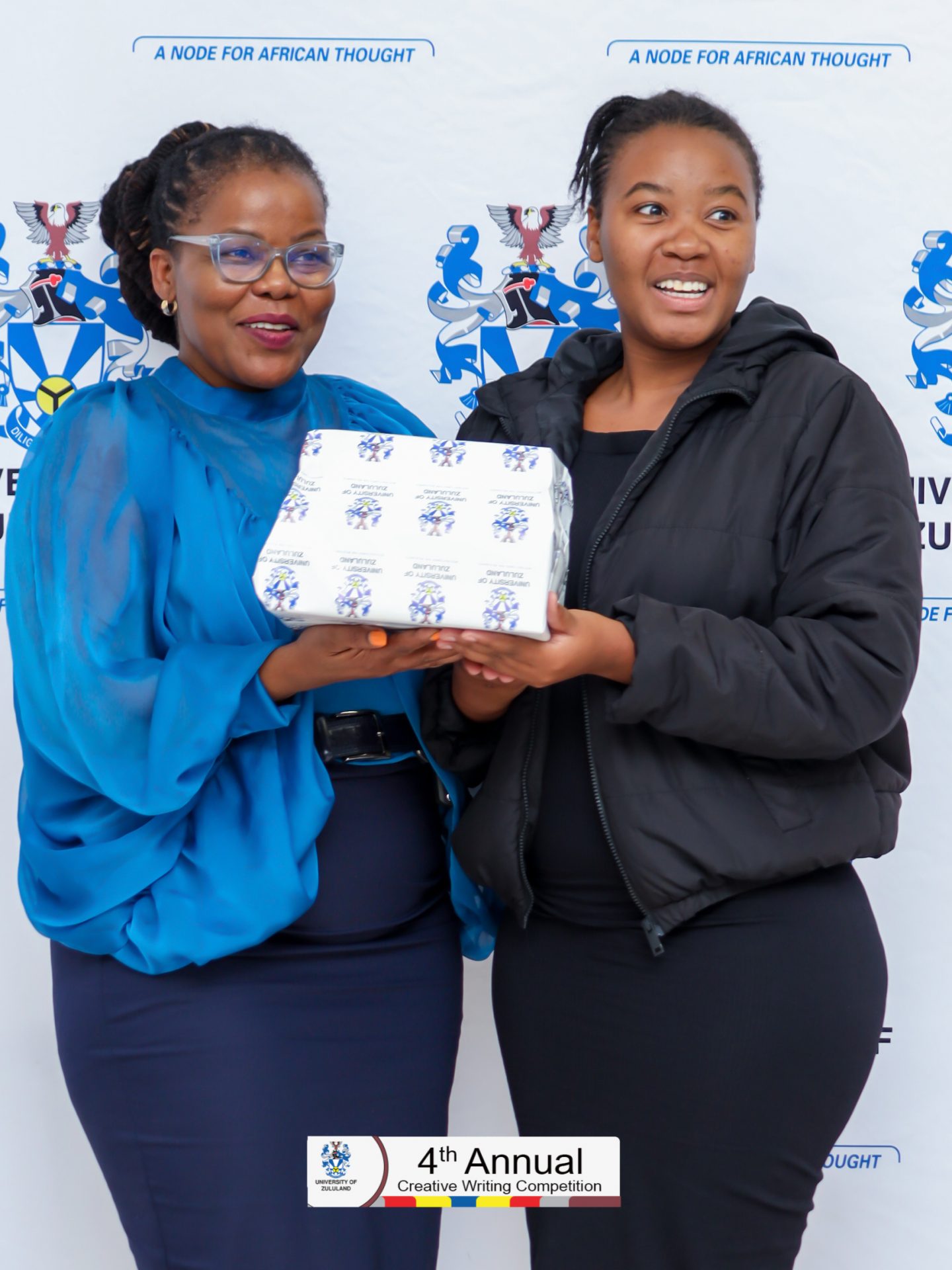 The fourth Annual Creative Writing Competition recently took place at the University of Zululand's (UNIZULU) Learning and Writing Centre.
Professor Sewela Mabusela, the director of the Teaching and Learning Centre, welcomed the attendees to the remarkable event.
The first session of the event included the welcoming, introduction of the guests and judges, address by Professor Sandiso Ngcobo (guest speaker) and presentations by participants showcasing their creative writing pieces and different attributes. The second session included entertainment in the form of astonishing poems and prize awards that were given to participants, judges, and the guest speaker.
The attendees were students from both KwaDlangezwa and Richards Bay campuses.
The competition was in celebration of International Literacy Day, that is celebrated on 8 September. The purpose of the competition was to gather and listen to the creative minds of the students, as it also aims to create awareness and importance of reading and writing to students. It also intends to motive and encourage students to have a reading and writing culture, not only in their academic discipline but also beyond those characters.
Yolisa Mgobhozi explained the importance of the International Literacy Day. "The International Literacy Day reminds us of the global community and about the importance of literacy for everyone across societies. As the Writing Centre, it is our right to mobilise our student's cooperation to greater levels of academic as well as personal development," she said.
Prof Ngcobo began by stating that reading contributes to our effective reading, as we get exposed to how professional writers write. He also mentioned that good readers are better writers. He added that students do not have to read what is only written in English but encouraged them to read what is also written in their African languages, to see how to put words together. He emphasised that reading and writing in university is a challenge for most African students and this is not only because of the language used but also because of the reading and writing demands that come with it. He explained that this is because students need to follow certain rules of writing as per the programmes they are registered in. All these factors cause tension and anxiety to students.
The speaker advised students that struggle with reading and writing to move from the known to the unknown by often reading and writing in their home languages.
Prof Ngcobo stated that cultured preferred learning styles can block learners from understanding a text and that according to Paulo Freire, "literacy should be purposeful, contextual and transformative".
Therefore, this is a challenge to lecturers as they are the ones that must be transformative in their teaching and learning. "Lecturers need to be transformative and do not impose Western ways of learning. They need to accept diversity and recognise students' experiences and cultures that may differ from what is imposed by the Western academic norms. Lecturers should be change agents; they will have to approach students' work with respect and understanding," said Prof Ngcobo.
Thembaliphi Ntshingila, the Writing Centre facilitator, gave a vote of the thanks. "I want to thank the audience, participants, judges, and guest speaker for attending the event. Thank you to our director for giving us the opportunity to conduct events like this and lastly, to thank the team for organising the event," he said.
The winner of the competition was Thembelihle Ngonyama, who spoke about "Mental Health of Students in Higher Education".
– Sinenhlanhla Ngcongo
Caption
Professor Sewela Mabusela, Director of the Teaching and Learning Centre, celebrates with Thembelihle Ngonyama, this year's winner of the creative writing competition.