Honouring the Contributions of the UNIZULU Choir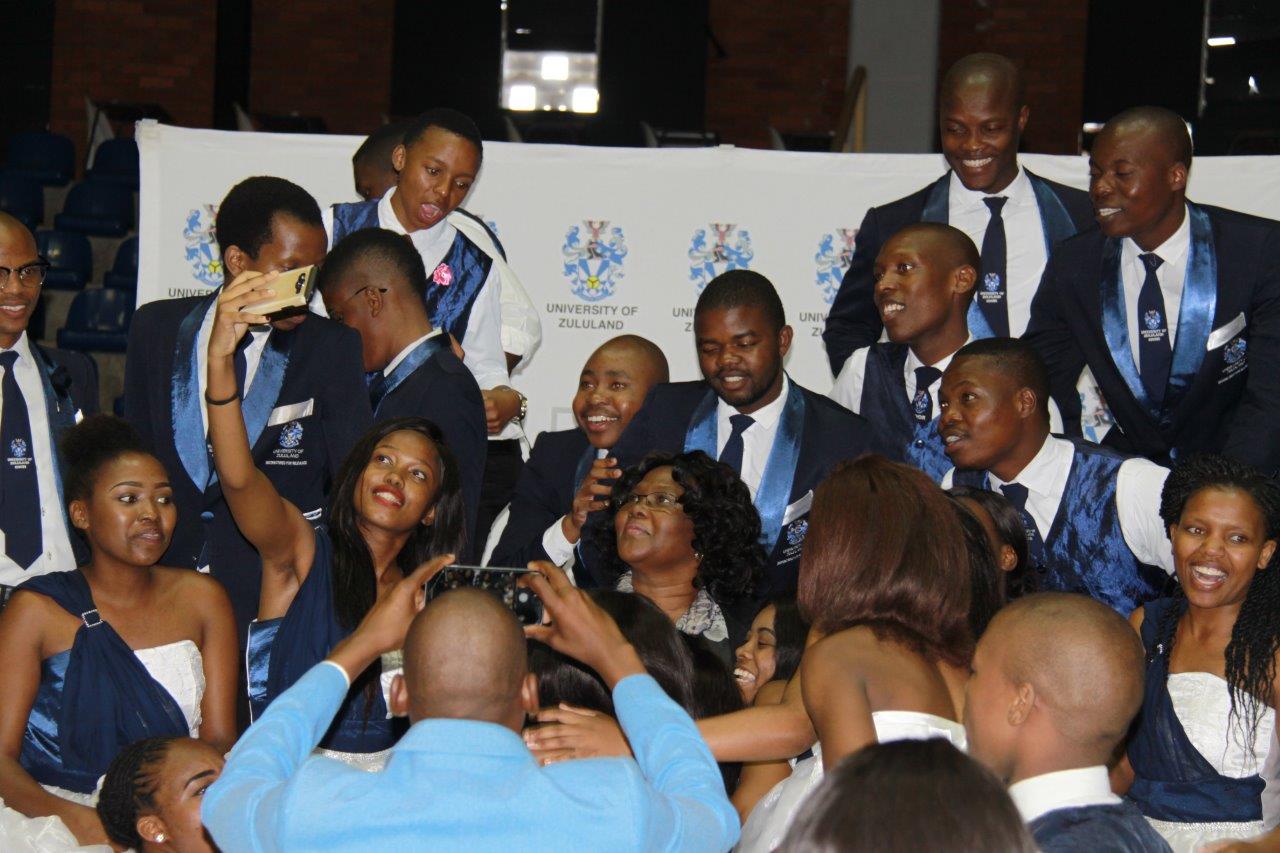 The University of Zululand recently honoured the positive contributions, commitment to the University and sterling successes of its Choir during a luncheon hosted by the University's management.
The award winning Choir has drawn positive headlines in the media where music is concerned and has provided outstanding service to the institution throughout the years. Some of its achievements include being invited to perform at well-established television music programmes both locally and overseas such as SABC's Imizwilili.
"You have made us proud as a university by going the extra mile," said Dr Yasmine Rugbeer, the Director in Vice-Chancellor's Office at UNIZULU. "We are here today to honour and salute you for your dedication and commitment. Our success is rooted in the loyalty, innovation and unfettered dedication of rare individuals like you," said Dr Rugbeer.
Professor Xoliswa Mtose, the Vice-Chancellor, acknowledged the Choir's contributions to the University throughout the years. "You are special people to this university. None of you came to UNIZULU because it was glamorous. None of you came to UNIZULU because it (only) had something to give you, (but) you came here because you wanted to give something (to the University). Today I honour you for what you have given to this University. We are a University that is known for its choir that can present itself so well," said Prof Mtose.
Bhekani Buthelezi, UNIZULU Choir Conductor and Manager, thanked management for its vote of confidence, saying that it is always humbling to have one's efforts recognised. "One scholar once said 'it is a skill to say thank you'. It is always humbling when your seniors recognise your effort. There are many employees in this university that are doing amazing things. We are excited that our turn has come as we are (today) being acknowledged for what we do. In most cases, especially in higher education institutions, when management meets with students there usually is a problem. Someone is unhappy about something. But in this case, management is saying thank you and we are humbled," said Buthelezi.
The choir's next anticipated highlight is next year's Europe experience where it will be touring Germany and meeting choirs from other continents.
– Samkele Sokhela
Pictured: The UNIZULU Choir and Prof Xoliswa Mtose, UNIZULU Vice-Chancellor, during the luncheon organised to pay homage to its (Choir) contributions to the University of Zululand.