Buhle Living Her Dream of Being a Teacher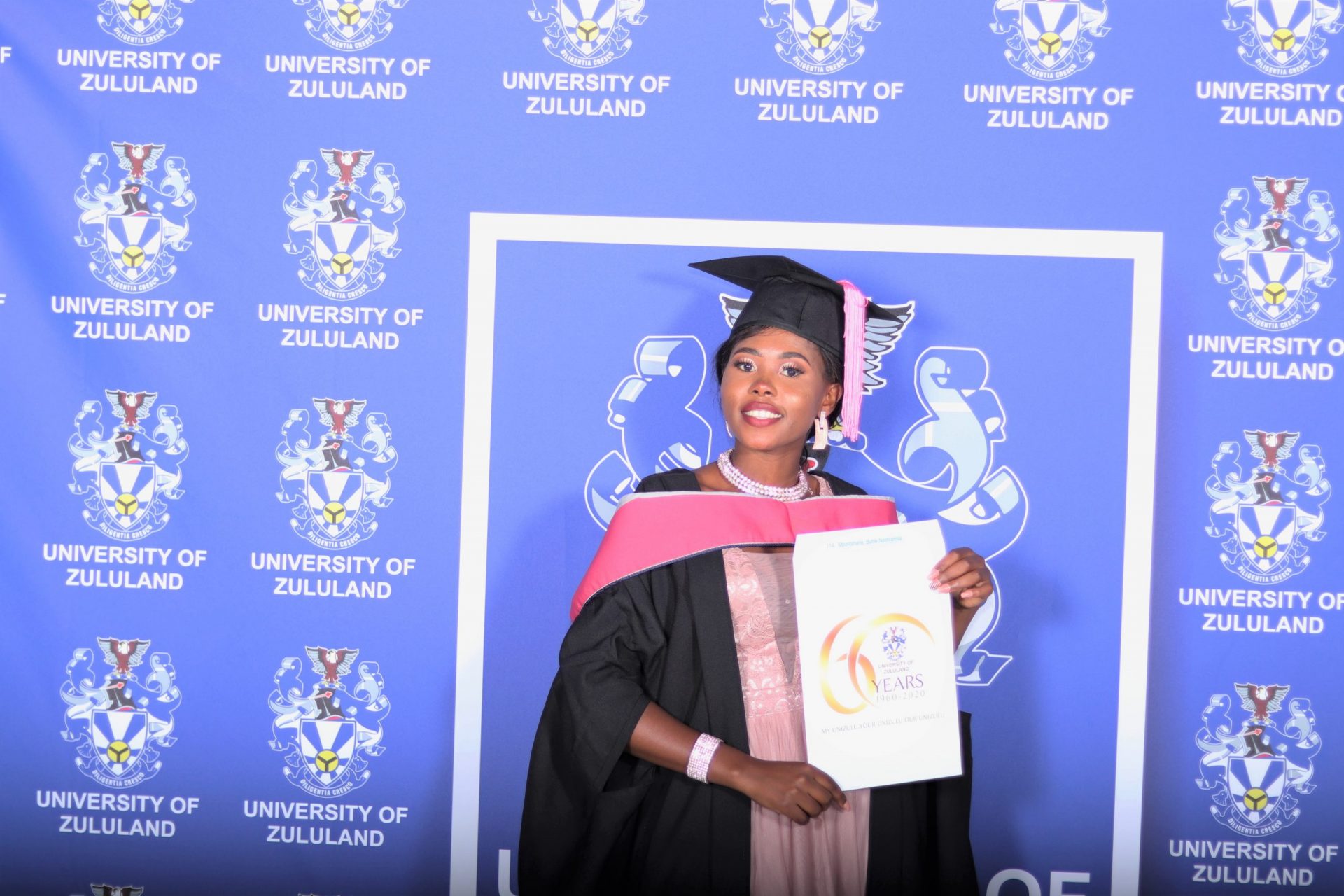 Trusting in George Washington Carver's quotes like "Education is the key to unlock the golden door of freedom", Buhle Nonhlanhla Mpontshane from KwaPhaweni, a remote area in Jozini located in the UMkhanyakude District, made it in spite of the hardships she experienced.
On Wednesday, 9 December 2020, Mpontshane was conferred with a Bachelor of Education in Intermediate and Senior Phase at the University of Zululand's (UNIZULU) King Bhekuzulu Hall. Her majors are maths, science and technology.
The 25-year-old is living with a disability that developed after she had fallen ill at the age of 14. She has a limb length discrepancy which required her to wear a surgical boot for support. She eventually had to stop wearing the boot due to the severe pain it caused whenever she was in motion. When one is suddenly affected by a health condition of this nature, acceptance is commonly an issue. In Mpontshane's case, realising that her life had changed was a situation she quickly made peace with.
"I was able to adapt easily as I am a humble person. I love God so much hence I spend most of my time worshiping at a nearby church. I can (honestly) say I am self-motivated and that is why it (is) easy to accept any challenge that I face in life," the devout Christian says.
She talks warmly of her family, especially her mom who is a domestic worker. Her father passed away in 2013 and since then, she and her four siblings have been raised by the widowed mother. Mpontshane completed her matric in 2015 at Malobeni High School in Jozini before she enrolled in UNIZULU's Faculty of Education in 2016. Her journey was not rosy as her mother was admitted in hospital in March 2017. Dealing with the pressure of university work and her personal life was difficult but she thanks her sister Mbali for being her pillar of strength during that painful period. She also acknowledges her classmates for their support and the institutional Disability Unit for facilitating various visits to many places and institutions where she met other people living with disability, by whom she was motivated even more to fight for her dreams.
The numbers cruncher and science enthusiast says choosing her career path was inspired by a conversation she had with her high school teacher. "My mathematics teacher saw me assisting other co-learners and said 'teaching flows in my veins'. Since then, (my) love for teaching increased immensely and that is why I considered taking a course in education," the soft spoken Mpontshane explains.
Her life has never been easy as a student living with a disability. She always felt that people looked at her differently thus she had some difficulties navigating her way around the campus. She eventually managed to complete her studies in record time as she is a go getter who hardly gives up. Mpontshane is currently employed as qualified teacher at a local school in Jozini.
On the personal front, Mpontshane spends most of her time with her family, especially her mother and her older sister Mbali who is also her role model.
Her final note: "Being disabled was not easy for me, but I didn't let it to stop me (from chasing) my dreams of being a teacher. Even my background did not stop me. I used to save my NSFAS money to survive and to contribute at home. Once, I had to write a test but I couldn't walk. That too did not stop me from achieving my goal.
If you want to achieve your goals in life you must focus, whether you are living with a disability or not. Inviting God in my journey helped me to continue focusing on my studies."
– Siyanda Mntambo