Two KZN Districts Enjoy Improved Economics Pass Rate Due to Sekome's CE Project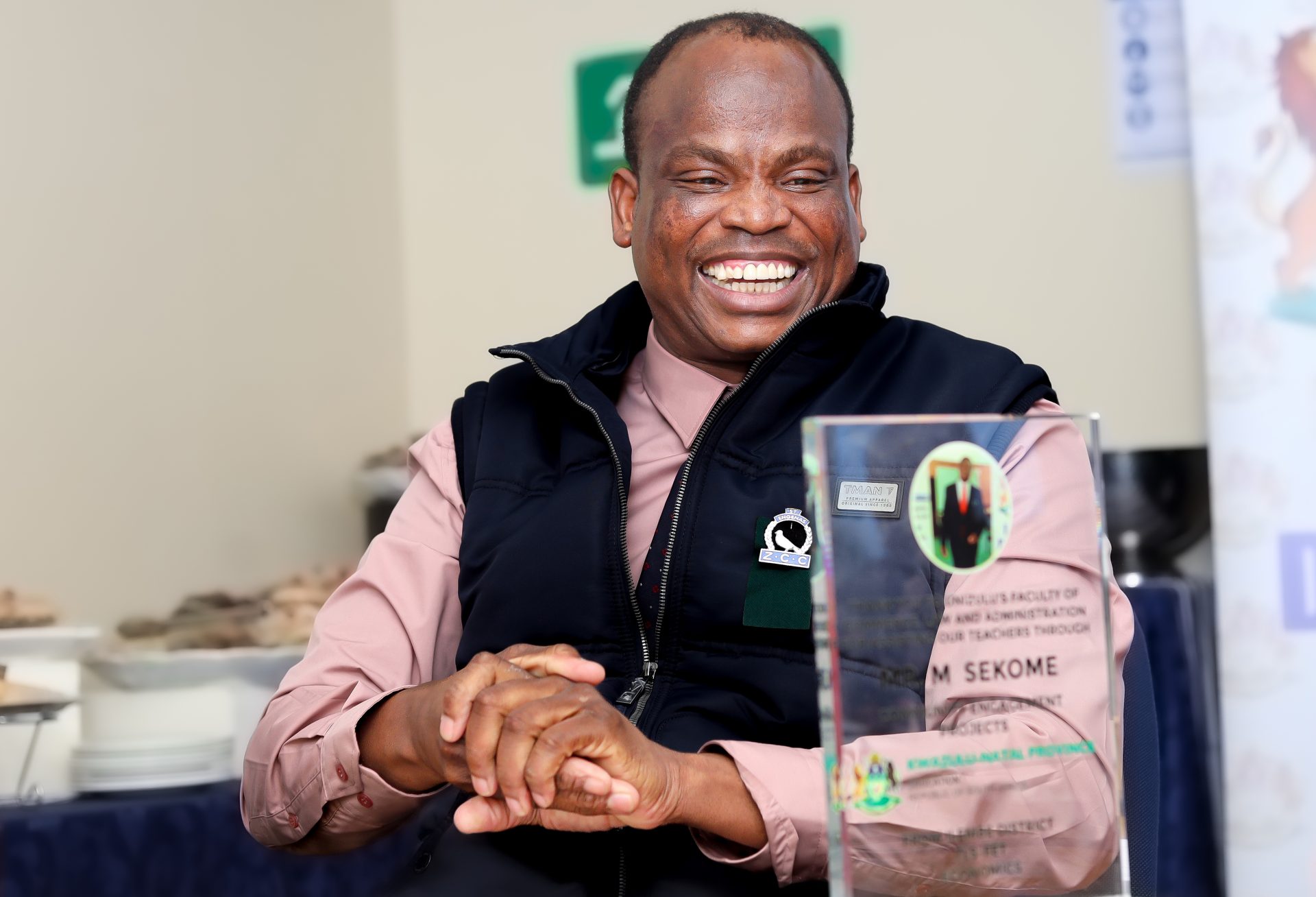 "In a transforming society, the way we think about teaching economics needs to change."
The latter is a belief held by Mashapa Sekome, an Economics lecturer within the University of Zululand's (UNIZULU) Faculty of Commerce, Administration and Law (FCAL).
Sekome took it upon himself to start a massive community engagement (CE) project at UNIZULU, which entails training economics educators in iLembe and King Cetshwayo district municipalities.
"I started training educators at iLembe in 2019 when they ranked number 12. In 2023, they improved by 5 positions. iLembe District now ranks number 7. In addition, I commenced training King Cetshwayo in 2020, they improved from position 12 to position 9 in 2023," Sekome noted.
His project is in line with the vision of FCAL which is to be a faculty of choice and relevance for commerce, administration, law and the local community in ensuring a supportive and caring ethos that contributes meaningfully to the quality of life of all who live in the region of KZN, South Africa and the African continent within the global context.
As part of the CE project, Sekome has been presenting the following Economics topics Microeconomics, Macroeconomics, Economic Pursuits, and Economic Issues. The project is performing very well and has received recognition from both UNIZULU and the Department of Basic Education (DBE). In November 2022, the project received the Vice-Chancellor's Award. In June 2023, Sekome received special honour from iLembe District.
"The project is flourishing since both districts are improving in ranking. I am hopeful that this project will be introduced in other districts of KZN next year," a hopeful Sekome said.
He has been teaching economics for the past twelve years in various institutions. His lectures focus on intermediate microeconomics and intermediate macroeconomics. "I completely believe that teaching is about learning; that is why I make my lectures as fun as I possibly can so that every student looks forward to my lecturing slot. The ultimate objective of teaching is for students to learn and nothing else. Teaching to me is a hobby," he said.
His students say that the amount of value he adds to students and the University is immeasurable.
Sekome is convinced that if all lecturers – as the experts in their respective fields – could interact with communities through CE projects, South Africa would grow exponentially.
Currently a PhD candidate, Sekome's research focuses on looking at how the problems in the US monetary system affect emerging market economies like South Africa.