Staff Honoured During Secretaries Day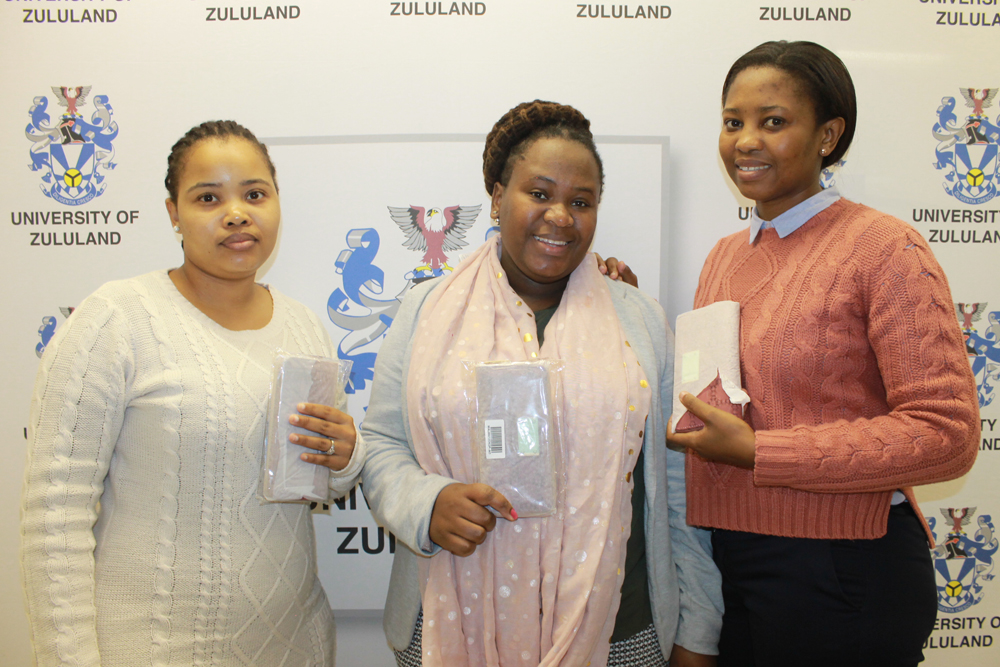 Staff Honoured During Secretaries DayStaff Honoured During Secretaries DayThe University of Zululand celebrated Secretaries Day on Wednesday, 6 September 2017, during which staff members who render secretarial services at the University were given tokens of appreciation for their hard work in helping the institution move forward.
The staff members who were being honoured on the day received purses as a token of appreciation from the University.
"I feel honoured that the University recognises the effort I put in the running of the office that I work in which includes specified duties and unspecified tasks," said Bongiwe Mkhwanazi, Secretary to the Human Resources Executive Director. "I always look forward to coming to work every day as I manage the office of the HR Executive Director by providing support in order for him to meet his daily objectives as well as ensuring the efficient running of the office and the meeting of deadlines," added Mkhwanazi.
Indrani Naidoo, Library Senior Secretary, said Secretaries Day is a wonderful gesture because secretaries must be knowledgeable about their work environment as well their line of work in all industries. "You have to multitask thus ensuring efficiency and professionalism. It's great to know that we are appreciated by this wonderful token. The institution has always shown their appreciation by making us feel special on this day," said Naidoo.
Sibongile Mhlongo, Secretary to the Dean of Education, was also grateful that her efforts of hard work were being recognised on the day. Mhlongo's highlight of the day was the message from Professor Xoliswa Mtose, the Vice-Chancellor, wishing all secretaries a good day. "That made me feel extra special. Behind every great executive there is an even greater secretary making sure that everything runs according to plan behind the scenes," said Mhlongo.
– Precious Shamase
Pictured: Some of the happy staff members who were being celebrated during Secretaries Day at the University of Zululand.