Researchers Honoured During Research Awards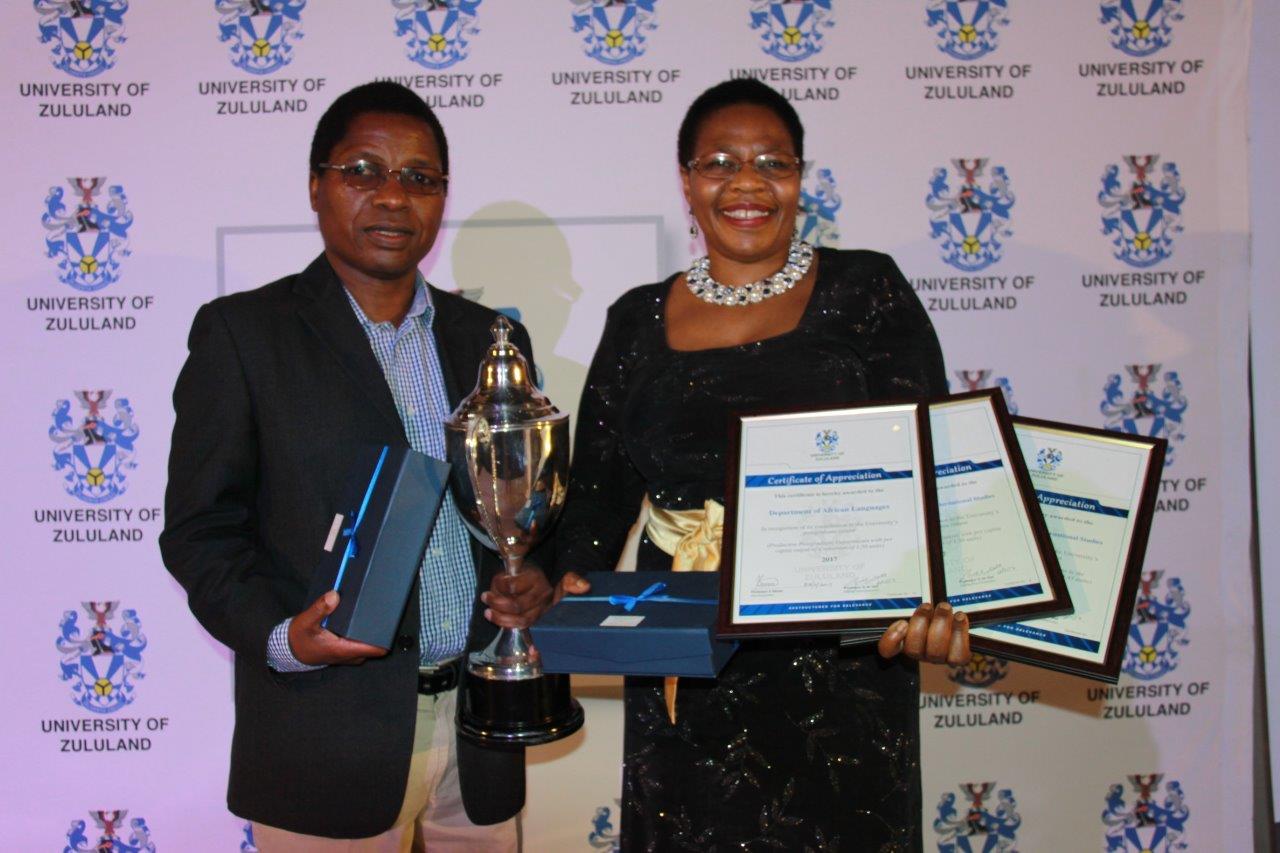 It was yet another blissful occasion for University of Zululand (UNIZULU) academics who received varied accolades at the University's 2017 Research Awards ceremony for their significant research and innovation attainments throughout the year.
The event, which was held at the Umfolozi Casino Hotel, Empangeni, is organised annually by the institution's Research office with the overall intention of recognising and honouring research and innovation excellence while also encouraging increased research productivity among UNIZULU academics.
In his welcoming address, Professor Gideon De Wet, Deputy Vice-Chancellor: Research and Innovation at UNIZULU, congratulated all the awardees; expressing great delight in the fact that research output had increased at the University since the previous awards ceremony.
"The year 2017 has been very productive. I was pleasantly surprised to see improvement in not only the number of researchers but also in the output quality," said Prof De Wet, adding that he also appreciated efforts academics are putting into supervising postgraduate students. The impact of the latter, said Prof De Wet, was shown by the increased number of postgraduate graduates during the 2017 graduation ceremonies.
Prof Jesika Singh, Deputy Vice-Chancellor: Research, Innovation and Partnerships at the University of Limpopo, who was invited as the guest speaker at the event, said researchers need to "motivate and mentor each other in order to grow as a network". She urged academics to also believe that whatever research work they conduct matters.
"Hard work is the greatest driver. If you work hard, success will follow. I congratulate all the awardees and nominees; you are the hard workers of this university. I would like to encourage you to keep going strong and keep your dreams and aspirations aglow with sheer determination and hard work. I wish you success in all your ventures. Remember to keep the flag of the university flying high all the time," said Prof Singh.
Academics were awarded certificates and trophies under six categories namely: Science and Development; Next Generation; Established Researchers; Departments; Special Categories and Prestige Awards.
The prestigious awards of the evening were received by the departments of Politics and International Studies; Biochemistry and Microbiology as well as Economics which received first, second and third prize of the Research Department of the Year awards respectively.
Prof Gregory Kamwendo, Dean of the Faculty of Arts at UNIZULU, who accepted the award for the Department of Politics and International Studies said he was very proud of the department's accomplishment; acknowledging that it (the department) had received the trophy as a result of hard work. Prof Kamwendo added that the faculty would encourage its other departments to increase research productivity so as to keep the trophy within the faculty.
–       Naledi Hlefane
Pictured: Professor Gregory Kamwendo, Arts Faculty Dean, and Prof Antonia Nzama, Arts Faculty Deputy Dean, were most delighted after their faculty scooped first prize for the Research Department of the Year award.