Celebrating Excellence   – UNIZULU Academic honoured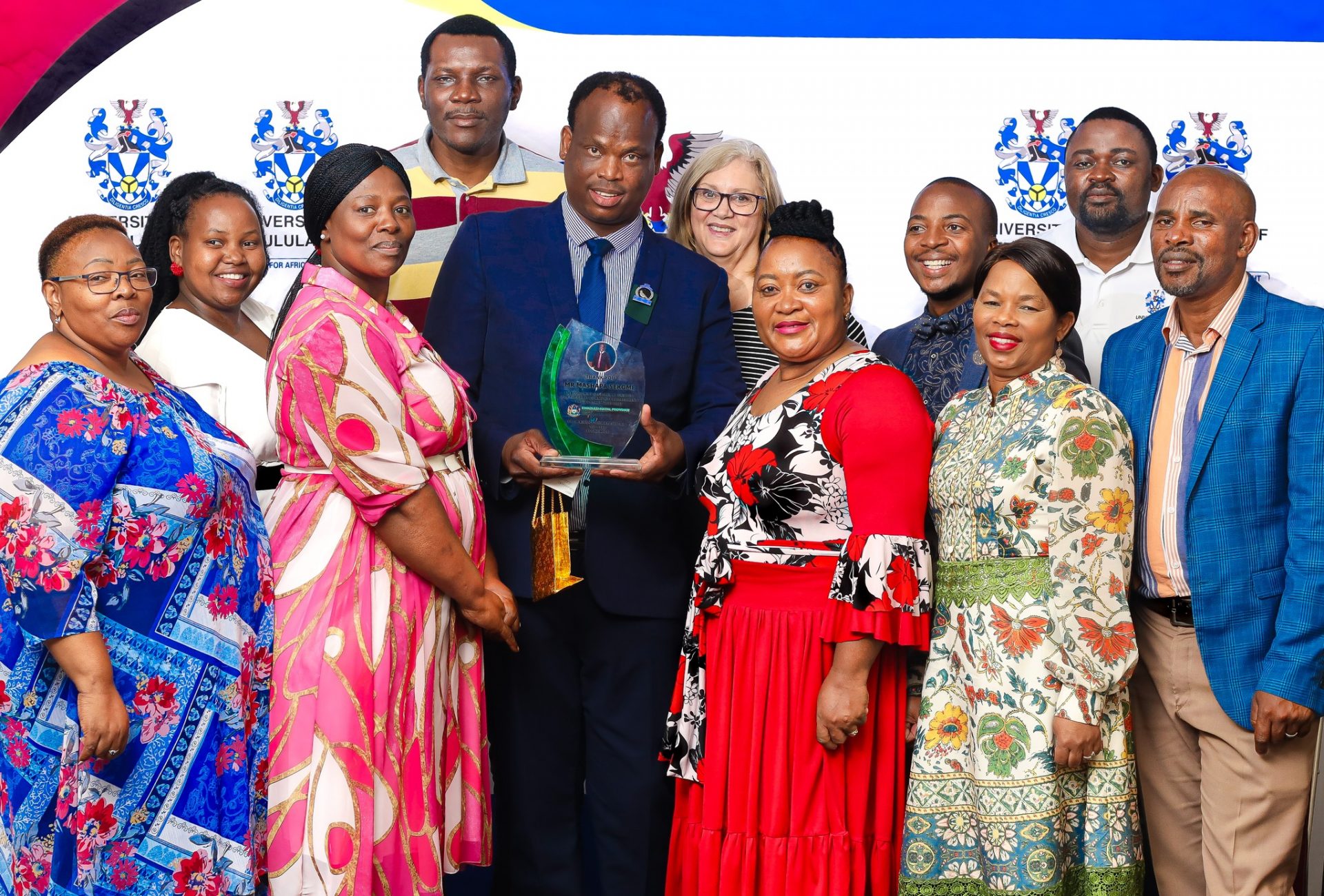 The university of Zululand Academic, Mashapa Sekome from the Economics department was honoured by King Cetshwayo Education District and iLembe District for the Community Engagement work he has done. The two Districts were thrilled to honour and celebrate the outstanding academics who has made incredible contributions to society through his dedication and hard work Mashapa has been assisting in training teachers involved in teaching Grade 11 and 12 learners. He has greatly assisted the circuit to improve their pass rates hence they feel the need to recognize the good work he and the Economics Department of UNIZULU being doing. This initiative took off from 2019 (ILEMBE) when the pass rate was only 48% and now it has increased to 78%. This recognition is a testament to the University's unwavering commitment to education.
– 2022 – 74.3 % improvement from previous performances and improved by 7,3% in 2022 since started working with Sekome
– This year they are aiming high.
This is also in line with the UNIZULU Mission statement seeks to: engage with society for the betterment of all.
The Dean of the faculty, Professor Lorraine Greyling expressed immense pride to Sekome for the unwavering dedication to nurturing the Economics teaching Economics teachers." Your attainments are not just evidence to your individual brilliance and dedication, but also a shimmering incarnation of the values and aspirations of our beloved university." Said Prof Greyling.
At this event you could sense the excitement in the air electronic atmosphere. The speakers from both iLembe and King Cetshwayo district thanked the university for allowing Sekome to be the beacon of light and work with the teachers." When we celebrate good results, it is because of the helpful hand that Sekome lent. Thank you for ploughing back your skills into making a positive impact towards the field of Economics. We would also like to thank the University for allowing the staff member to play such a pivotal role." Said Khumalo from King Cetshwayo District.
The officials also conveyed their gratitude to the Dean and the UNIZULU management for the support and for allowing Mashapa to do what he does.
Mashapa has taken it upon himself to also have a YouTube channel where he assists Economics learners and remain grounded in the University values, ensuring that we provide an environment where every learner feels valued, supported, and inspired to achieve their full potential.
His YouTube channel is Sekonomics I & Sekonomics II