Victory for Sthandiwe After Setting Herself High Expectations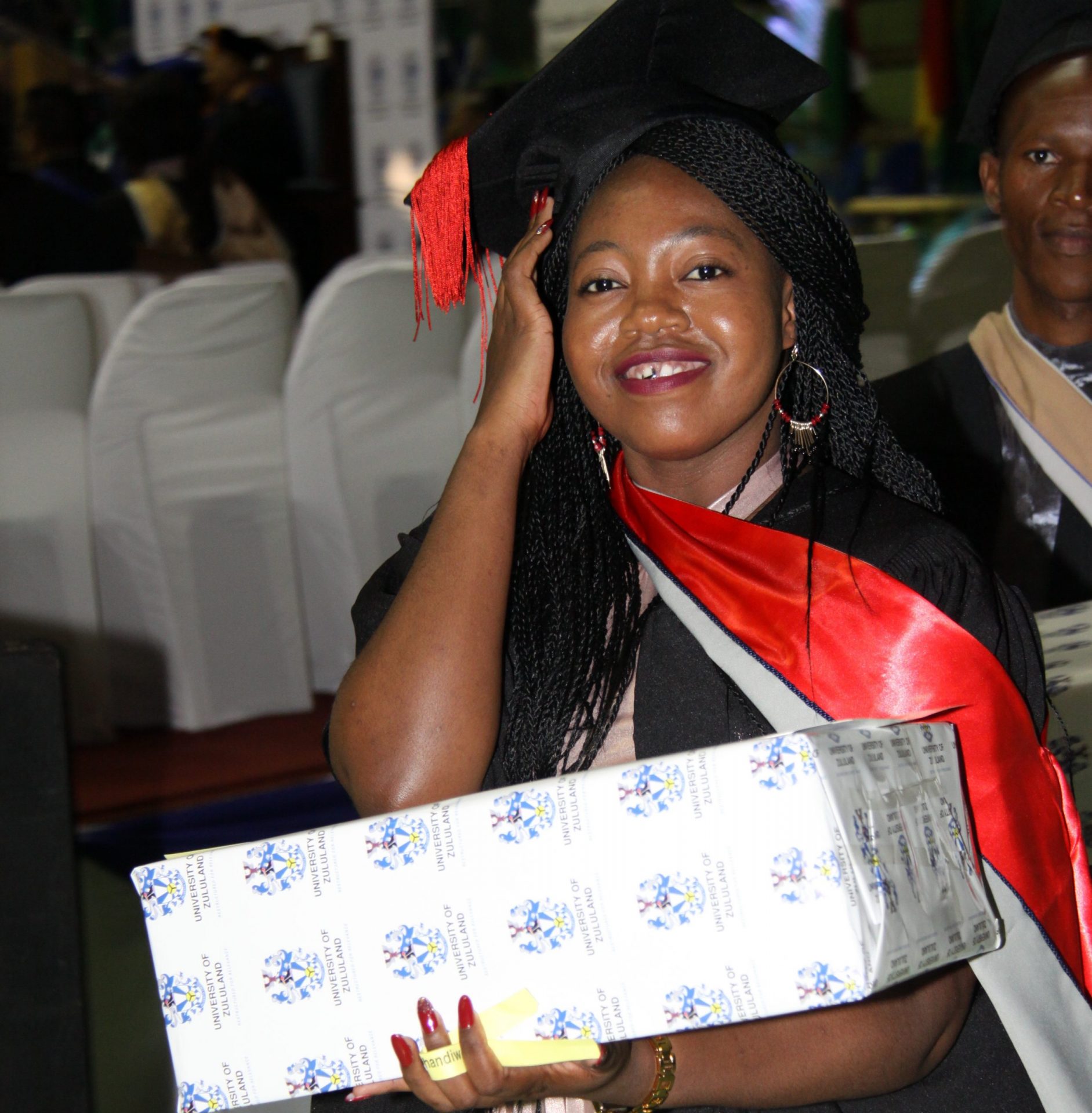 Sthandiwe Sikhulile Zulu, 22, achieved an 81% on her LLB degree at the University of Zululand (UNIZULU).
While this is a massive feat, she was however not satisfied with her performance as she was hoping for an average mark of at least 90%.
Zulu, who comes from Dundee, Northern KwaZulu-Natal, graduated with her LLB degree this afternoon (Friday, 12 May 2017) during the graduation ceremony of the University's Faculty of Commerce, Administration and Law. The ceremony forms part of the UNIZULU Graduation Ceremonies 2017 which kicked off on Monday, 8 May 2017, and end on Friday, 12 May 2017.
While she may have not been satisfied with her performance, she was named one of the Five Top Achievers in her Faculty.
"I'm happy (about my average mark) but I didn't do as well as I had hoped
I would," said a somewhat gloomy sounding Zulu. "My goal was to get a final mark in the region of 90% but I'm still happy because not everyone can get the mark that I got," said Zulu.
Asked where her dissatisfaction with her mark stems from, she said she grew up in a household where her father placed high expectations on her and her siblings. The fact that she was a teenage mother also propelled her to work harder in order to restore her family's faith in her.
"Growing up, we had to meet certain expectations so maybe that's why I'm hard on myself and it was our father who mainly placed those expectations on us. A 60% mark was basically considered a fail, but he didn't do this in a bad or cruel manner, he simply motivated us and always reminded us that he expects nothing but the best from us," said Zulu, adding that she worked extremely hard during her degree studies. "Even my friends can attest to that. We helped each other a lot to unpack the content we had learned in class. Even during our spare time, we spoke about our school work. We had 'sessions' as we called them where we would meet; without books, and discuss what we had learned in class," said Zulu.
While she said she did not face massive challenges that threatened to derail her dreams and studies, her father at some point losing his job and her mother being unemployed somewhat created financial troubles during first year of study. However, her excellent academic performance and her father's continued efforts to provide for her and her family would result in her qualifying to enter second year and being awarded with study bursaries at the end of her first year studies.
She urged other young people to never allow their mistakes define them. "The fact that you made mistakes along the way should never define you. The worst mistake you can make is to stop trying. Always do your best and give it your all," said Zulu.