Top Education Graduate in Awe of Accomplishment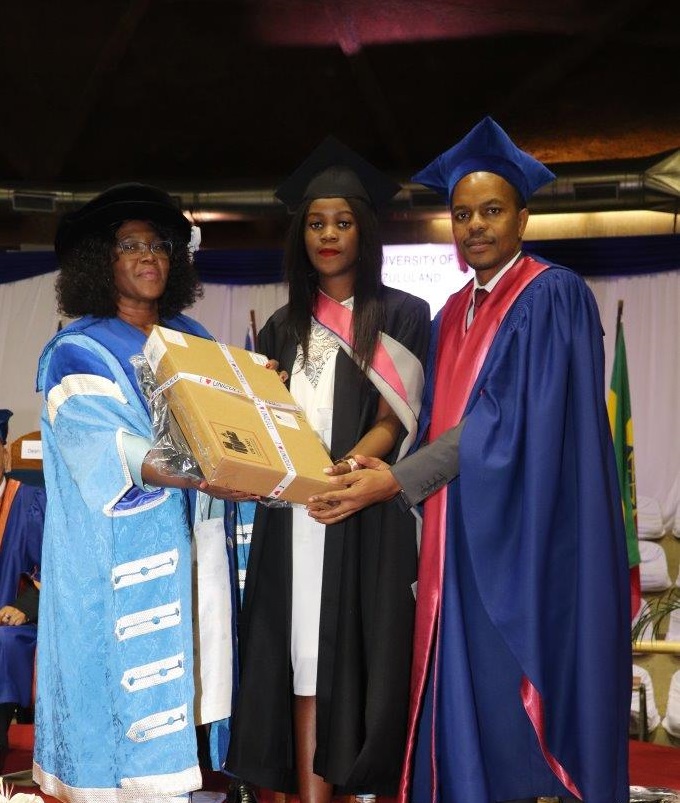 Khanyisile Majola (24) has been a top achiever her entire schooling life yet she cannot fathom how she managed to top all her peers in the Faculty of Education.
"I absolutely cannot believe it," the Ulundi-born graduate said cheerfully. "I'm asking myself 'why me?'. I mean, I was among thousands of students in my faculty yet I came up top. It's unbelievable," she said.
Majola graduated today, Tuesday (8 May 2018), with a Bachelor of Education: Intermediate and Senior Phase degree. She is amongst five graduates whose outstanding academic performance was considered and approved by the UNIZULU SENEX for the 2018 UNIZULU Graduation Ceremonies. As a token of appreciation from the office of the Vice-Chancellor, Majola, together with the other four top graduates, received a brand new laptop which was specially handed over to her by the Vice-Chancellor, Professor Xoliswa Mtose on the graduation stage.
For the graduate, this achievement could not have been possible without the unwavering support of her father, family, lecturers and one high school teacher. "All the motivation, support and love from my family and community made me believe in the common saying that 'it takes a village to raise a child'. I am grateful to Mr Talasi, Dr Masoalane, Mr Ngwenya, Dr Pillay and many of my other lecturers for teaching me independence and reinforcing the notion of effort yielding success," Majola said, also acknowledging the role played by Sindi Nene, the high school teacher who ignited her love for Physical Science.
In Majola, the field of education has truly gained a passionate professional to whom teaching comes naturally. The young woman said she realised her calling while she was still in high school, where she was always surrounding by her peers who required tutoring in Mathematics and Physical Science. Majola said she is ecstatic as she is now imparting her knowledge to grade 12 Physical Science learners at Phumanyova High School in Nongoma, where she is currently employed.
Of her future plans, the graduate said, "I believe there is still much more out there for me. This is just the beginning." She added that obtaining higher qualifications is definitely in the pipeline.
– Naledi Hlefane
Pictured: Khanyisile Majola (middle) as she receives a brand new laptop from UNIZULU Vice-Chancellor, Professor Xoliswa Mtose (left), for her sterling performance in her academic programme and the Faculty of Education as a whole. Also pictured is Professor Mncedisi Maphalala, the Dean of the Faculty of Education.