UNIZULU academic in favour of formalist approach in research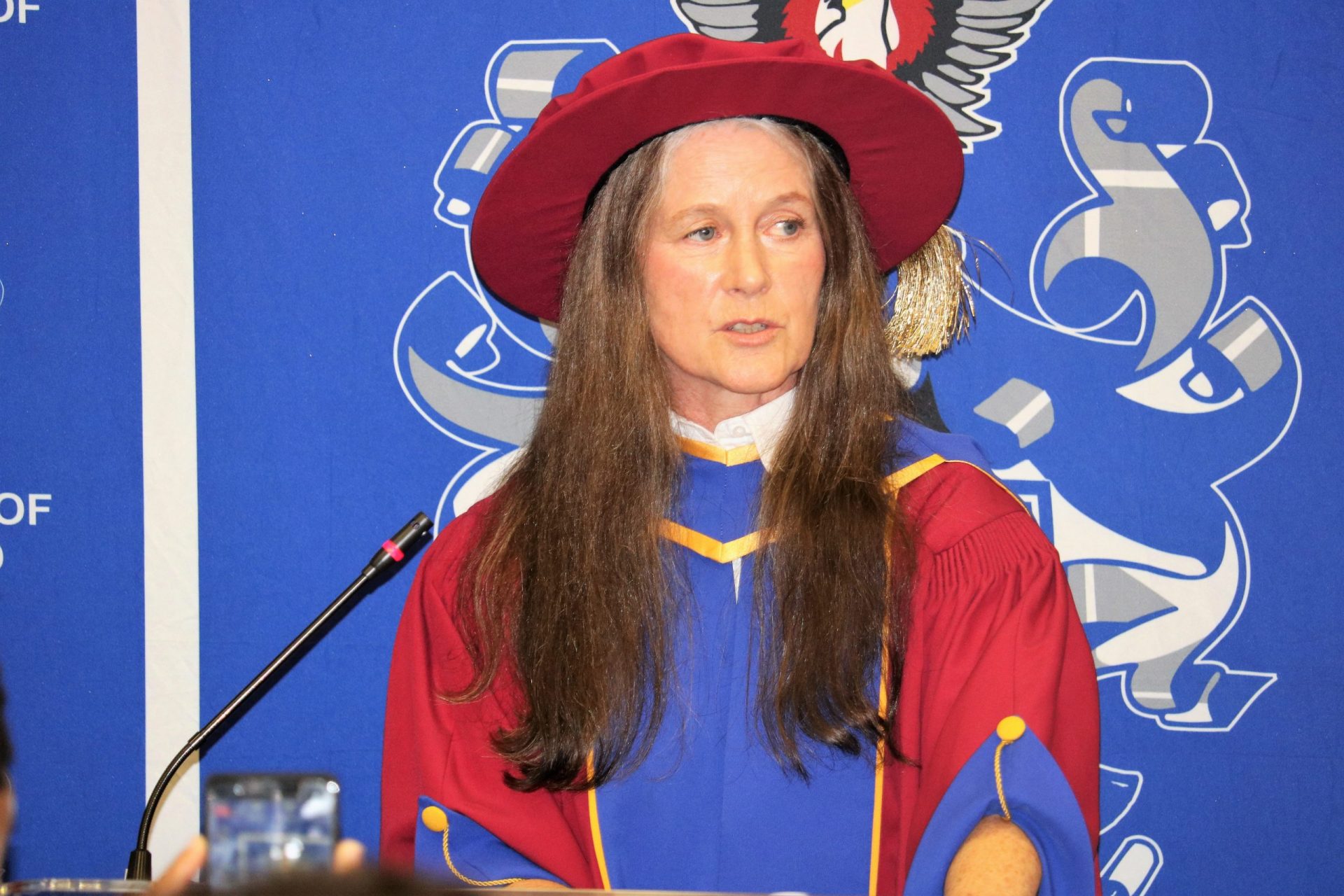 The University of Zululand recently held an Inaugural Lecture presented by Professor Catherine Addison titled, 'Confessions of a Formalist: A Defense of Close Reading in an Age of Historicism', at the Council Chambers, KwaDlangezwa campus.
The lecture which is part of a series of inaugural lectures is considered as a significant milestone in the academic career of a full professor and it therefore, provided a platform for her to share her past research work with the diverse academic community of the university.
In the main, Professor Addison considers herself a formalist in her approach to her academic field because she has always used close reading of texts as the basic evidence in her literary research and in her teaching of literature.
Professor Addison's background spans over three decades as a researcher and teacher specialising in literature. Her interests include a vast array of topics such as British Romantic poetry, Mediaeval, Augustan, Renaissance, Modernist and post-Modernist poetry, general poetic features such as symbols, similes and versification, novels and narrative, woman warrior characters, post-colonialism, feminism and African fiction.
During her lecture, Professor Addison advised that in order to enhance the reader's understanding of any form of text, be it a speech or poetry, the reader's actual experience should be considered, collected and charted. This is what she refers to as the "phenomenological" approach which details the reader's experience with the text in real time.
Professor Addison does not advocate an 'empty' formalism. She claims that 'to study the form of any object or work of art, avoiding its content, is to skate around on the surfaces of things, refusing to penetrate to their difficult, emotional, sometimes revolutionary core'. The type of formalism that she envisages does not 'support the status quo by refusing to engage with the terrible truths spoken by art'. Instead she recommends an approach that attempts to put aside ideology and very carefully to account for the text's uniqueness—in its message and style—before going on to place this text in its contexts or theorise about its discourse.
She continued by demonstrating her method using examples from Shakespeare, Shelley, Dylan Thomas and the King James translation of the Bible, showing how the actual performance or reading of a literary text delivers an experience that goes beyond mere paraphrase.
Professor Addison completed her BA, BA (Honours) and MA degrees at the University of Natal, Pietermaritzburg. While working on her MA in literature, which focused on the American poet Hart Crane, she started working as a junior lecturer in the English Department of the University of Stellenbosch. In 1982 she took up a Killam Fellowship at Dalhousie University in Nova Scotia, Canada, where she completed the coursework towards a PhD in English literature. Because no-one at Dalhousie was willing to supervise a thesis on the Romantic poet Byron, she moved in 1983 to the University of British Columbia (Canada), where she took up a Rotary Fellowship and later a UBC Fellowship. In 1987 she graduated from UBC with her PhD on Byron and was employed by her alma mater as a sessional lecturer. between 1989 and 1995 she worked as a contract lecturer at the University of the Western Cape and the University of Stellenbosch. Between 1995 and 1998 she completed a second MA in General Linguistics with the University of Stellenbosch. In1996 she took up the post of senior lecturer in the Department of English at the University of Zululand, where she has remained.