ROBBEN ISLAND TO WALL STREET AUTHOR CONFERRED WITH AN HONORARY DOCTORATE IN ECONOMICS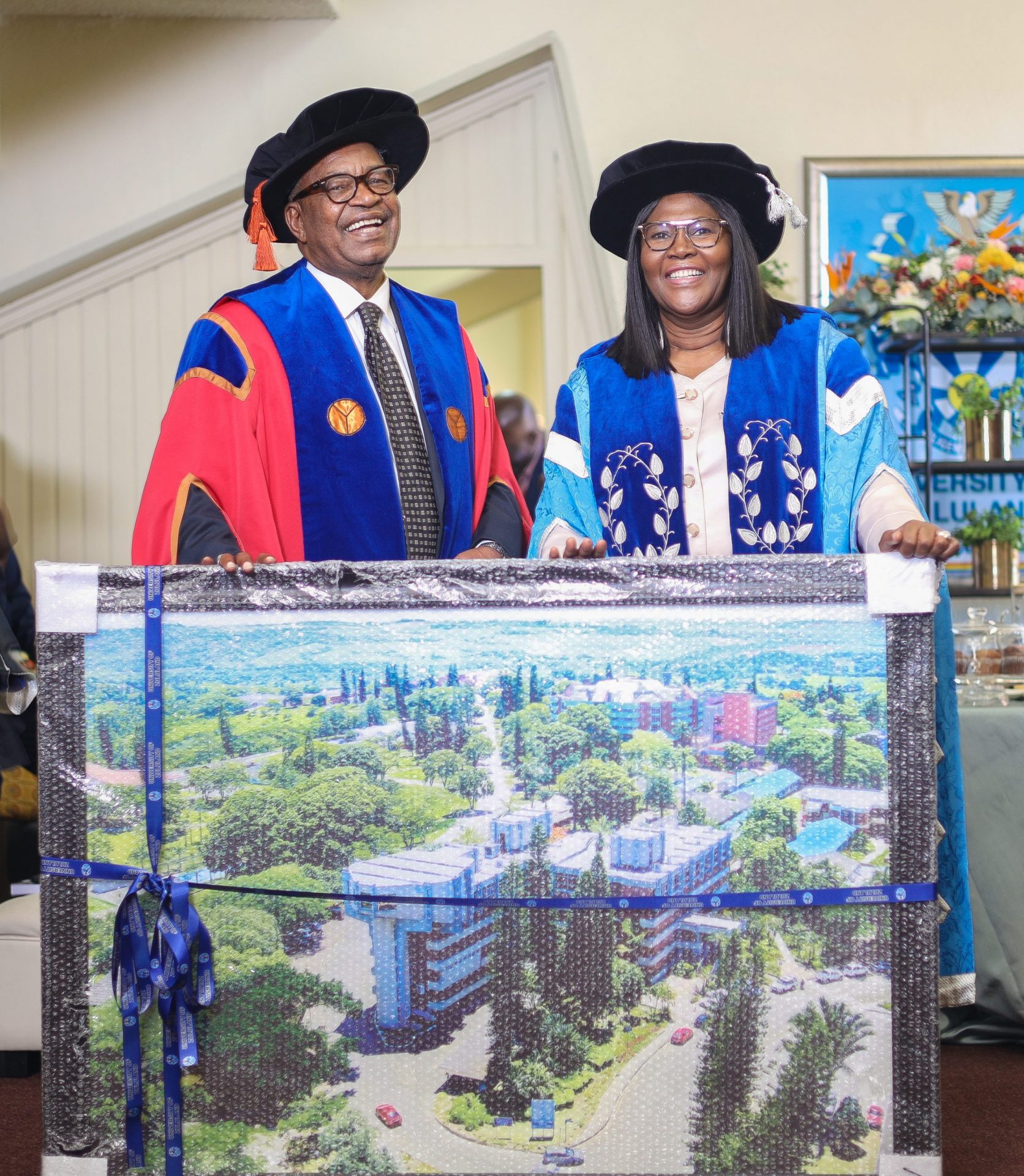 The University of Zululand bestowed an honorary doctorate in Economics to Mr Gaby Magomola on Wednesday, 11 May 2022 at the KwaDlangezwa Campus. Mr Magomola is the Director of Development Bank of Southern Africa, and is one of South Africa's respected business leaders, an ex-banker and author. He has also been at the forefront of the campaign for the struggle of economic liberation before and after the demise of Apartheid. After overcoming the hardships of prison life on Robben Island in the sixties, Magomola left South Africa for the United States where he rose to become an acclaimed banker at the World Head Office of Citibank in New York. He was later transferred to Wall Street where he rubbed shoulders with top investment bankers and stockbrokers. It was during that period that he and his family acquired a permanent residence status in the United States.
The University of Zululand recognized Mr Magomola also through his passion for his country that brought him and his family back to South Africa in the mid-80s where he joined Barclays Bank as Special Assistant to the Managing Director. Years later, he was appointed CEO of African Bank to lead it out of curatorship and grow its systems, brand, and people. All these accomplishments were made during the dark days of apartheid and many have attested to his capability to lead, develop, and innovate. It was during these years that Mr Magomola became a vocal critic against discriminatory business practices. In 1986, he defied the government's segregationist residential laws by moving his family into a whites-only suburb, Sandton. This move was hailed as a critical bridgehead for the birth of a new black middle-class in South Africa, as it encouraged other aspiring black South Africans to do likewise.
Mr. Magomola boast illustrious credentials as he was accepted as a member of Institute of Directors in 1987 and has been at the forefront of corporate governance development through this period. At the dawn of democracy, Mr. Magomola was requested by the Minister of Finance to help advise government and deployed to configure and help develop systems in some of the provinces. Later, he was appointed the Special Advisor to National Transport Minister to help provide fundamental innovation within the mini-bus taxi industry while he was the chairman of the Foundation for Business and Consumer Services (FABCOS). It was during that period that he conceptualized and co-founded Future Bank.
His entrepreneurial record during the 1990s helped to bring the disenfranchised into the center court of big business where he served as chairman and director of a variety of companies, Mr. Magomola has mentored a number of senior business leaders who continue to make a significant contribution to economic transformation in South Africa.
Magomola's life is well-captured in his award-winning autobiography, "From Robben Island to Wall Street"published by his alma-mater, University of South Africa (UNISA). He is a founder Chairman of the South African Business Coalition against HIV/AIDS (SABCOHA); an ex-member of the University of Cape Town Foundation Board and is a founder member and past Chairman of the National Black Business Caucus, a co-founder of the Black Business Council (BBC) .
For his life achievements, Mr. Magomola has received numerous awards including the Fulbright-Hayes Fellowship. He has been profiled in many publications including: "The Wall Street Journal"; "Financial Mail", "London Observer" and more recently "Forbes" Africa. He is also a director of several companies including one listed on the Johannesburg Stock Exchange (JSE);was awarded the Business Legend Award; Freedom of the City of Birmingham (USA); and the Hiddingh-Currie Award for his recent scholarly book ROBBEN TO WALL STREET and several other awards.
During his graduation ceremony at the University of Zululand he passed a message to the graduants "Go out there and help heal the mindless violence that has gripped our nation. Help to bring about social cohesion, reduce tensions that engulf various sectors of our communities
*Work together using your newfound knowledge; enhanced social values and intellect to help eradicate inequality and poverty;
*Accelerate economic progress; liberate the capacity of human talent that your studies have cultivated in you
*Join in common purpose and be determined to build a new generation.
Help us to re-energies our moribund industries and economy.
*Seek not to emulate our errors by acquiring stakes in other's businesses but rather create that which is your own;
It is you The Youth, who must take the lead; eradicate ignorance and become beacons of light. Remember, upon you is thrust a greater burden of responsibility to fix that which previous generations including mine have broken or destroyed.
If you do that, and inspire yourselves with a Vision of Enlightenment, you and those who follow will be hugely rewarded. Be that ripple of hope and remember; History is always the final judge of our deeds" he concluded.
-Gcina Nhleko-Mdluli (APR)