Mhlungu's Quest for Success in Media Field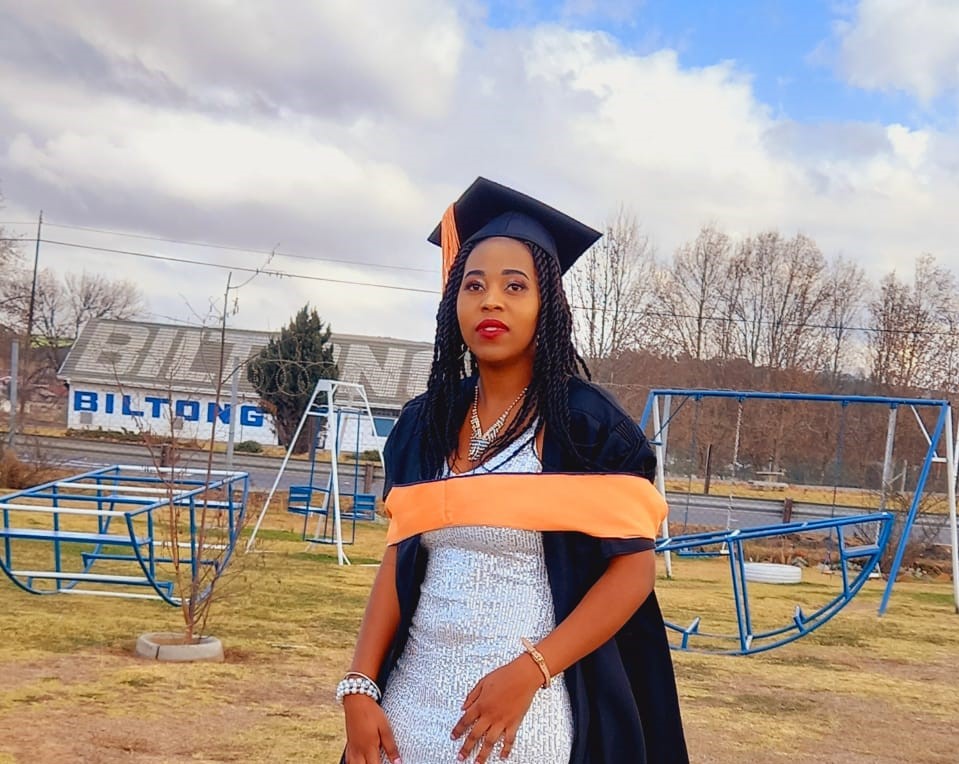 As a child, 22-year-old Anathi Mhlungu had a fascination with the world of media- from television broadcasting to the captivating art of filmmaking. When she discovered how great of a communicator she was in high school, there was not even a shred of doubt which career path she would follow after matriculating.
In 2018, her quest to become a media professional led her to the gates of the University of Zululand (UNIZULU) where she enrolled for a Bachelor of Arts degree in Intercultural Communication. After what she termed a challenging academic journey, Mhlungu was astonished to learn that she had graduated at the top of the entire Faculty of Arts. She obtained her qualification on Monday, 5 July 2021.
"Honestly, I didn't expect to obtain such results. I was shocked and extremely happy at the very same time," the self-proclaimed intelligent young lady said.
Born and bred in Mpofana, Mhlungu lost her father at the tender age of two. She and her two siblings were single-handedly raised by her mother, Zilandiwe Duma, whom she adores. The small family have an unbreakable bond. Together, they have weathered many storms. Mhlungu's mother was working as a project manager at the local community hall when she suddenly was retrenched in 2011. The family thereafter survived on Mhlungu and her younger brother Alwande's child grant. Mhlungu can vividly recall how her mother could not even afford to pay for her school transportation during this time. Fortunately, her mother found new employment in December 2013 and is now working as a child and youth care worker.
When Mhlungu began her first year at UNIZULU, her mother took a financial strain as her daughter had not yet secured funding from the National Student Financial Aid Scheme (NSFAS). "My mom could not afford to buy me text books. My brother's grant money could only cover my groceries. To study, I used to borrow fellow students' books or make copies so as to study," the graduate recalled. It was only in August 2018 that the situation improved slightly after Mhlungu's NSFAS application was successful.
Having witnessed the countless sacrifices her mother had to make for her and her siblings, Mhlungu was careful not to take the opportunity to study for granted. She was cognisant of the kind of background she came from and therefore devoted her time to her studies. "I can say that knowing where I come from had a huge contribution to me achieving such excellent academic results. I would do anything for my family so I worked really hard in order to be able to fulfil their needs," she said.
In addition, Mhlungu stated that a combination of ambition, meticulousness and hard work also played a huge role in her achievement. She thrives on challenges and therefore constantly set goals for herself so as to have something to strive for.
It was not an easy journey though, she admitted. There were times when the workload was too much to handle. The advent of online learning due to the Covid-19 pandemic also came with challenges of its own. "It was really tough to learn at home during lockdown. Because I come from a rural area, my internet connection was poor which made it hard to keep up with my school work. I couldn't cope; I just felt like giving up but then I persisted because I knew exactly what I wanted. I strive for what I want and what is best for me and those around me," Mhlungu said.
She advised undergraduate students never to forget the main reason why they enrolled at UNIZULU as that will motivate them to strive to attain top results throughout their studies.
The graduate is now studying towards her postgraduate qualification at the University of Johannesburg.
– Naledi Hlefane