Loyal Staff Honoured During Awards Ceremony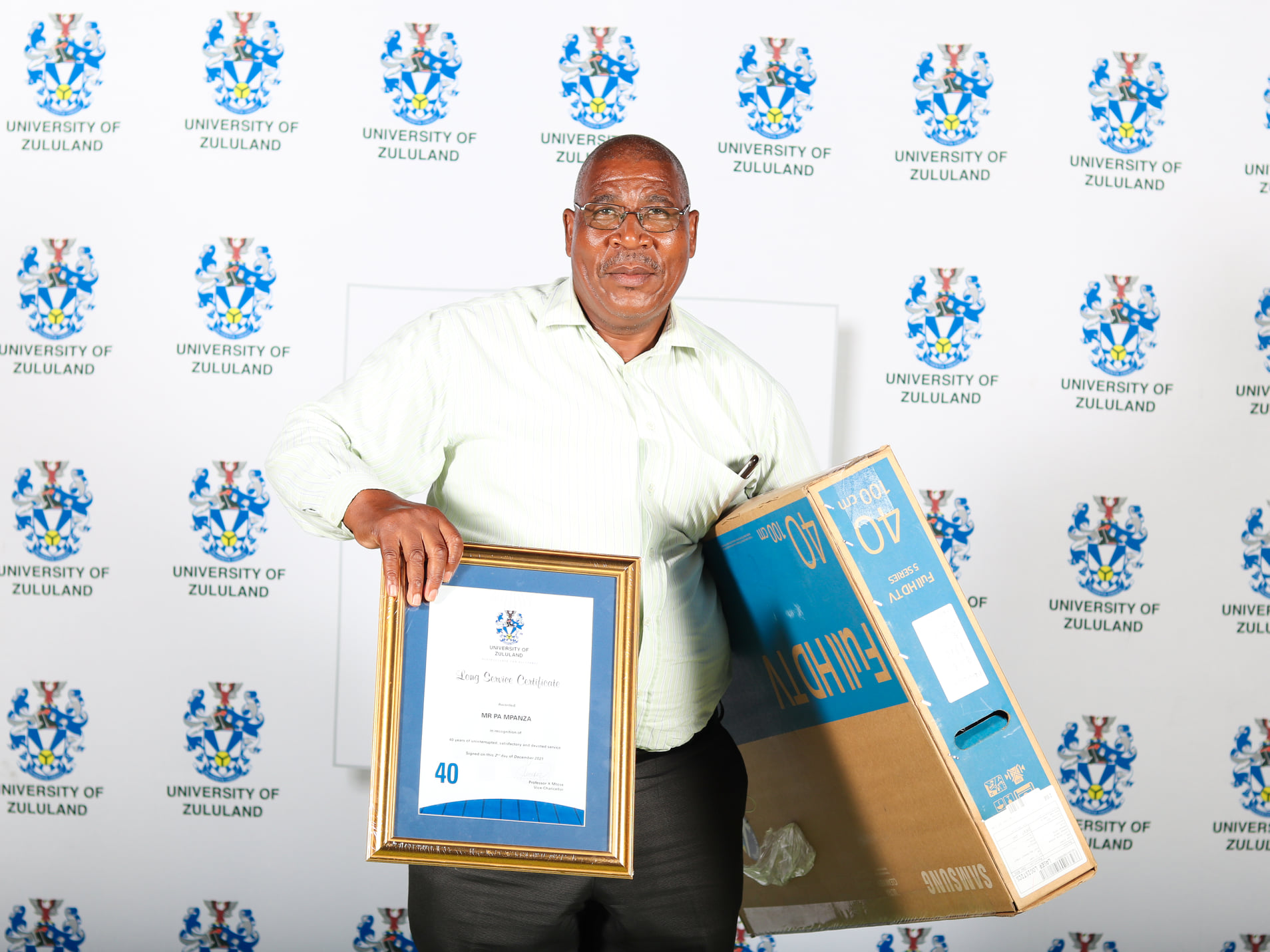 The University of Zululand (UNIZULU) once again paid homage to staff members who have served the institution for several years at the annual Long Service Awards. The event was held on Thursday, 2 December 2021 at the iconic King Bhekuzulu Hall.
Due to the Covid-19 pandemic, the 2020 ceremony was postponed. This year's event was therefore a combined affair, celebrating the milestones of the 2020 and 2021 groups. There was a total number of 129 recipients, but the number of physical attendees had to be restricted to accommodate social distancing.
The Long Service Awards are held in honour and acknowledgement of staff members who have served the institution for 10 years and more, with loyalty, dedication and hard work.
In his welcoming address, Reynolds Ngcobo, Executive Director: Human Resources, welcomed the esteemed guests and the awardees, thanking them for their attendance. "The objective is to recognise and appreciate the long service and dedication to the institution. We have twenty recipients, eight of them have been with the institution for thirty-five years, eleven have been with the university for thirty years and one has been with the university for forty years. We thank you for such loyalty and dedication. You have given your all to the success of this institution," Ngcobo said.
The longest-serving recipients was Popi Andrias Mpanza who has been working at the institution for 40 years.
Acknowledging the achievements of staff during the celebratory event, UNIZULU Vice-Chancellor Professor Xoliswa Mtose expressed her gratitude towards the awardees. "It gives me great pleasure to congratulate you all that are receiving the awards. It is a significant milestone in your careers. Today we are recognising the self-worth of our employees. The University has a heartbeat precisely because you gave everything to make UNIZULU a successful institution. Your loyalty and dedication is recognised and appreciated," Prof Mtose said.
In addition, she called on all the awardees to mentor the young and upcoming staff with their institutional knowledge which is irreplaceable.
Speaking on behalf of the recipients, Prof Thandi Nzama said: "Our gathering here really shows that we regard this university as our home; it fills me with gratitude, thankfulness and joy. As much as the university is thanking us today, we also thank the university. I realised that these years were filled with so many wonderful opportunities and challenges to grow as a lecturer and as a researcher, that I did not even notice that time was flying by."
She added without hesitation that it was an honour to be associated with the "beloved UNIZULU", the university of choice.