FCAL Students celebrated at Dean's Excellence Awards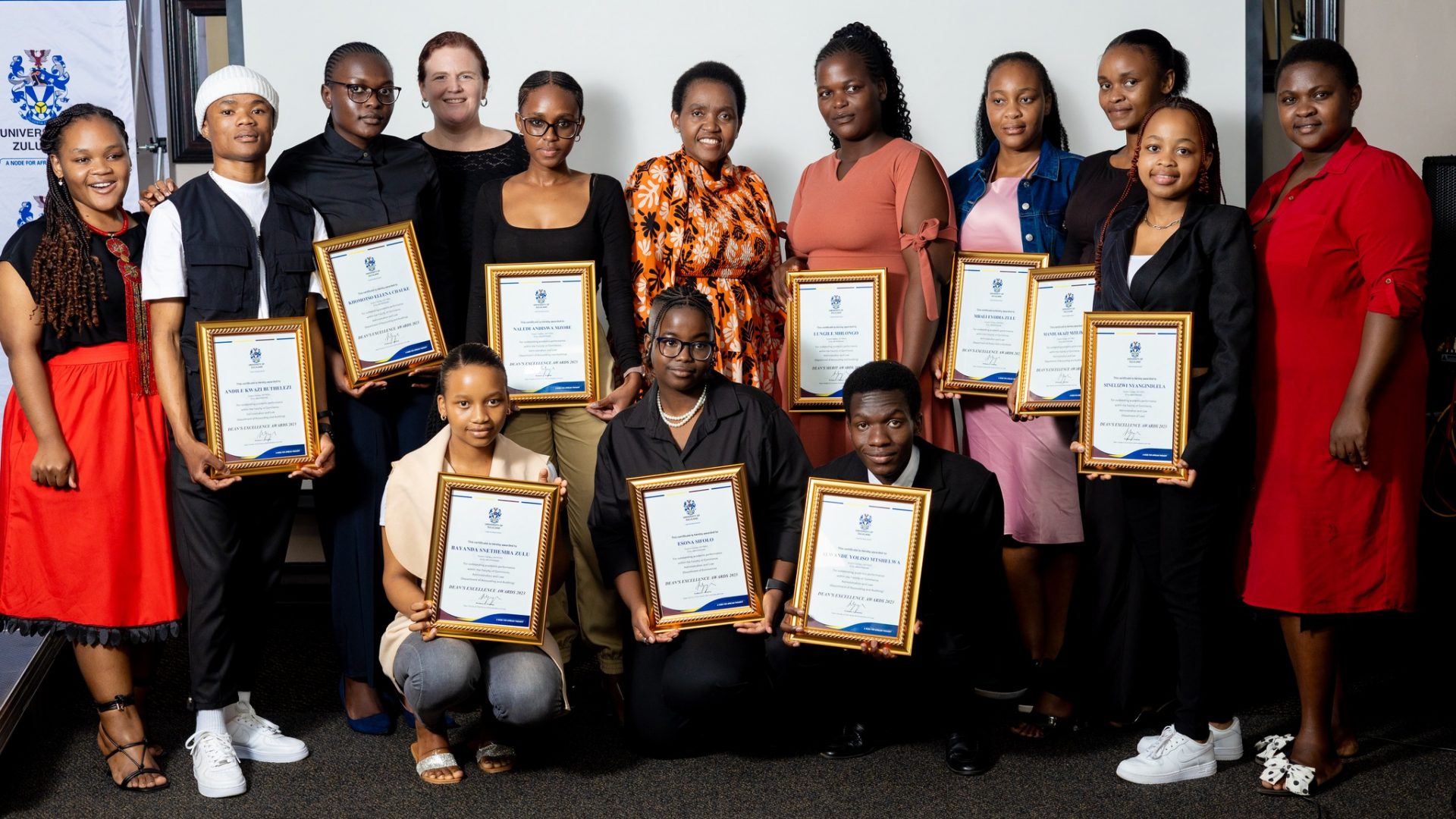 The Faculty of Commerce, Administration and Law (FCAL) Dean's Excellence Awards sparked the spotlight on the remarkable accomplishments of students within the faculty.
In her opening remarks, the Deputy Vice Chancellor Teaching and learning Professor Vuyokazi Nomlomo congratulated all and attributed the stellar performance of these students. "I stand before you with immense pride and gratitude as we gather to recognise and celebrate the extraordinary academic accomplishments of our students." Said Prof Nomlomo.
The two newly graduated Doctors in the faculty Dr Sipho Nkonde and Dr Yolanda Nkomo were the motivational speakers for the day.
In her speech Dr Nkomo, congratulated the top achievers and advised them to instil the culture of excellence in every area of their lives , "I want you to know that You don't have to be great to start, but you have to start to be great, and what you have to do to accomplish great things, is not to only act, but also dream, not only plan but also believe. "Said Dr Nkomo.
The Dean of the faculty, Prof Lorraine Greyling gave a congratulatory message to the recipients, she said that the culture of excellence in the faculty and at the university is what is going to see UNIZULU soar to new heights." Always remember the name of the faculty, use FCAL as – Focus, Commitment, Attitude, Leadership. The future is in the hands of young people. Well done to you all" concluded Prof Greyling.
The following students were awarded.
SECOND YEAR LEVEL
LUNGILE MHLONGO
Bcom (Accounting Science) with 81%
Department of Accounting and Auditing
BAYANDA SNETHEMBA ZULU
Bcom (Accounting) with 80%
Department of Accounting and Auditing
NKANYISO SIKADENI
Bachelor of Laws (LLB) with 79%
Department of Law
ANDILE KWAZI BUTHELEZI
Bcom (Accounting Science) with 78%
Department of Accounting and Auditing
XOLO KGOTSO CORNELIUS SIBAYA
Bcom (Management Information Systems) with 78%
Department of Accounting and Auditing
THALENTE NHLONIPHO MATHABELA
Bachelor of Laws (LLB) with 78%
Department of Law
KHOMOTSO ELLENA CHAUKE
Bcom (Accounting Science) with 77%
Department of Accounting and Auditing
SECOND YEAR LEVEL
NALEDI ANDISWA MZOBE
Bcom (Accounting Science) with 76%
Department of Accounting and Auditing
SINELIZWI NYANGINDLELA
Bachelor of Laws (LLB) with 75%
Department of Law
MANDLAKAZI MZILIKAZI
Bcom (Accounting Science) with 75%
Department of Accounting and Auditing
NOMCEBO ANELE JIYANE
BAdmin (Public Admin and HRM) with 75%
Department of Public Administration
ALWANDE YOLISO MTSHELWA
Bcom (Accounting) with 75%
Department of Accounting and Auditing
ESONA SIFOLO
Bcom (Economics and HRM) with 75%
Department of Economics
ZETHEMBE WAKHI MANQELE
BAdmin (Public Admin and Business Managment) with 75%
Department of Public Administration
THIRD YEAR LEVEL
www.unizulu.ac.za www.unizulu.ac.za
CHAZILE ANGEL MNGOMEZULU
BAdmin (Public Admin and Business Managment) with 78%
Department of Public Administration
MBALI EVODIA ZULU
BAdmin (Public Admin and Political Science) with 76%
Department of Public Administration
ZANELE PENELOP MTSHALI
Bcom (Business Management and HRM) with 76%
Department of Business Management
NKOSIKHONA FRANCE MSHENGU
Bachelor of Laws (LLB) with 75%
Department of Law
CEBISILE ZUNGU
Bcom (Management Information Systems) with 75%
Department of Accounting and Auditing
FOURTH YEAR LEVEL
QINISO SIBISI
Bachelor of Laws (LLB) with 77%
Department of Law
DIPLOMA LEVEL
SIBONELO BRIGHT NTOMBELA
Diploma (Logistics Management) with 78%
Department of Business Management-Logistics Management
SIBUSISIWE NOMPUMELELO SIBIYA
Diploma (Logistics Management) with 77%
Department of Business Management-Logistics Management
GWALA EMMANUEL MTHOKOZISI
Diploma (Logistics Management) with 75%
Department of Business Management-Logistics Management
SESETHU HINTSA
Diploma (Management of Co-operatives) with 75%
Department of Business Management
SINENHLANHLA BANELE PRECIOUS MTHABELA
Diploma (Management of Co-operatives) with 75%
Department of Business Management
FEZIWE PINKY MSOMI
Diploma (Management of Co-operatives) with 75%
Department of Business Management
www.unizulu.ac.za www.unizulu.ac.za
HONOURS LEVEL
NTOBEKO MTHEMBU
B Public Admin (Honours) with 78%
Department of Public Administration
SIFUNDO NTOKOZO DLAMINI
Bcom Honours (Economics) with 75%
Department of Economics
SIBUSISO SANDILE MTHEMBU
Bcom Honours (Economics) with 75%
Department of Economics
MAMKHWANAZI NOXOLO MTHALANE
Bcom Honours (Economics) with 75%
Department of Economics
MASTERS LEVEL
BATHABILE S'THOBELE NOMBUYISELO NHLEKO
Master of Commerce (Economics) with 76%
Department of Economics
HLELISILE MILLICENT SIMELANE
Master of Commerce (Economics) with 75%
Department of Economics
NOLUTHANDO BONGEKA MNGOMEZULU
Master of Commerce (Business Management) with 75%
Department of Business Management
NOKWANDA MQOLOMBENI
Master of Commerce (Economics) with 75%