UNIZULU Graduation by Numbers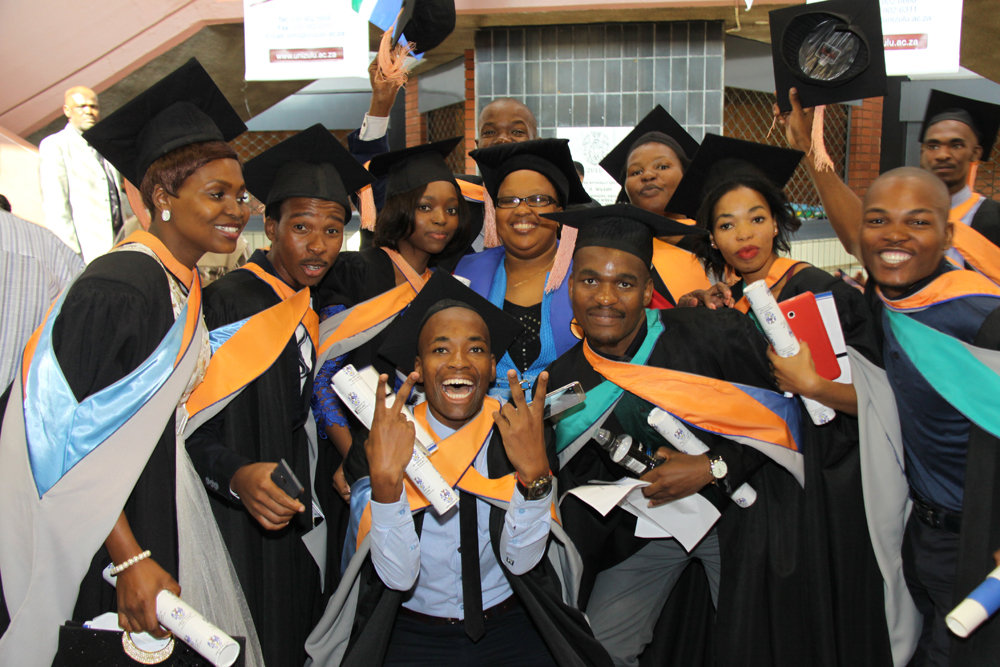 A total of 4338 students will graduate at the University of Zululand during the its May Graduation Ceremonies which kicks off on Monday, 8 May 2017, ending on Friday, 12 May 2017.The graduation ceremonies will be held at the University's King Bhekuzulu Hall, KwaDlangezwa Campus, KwaDlangezwa.The graduation ceremonies will enjoy an array of distinguished and established guest speakers such as Dr Namhla Sotuku, Director: Early Childhood Development Centre at the University of Fort Hare; Professor Maureen Robinson from the Department of Curriculum Studies, Stellenbosch University; Professor Moeketsi Letseka, Professor of Philosophy of Education: University of South Africa (UNISA) College of Education and Editor in Chief: Journal Africa Education Review; Professor Eugene Cloete, Vice Rector: Research and Innovation, University of Stellenbosch​​; Yaa Ashantewaa K. Archer-Ngidi, Founder/Director: Institute of Afrikology at the Durban University of Technology; Professor Kwesi Kwaa Prah, Founder and Director of the Centre for Advanced Studies of African Society (CASAS); Dr Nthabiseng Motsemme, Academic Director: National Institute for the Humanities and Social Sciences (HIHSS) and Madam Justice Mohini Moodley, Judge: High Court of South Africa, KwaZulu-Natal Division.
A total of 32 students will graduate with their PhD degrees, 84 with their Master's degrees, 359 with their Honours degrees, 10 with their Post Graduate Diplomas (PGD) 424 with their Postgraduate Certificates (PGC) and 3429 with their undergraduate qualifications.A total of 1669 students will graduate from the Faculty of Education, 599 will graduate from the Faculty of Science and Agriculture, 1229 will graduate from the Faulty of Arts and 841 will graduate from the Faculty of Commerce, Administration and Law.
Issued by:
Sinegugu Ndlovu
Public Relations Manager
University of Zululand
035 902 6665
NdlovuSP@unizulu.ac.za
Sinegugu.ndlovu198510@gmail.com
The Faculty of Accounting and Informatics will have a 1103 graduates including 1 DTech graduate and 4 MTech graduates. The Faculty of Management Sciences will have 1438 graduates. This includes 1 DTech graduate and 9 MTech graduates.A total of 308 students will graduate under the Faculty of Applied Sciences, with 1 receiving a DTech qualification and 4 receiving MTech qualifications. The Faculty of Arts and Design will have 588 graduates, with 2 DTech graduates and 3 MTech graduates.The Faculty of Engineering and the Built Environment will have a total number of 955 graduates, including 2 MTech graduates, while the Faculty of Health Sciences will have a total number of 549 graduates, with 1 DTech graduate and15 MTech graduates. Sixteen (16) students with disabilities will graduate from the institution.
– Sinegugu Ndlovu
Pictured: Brand Pretorius, one of SA's most respected business leaders who will receive an Honorary Doctorate during the graduations at DUT which kick off tomorrow (Thursday April 11, 2013).