Vice-Chancellor's COVID-19 Information Sharing Sessions for Staff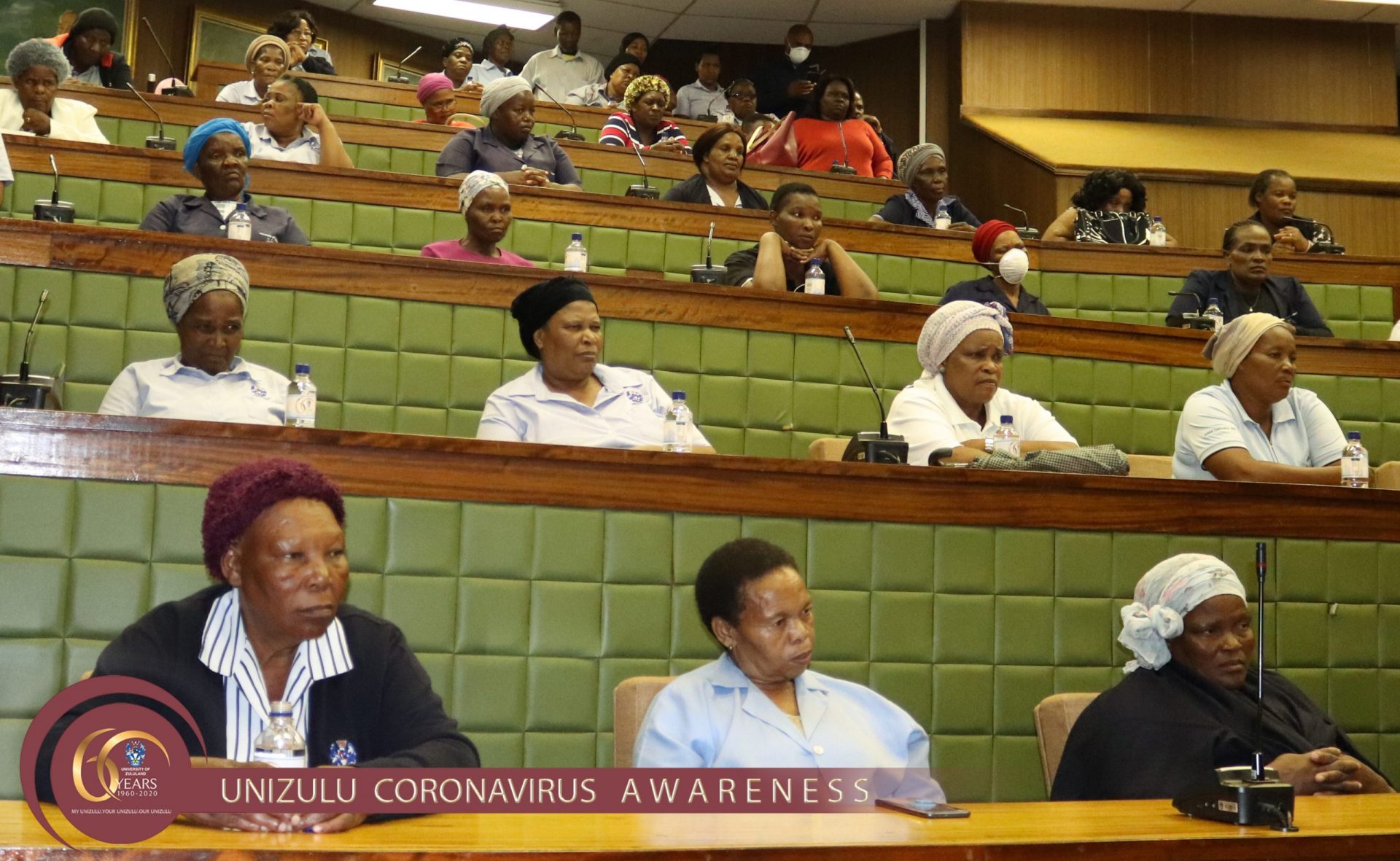 The COVID-19 is a growing concern all over the world. South Africa's national Department of Health and the National Institute for Communicable Diseases remain on high alert and have stated that they are adequately prepared for early detection, case management and the prevention of onward spread. With the first reported case in South Africa having been confirmed by the Minister of Health on 5 March, University of Zululand (UNIZULU) is taking the possible threat of infection in our community extremely seriously and aligning its response to COVID-19 with regional and national efforts.
UNIZULU, under the sterling leadership of Professor X. Mtose, on 17 March 2020, held an hour-long information as well as question-and-answer session for employees who are working in the Protection Services Department, Planning and Facilities Unit as well as the Transport Department. The aim was to share the latest information about the disease and how the University is responding to this pandemic. The sessions were held in the University's esteemed Council Chambers for the KwaDlangezwa Campus employees and the Main Boardroom for the Richards Bay Campus staff.
The sessions were championed a team comprised of staff from the Campus Health Clinic, Employee Wellness section, Communications and Marketing Division as well as the Human Resources Department.
In addition to COVID-19 interventions, the following topics were discussed:
How best to protect oneself from getting the virus
What to do if you think you have the virus
How to prepare for quarantine
How to address the anxiety that may arise because of the pandemic
How to care for senior citizens who may be quarantined
How to combat loneliness during quarantine and social distancing
How to care for chronic illness during this pandemic
How to maintain your weight and physical activity
To augment the information shared during the sessions, an interactive video was played with the intent of helping the attendees better understand the message of the day. In sharing the vision for these sessions, the University Vice-Chancellor, Professor X. Mtose, reiterated that her main concern was that the medical risks of COVID-19 are more severe in older people which are make up the majority of the UNIZULU workforce. Therefore, as a precaution, people who are over 60 and/or have chronic medical conditions are advised to not travel to high risk areas unless it is absolutely essential, and to still be cautious when travelling to low risk areas.
We applaud the UNIZULU leadership for providing easy access to information in a time where we are compelled to work jointly as a team to ensure the sustainability of the institution.