UNIZULU takes part in history colloquium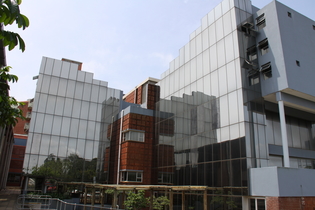 The NIHSS, Universities of Venda, Limpopo and South Africa co-hosted the "Colloquium on Liberation History, Memory and Contestation" at the University of Venda from the 15th to the 17th March 2017.
This multi-disciplinary colloquium brought together academics, business people, civil society and postgraduate students to share their research work and expertise with the intention of contributing to national dialogue on complicated national issues.
UNIZULU academics from the Department of History, i.e. Dr M.Z. Shamase, Dr H.S. Ntuli and Mr DHD Ngobese read papers at the colloquium.
Dr Ntuli's paper was titled "The historical trajectory of the removal of people from Mandlazini: Memories of victims" and Mr Ngobese's paper read "patterns and symbols of the battle of Ncome/Blood River of 1838: a critical re-interpretation of historical trajectories and memorial of tangible heritage".
Besides being a Hubs Scientific Committee Colloquium member, Dr Shamase presented a paper on the "The Genesis and Theoretical Exposition of the National Democratic Revolution in South Africa".
Dr Shamase's paper asserted that Joe Slovo contributed to the ANC's "Two Phase Theory" revolution for which the National Democratic Revolution (NDR) perspective was premised. This theory and perspective logically led to the formation of the 'Mass Democratic Movement' strategy which accommodated everybody from committed revolutionaries, moderates, reformists, opportunists, reactionaries, puppets and dissenters.
It concluded with interesting remarks that the working class and national democratic revolution in South Africa have monopoly capital as universal strategic adversary. This manifests itself through neoliberal globalisation, through its overarching regime of imperialism and through capitalist exploitation of labour in general.
Postgraduate candidates, Sphamandla Gumede and Ntokozo Dladla provided logistical technical support and chaired some sessions on the very first day of the colloquium. The UNIZULU banner was hoisted high at the colloquium.
"The conference helped me as a Masters Student, I learnt a lot from different historians and experts in the field of history. Conferences of this nature provide a unique opportunity for networking and learning and thus compel one to grow in an academic arena and to challenge themselves".