UNIZULU Students Raise Funds for Cancer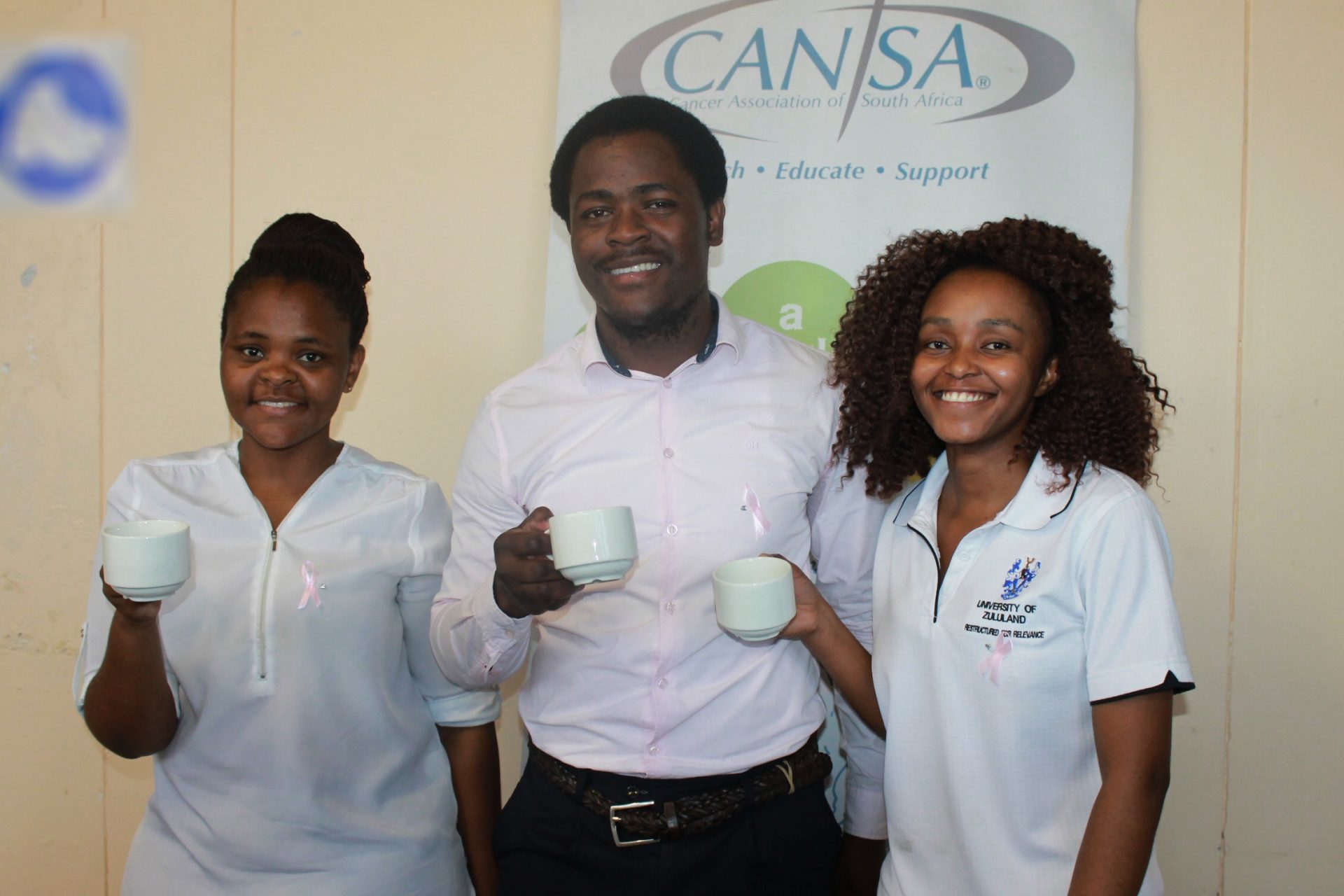 In a bid to raise funds for the fight against cancer which has claimed millions of lives worldwide, the Department of Consumer Science at the University of Zululand recently hosted a #CuppaForCANSA fundraising initiative for the Cancer Association of South Africa (CANSA) at the Docsherd Restaurant, KwaDlangezwa Campus.
#CuppaForCANSA provides a social platform for people to come together and share a beverage and in so-doing, help those who are affected by the disease.  This campaign is supported by Shoprite and Checkers; South Africa's largest retailer.
Upon arrival at the Docsherd Restaurant, students and staff were spoilt with healthy but tasty treats such as a carrot cake, savoury muffin as well as a cup of coffee or juice.  Attendees also received a Pink Breast Cancer Awareness Ribbon to showcase their solidarity to this important cause.
This pink and white quintessential event was organised by students from the Department of Consumer Sciences which falls under the Science and Agriculture Faculty. The students also used this initiative to not only create cancer awareness, but promote healthier lifestyle choices as well.  Guests were also given crucial nutritional information on essential natural food items that assist in fighting cancer as well as background information on the national #CuppaForCANSA campaign.
"People will be surprised to find out that there aren't major changes one needs to make in order to live a healthier life", said Consumer Sciences student, Lindani Dube. "For instance, there are food items like cooked tomatoes, dark chocolate, turmeric, green tea and raspberries which assist in reducing the chances of acquiring cancer. These are food items that can be found in most food stores in the country," said Dube.
Sister Sane Mahlangu, a professional medical practitioner from the CANSA organisation, provided fundamental information on cancer, its treatment, support centre services as well as other useful products that cancer patients can use to ease and assist with cancer related challenges. She urged staff and students to be vigilant when it comes to their health by visiting the nearest clinic to get screened for cancer. "There are many illnesses in the world that are not treatable and cancer is not one of them provided that we can catch its development in the early stages. This means we need people to regularly check their health by visiting healthcare centres such as clinics and hospitals. Our offices also provide this service" said Sister Mahlangu.
Although the event was centred on an extremely serious topic, there were lighter moments which gave attendees an opportunity to easily digest the information. One of these moments included a talk on preparing healthy meals to try at home such as fresh smoothies and hearty soups. Attendees also got a chance to be part of the lucky raffle draw and two winners walked away with CANSA products such as a head wrap and large mug.
The donations collected will be given to the CANSA non-profit organisation which will use the funds to provide their patients with dignified care to ensure that cancer patients and their loved ones do not face this illness alone.
– Hlumelo Nyikana
Pictured: UNIZULU Consumer Sciences students "cupping" the success of the UNIZULU #CuppaForCANSA fundraising initiative.