UNIZULU OPEN DAY: A LEARNERS SNEAK PEEK INTO THEIR PROSPECTIVE CAREERS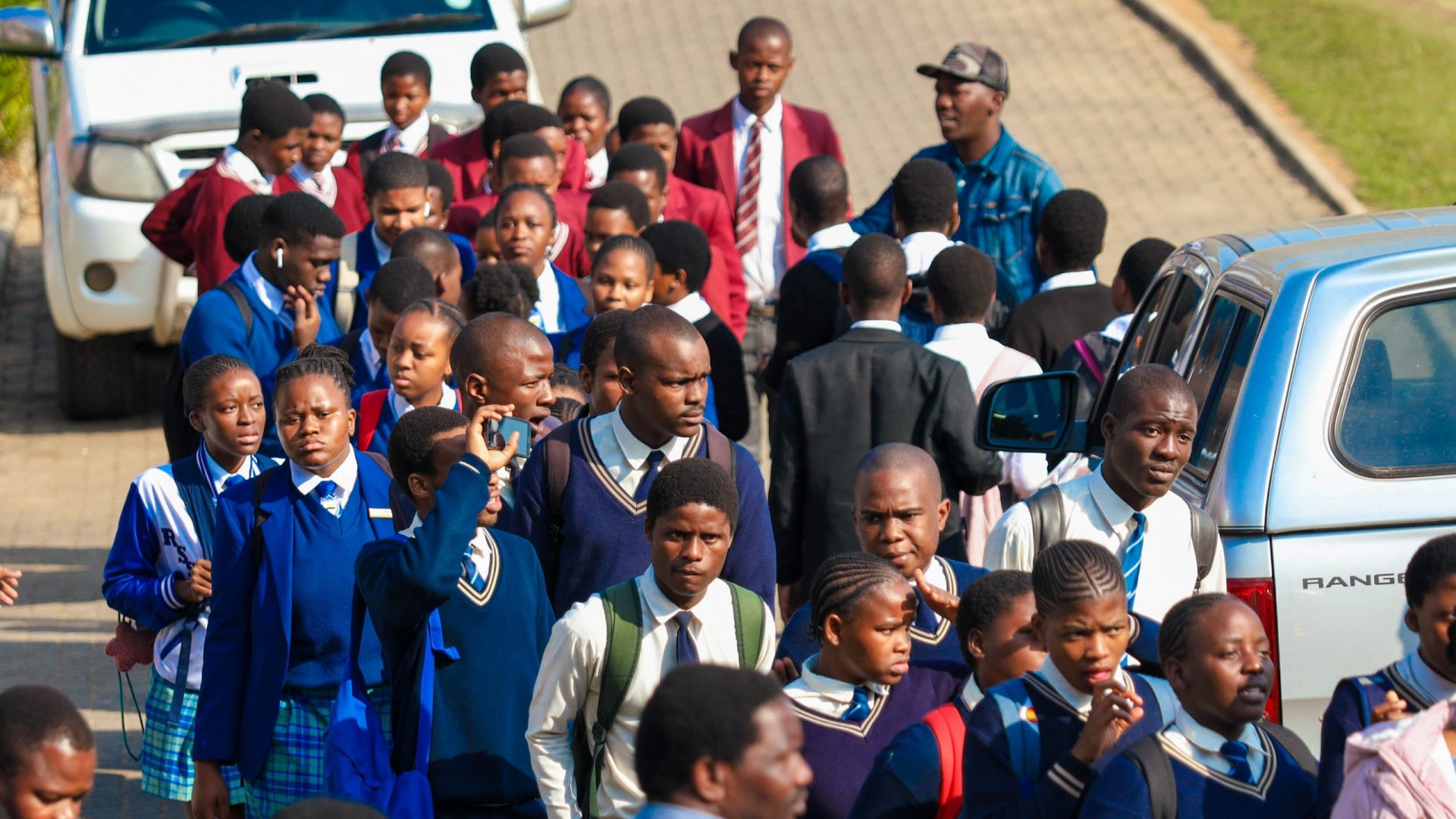 The University of Zululand (UNIZULU) annual Open Day opened its doors on Thursday 28 August. Crowds of learners visited the iconic King Bhekuzulu Hall over this event. It was a perfect opportunity for learners to gain insight into possible career options. Over 1000 learners from over 30 schools attended UNIZULU Open Day within King Cetshwayo District, it educated prospective students about its courses for matric students interested in enrolling in higher education.
The program was directed by Nsikelelo Malinga from UNIZULU Science Centre.
A welcome note was issued by Gcina Nhleko, the Director of Communications and Marketing Division (CMD), which noted the importance of the day to the learners. "Having been in a state of Coronavirus pandemic for two years, your peers were not given this opportunity to engage with UNIZULU and other universities because we were all threatened as a nation. When they speak of UNIZULU, you will now know exactly what it is like and how beautiful it is, plus you identify who you'll interact with. Please don't take this opportunity for granted because not everyone has got it", she said.
A variety of courses offered by the University were exhibited by various academic facilities learners and their teachers were able to obtain first-hand information regarding the approximately 70 undergraduate courses on offer at UNIZULU.
The demonstrations were presented by the key speakers emerging from all four university faculties namely Humanities & Social Sciences; Education; Science, Agriculture & Engineering as well as Commerce, Administration, and Law about the offerings at the KwaDlangezwa and Richards Bay campuses. The speakers addressed learners informatively on the issues of course requirements, selection criteria, and employment opportunities within the courses under each faculty at the University of Zululand.
The process of a student ascending into higher institutional learning involved external and partnership stakeholders, who were also invited. This included Standard Bank, the National Student Financial Aid Scheme (NSFAS), the Central Applications Office (CAO), the Department of Basic Education, the Department of Higher Education, and Water and Sanitation.
Dudu Khoza from the Central Applications Office (CAO) explained the role of CAO in partnering with the four major universities to process learner applications throughout KwaZulu Natal. In explaining the process of applying using a CAO form, she informed learners that all applications are now to be made online instead of using manual forms.
Sandile Gabela, a representative from Standard Bank specified that one of the key reasons Standard Bank partners with Universities like UNIZULU during such events is that they want to create awareness among students about the availability of Student Loans. "We know that not all students are able to get bursaries when enrolling in higher institutions. We want to inform them on how to apply for student loans and we also want to assist them in opening student accounts that have better benefits like getting twelve months of free banking without paying for service fee and having a bank account is one of CAO'S requirements," Gabela explained.
An official from the Department of Basic Education within The King Cetshwayo District, Lihle Madondo passed her words of gratitude saying "coming to this day, as the Department of Basic Education we really appreciate the Open Day to an extent that we even offered that we could assist in ensuring that learners do come by making sure that we disseminate information and have these schools registering through us. We appreciate this day because our kids will get an opportunity to register within the very same university that has sharpened and produced us".
learners engaged with all the departments within these faculties and had the opportunities to ask questions and get assistance from department representatives after the presentations had concluded.
A learner from Hluma High School, Simphiwe Hlengwa, expressed her excitement in being part of the Open Day at UNIZULU. "I cannot believe that I'm here, this is the same university we learn about in our IsiZulu class when we do poetry. 'Ingqungqulu eshaye amaphiko phezu koMhlathuze', today I realized that everything is possible, and I can study anything I want to study within this university", she said.
Overall, the Open Day kickoff proved to be full of fun, learnership and good spirits for the learners, exhibitors and learners appeared excited about attending the open day.
Wandile Mathonsi and Nompilo Dlamini