UNIZULU Launches Engineering Advisory Board Forum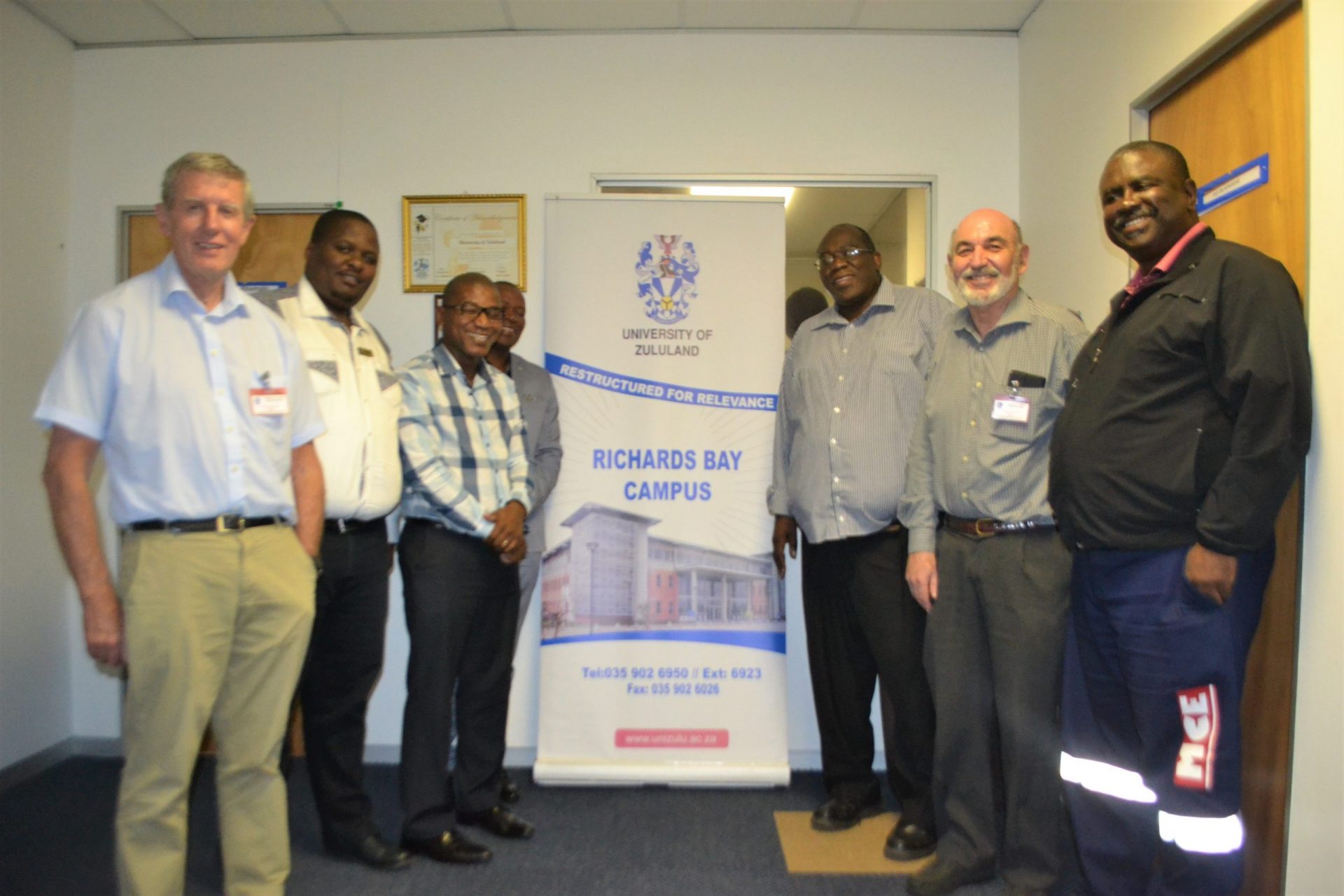 Great minds met when the industry think tanks converged at the University of Zululand's Richards Bay Campus for the inaugural UNIZULU Engineering Faculty Advisory Board meeting.
The key purpose of the Engineering Advisory Board will be to serve as a liaison between the University and industrial sector while incorporating civil society. Members of the Engineering Faculty Advisory Board bring important insights and expertise to assist the Richards Bay Campus in initiating and reviewing critical issues.
The Board's mission is to provide candid and constructive advice, based on insights and expertise, on issues critical to the establishment and success of the UNIZULU Engineering Faculty and serve as an advocacy arm of the UNIZULU industry and government by informing these stakeholders of educational and research opportunities through the increase of the Engineering Faculty's resources and support.
The specialists roped in are respected and seasoned engineers from the industry who are representive of the industry counterparts. Amongst the giants represented is Isizinda Aluminium, MoreCare Engineering, Foskor, Umhlathuze Municipality, RBCT as well as academics from the University of Cape Town.
"There was a call for the University of Zululand to undergo a transition from its standing as a traditional University into being a Comprehensive University in 2002 when higher education institutions were merged," said Professor Muzi Ndwandwe, Executive Director of the UNIZULU Richards Bay Campus. "In 2009 when the Richards Bay Campus opened its doors, it was earmarked as the University's flagship campus due to its proximity to major industrial hubs and the mining sector in Richards Bay. This is clearly defined also in the University's Strategy 2016-2021," he said.
Prof Ndwandwe further mentioned that the targeted engineering qualifications which the University is anticipating to roll out are four diplomas in Electrical Engineering (Electronics Communication Systems), Electrical Engineering (Computer Systems), Mechanical Engineering (Process Instrumentation and Control) as well as Mechanical Engineering (Mechatronics); one Diploma and one BSc in Marine Engineering; two Higher Certificates in Engineering Technology and Marine Engineering; as well as six BSc degrees in Electrical Engineering, Mechanical Engineering, Computer Engineering, Chemical Engineering, Civil Engineering as well as Mechatronics.
In order to successfully roll-out such programmes, infrastructure requirements in terms of the appropriate building to house these studies as well as manpower to service the facility must be provisioned. Board member Emeritus Professor Barry Downing from the University of Cape Town's Department of Electrical Engineering brought into light the realities of housing an engineering faculty which would be a multimillion investment, however advising that the University can explore short term measures. He mentioned that the complete curriculum for the first two programmes to be offered at the Faculty will be completed by the end of September 2017. Thereafter, the courses will have to undergo the UNIZULU Faculty Board approvals and be accredited by the Engineering Council of South Africa.
The proposed UNIZULU Engineering curriculum will be benchmarked using the UCT curriculum with refined improvements. The complete Engineering Faculty roll-out is scheduled for 2019 where by the first intake of students will be admitted.
"The high cost of establishing and offering engineering courses requires massive investment," said Prof Downing. "In South Africa, 70 percent of university costs are staffing costs. An engineering degree requires 576 credits/32 credits which equals 18 teaching staff + Admin Staff + technical officer staff.  There is an extensive economy of scale in filling the classes," said Prof Downing.
Phiwo Thango, Morecare Engineering Services Group Managing Director alluded to the fact newly qualified engineers are lacking key skills such as welding. In response to this, it was mentioned that all qualifications have a practical component which is where the industry affiliates should offer students job training opportunities for practical and relevant exposure.
– Gcina Nhleko
Pictured from left (clockwise direction): Emeritus Professor Barry Downing, UCT; Sabelo Hlelo, uMhlathuze Municipality Deputy Manager: Infrastructure and Technical Services; Musa Xulu, FOSKOR; Professor Muzi Ndwandwe, UNIZULU Richards Bay Campus Director; Emeritus Professor Gerald Nurick, UCT and Phiwo Thango, Morecare Engineering Services.