UNIZULU Choir Touring Germany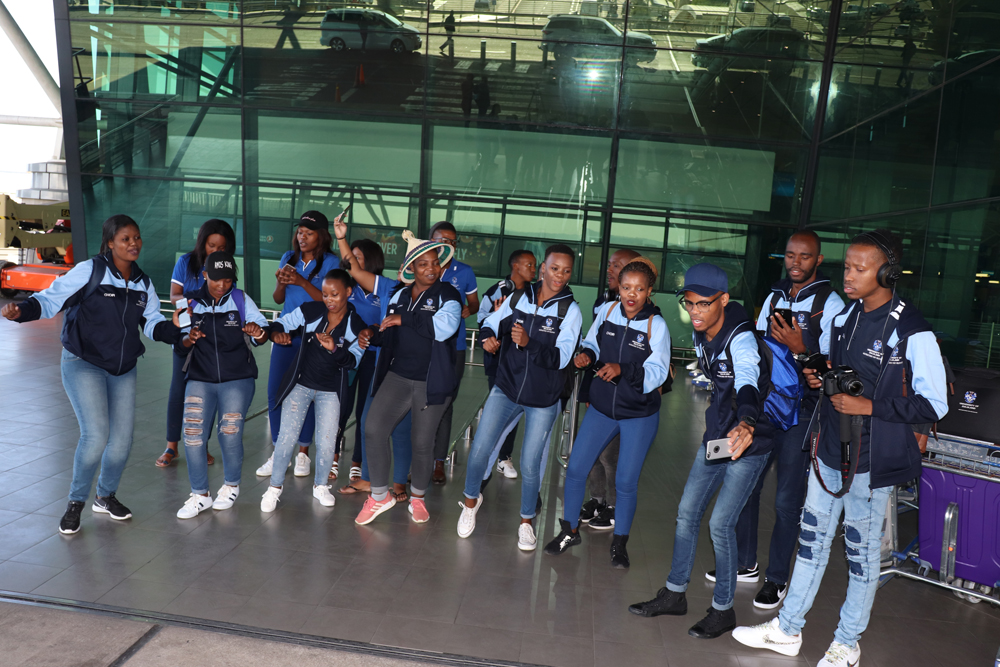 Music and dance were the order of the day on Tuesday, 3 July 2018 at the King Shaka International Airport as the University of Zululand (UNIZULU) Choir rejoiced ahead of boarding the first plane en route to Germany where they are to participate in a joint choral musical festival.
The choristers will return on 30 July 2018. Their three-week tour comes as a result of a collaboration between UNIZULU Choir and Imbongi Voices for Africa, a German choir comprising of German citizens who sing various African songs. The two parties organised a musical spectacle set to educate and entertain. Themed Amandla in honour of Dr Nelson Mandela's strength and resilience during apartheid in South Africa, the festival will convey powerful messages about South African identity, history, struggles for freedom post 1994 elections and the lives of ordinary South Africans through song, drums and dance.
The three-part programme will include a musical, Mandela centred struggle songs on International Mandela Day (18 July 2018) and workshops on South African music.
"Although the theme is centred on Dr Nelson Mandela, there will be an inclusion of other South African songs to truly showcase our South African history, heritage and culture. Therefore, we are working very closely with this choir (Imbongi Voices for Africa) in instilling our knowledge, personal experiences, the historical context of the songs chosen to assist them in better interpreting the songs," said Bhekani Buthelezi, UNIZULU Choir Conductor.
Twelve members, consisting of five sopranos, five altos, one tenor and one bass, were selected for this tour. They were accompanied by Buthelezi and Creative Arts Dance Lecturer Masedi Manenye. The group will be hosted in the homes of Imbongi Voices for Africa members and will be touring various locations such as the famous Frankfurt, Heidelberg, Stuttgart and Mannheim, where they hope to truly experience the German culture.
With most of the selected members having never travelled beyond KwaZulu-Natal before, sheer excitement best describes the emotion they felt ahead of the tour.
"This is a true opportunity for first-hand cultural interaction through multiple art forms such as story-telling and dance. We get to share each other's experiences of these art forms and collaborate to produce unique artistic value to this project. Of course, I am also looking forward to being in another country and experience their way of life," said Pearl Piearce, UNIZULU Choir Chairperson.
Apart from the upcoming musical festival, UNIZULU Choir has reached many career heights which include performing at the South African Traditional Music Awards (SATMAs) and National Choral Music Awards; featuring on SABC's musical programme Imizwili and touring Dubai in 2011 as well as America in 2014 and 2015. The choir's performances have also culminated in it receiving national and international awards.
The choir is grateful to the UNIZULU Management, particularly the Vice-Chancellor, Professor Xoliswa Mtose and Professor Nqabomzi Gawe, Acting Dean of Students, for the unwavering support.
Caption
Pictured: Selected UNIZULU Choir members who will be performing at the Amandla choral musical festival in Germany.