UNIZULU Acknowledges its Staff for their Endearing Commitment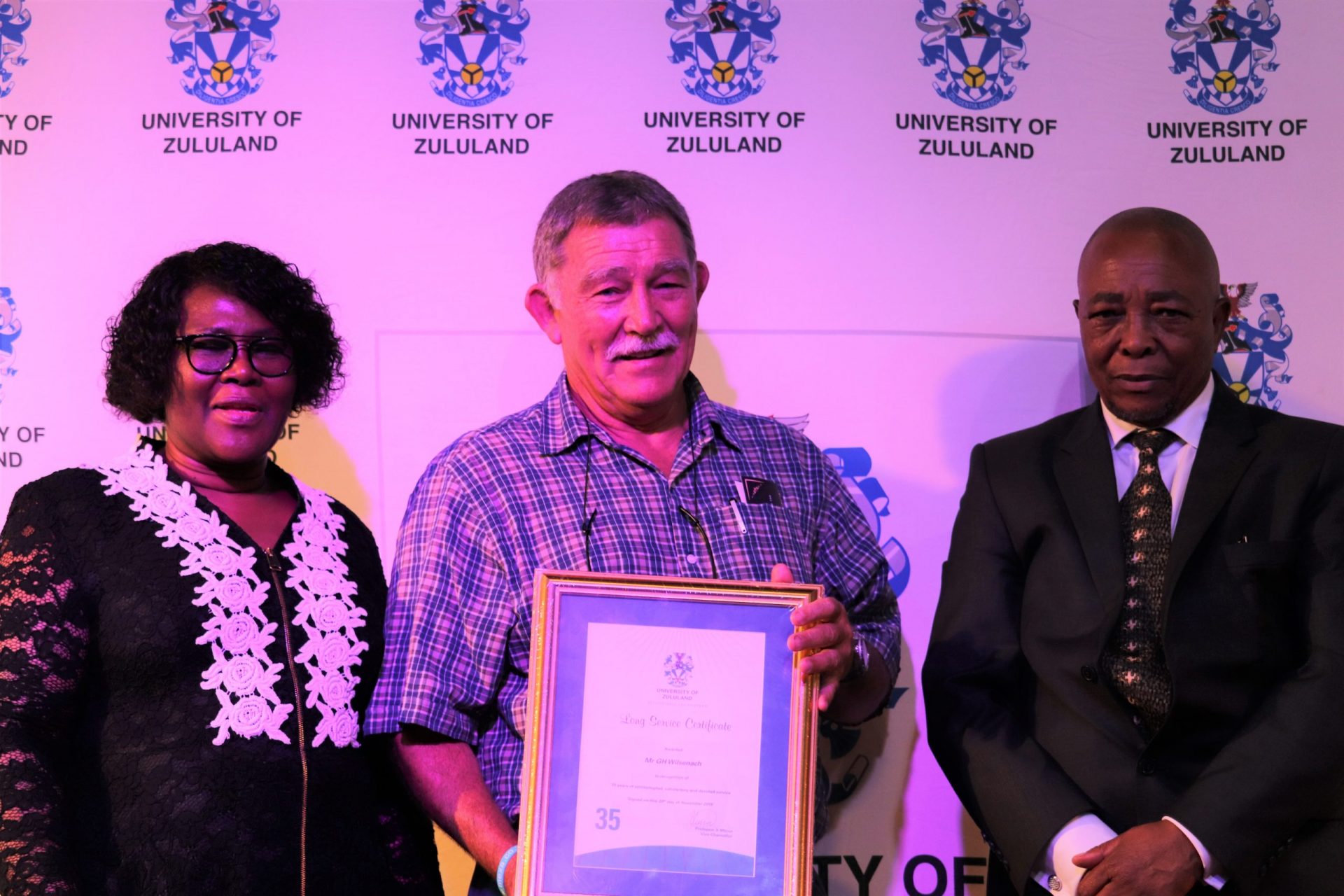 UNIZULU has been hosting the long service awards as a boost towards improving employee satisfaction and engagement. They are a tool to recognise employees beyond tenure alone. This year's awards were held on Wednesday 20th November at the University's Bhekuzulu Hall.
These awards further serve to acknowledge and appreciate the commitment made by staff members who have served between 10 years to 35 years at the University.
This year, a total of 70 employees were acknowledged these include; academic and support staff members who are celebrating various milestones of service varying from 10, 15, 20, 25, 30 and 35 years of service for UNIZULU. Together, these individuals, have dedicated an astounding 1140 years of service which has contributed in raising the University's brand to its present glory.
In his congratulatory remarks, the Executive Director of Human Resources Raynolds Ngcobo, welcomed the honourees to the event and said that this recognition is indicating their value to the University.
The key note speaker was Peter J Morris who pointed out that while students and staff come and go, the only true sense of stability is the strong core of its employees that defines UNIZULU, he congratulated and encouraged the awarded staff members
"Congratulations to all of you, that is just the end of a phase to reflect, think of how you can be of service better, think how you can serve your colleagues better, how you can serve the students better. The cleaners create a conducive environment for teaching. The security creates a safe environment for teaching, let us not look down on occupations. There is dignity in work. In order to serve our students to the best of our abilities we need all these occupations of staff to do their best," said Morris.
Speaking on behalf of the recipients, Professor Nzima, deputy Dean for the Faculty of Education, "Reaching this milestone is a very special occasion for us, it makes us reflect on our past accomplishments and take pride in knowing that individually we are the important members of the UNIZULU team. We wish to thank the university management under the leadership of our vice Chancellor professor Mtose for recognising our contribution to the advancement of the university's goals as articulated in the vision and mission statement. Thank you colleagues, line managers in our respective departments for every kind of support they have given us throughout these years." Said Prof Nzima.
The event was attended by the University's Vice Chancellor Professor Xoliswa Mtose and most executives including Deputy Vice-Chancellors Professor Sipho Seepe and Professor Mahlomaholo, Executive Directors, Deans, Heads of Department, Senior Management and staff members.