UNIZULU Academics Scoop Researcher of the year award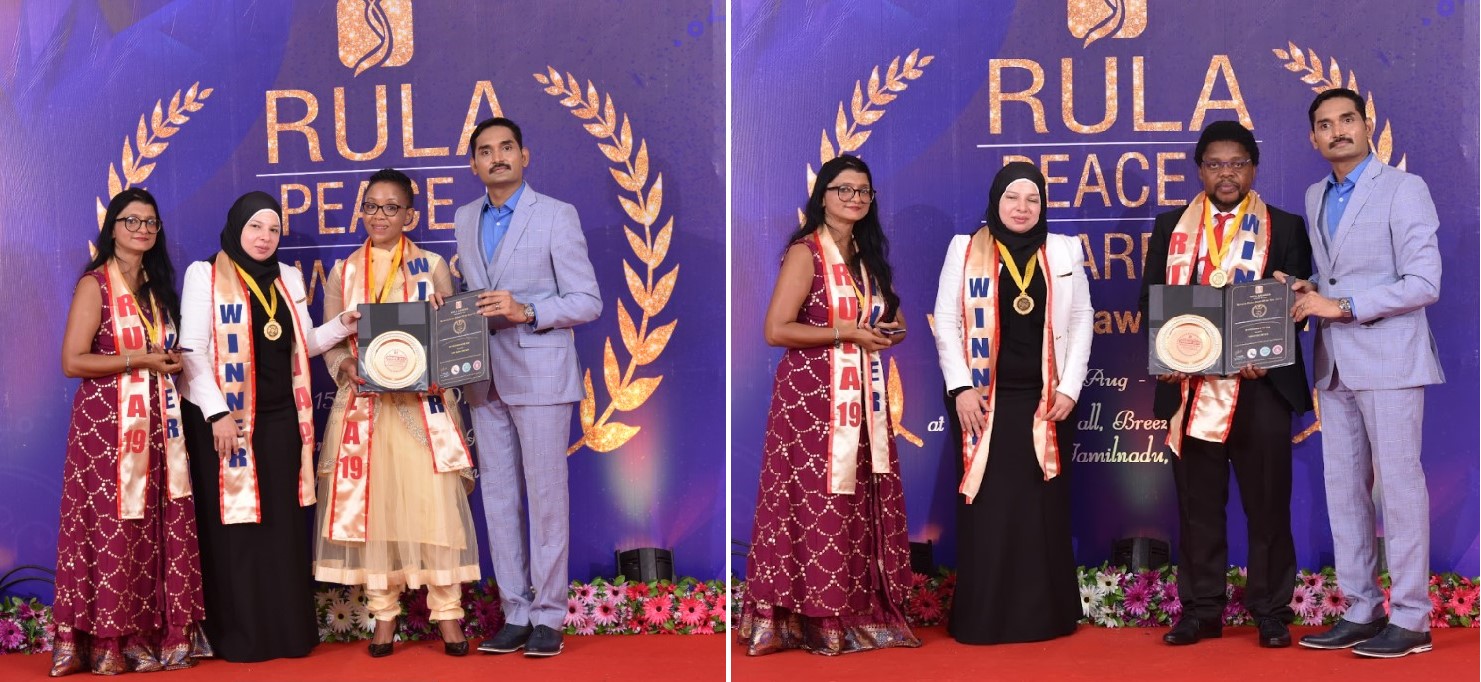 Two of the University of Zululand's (UNIZULU) renowned scientists walked away each receiving an award entitled Researcher of the year. The ceremony was recently held in India Trichy.
Prof Tshwafo Motaung and Dr Linda Linganiso were the recipients of these awards. Both academics are from the Department of Chemistry in the Faculty of Science and Agriculture. Rula Peace award is an international body aimed at supporting and recognising researchers and/or institutions who push the boundaries of basic research and turn scientific imaginations into the world class solutions.
UNIZULU continues to be at the forefront when it comes to research.  The two were recognised for their standard of research and its relevance to society.Prof Motaung said he feels honoured to be recognised for his contribution in research, "This serve as a source of inspiration for other researchers within UNIZULU to build their research profiles and compete nationally and internationally. It is also very important that we should benchmark our research to international standards," said Prof Motaung.
The research project on cancer causing more deaths in South Africa than HIV/Aids, tuberculosis and malaria combined. "Encapsulation of gold nanorods with porphyrins for cancer treatment and bacterial diseases"
"Porphyrins is chemical which could be extracted from oily marine waste. However, currently we have purchased it to get the Chemistry right.  The success of the project means a lot internationally as the cancer becomes a main factor to deny a human welfare.  This project is being swelled by our Master student, Nthabeleng Hlapisi. Hlapisi is the main author of the critical review which was recognized internationally as the best research in 2019 in Health Science. Prof Sandile  Songca, the former DVC of Teaching and Learning at UNIZULU is also actively involved in the project. We will stop at nothing to make sure that we have a cheaper, greener and less energy procedure for cancer treatment. "said Prof Motaung.
The e awardees expressed appreciation for the support and foundation laid by the team, in particular Prof Neerish Revaprasadu in the department of Chemistry. "The Department of Chemistry in UNIZULU is now richer and internationally recognised because of the culture of research fashioned by Prof Revaprasadu. Not forgetting the hard working research group members who earned the research group more than eight research awards since 2016.  It is because of their positive interactions that kept us motivated to break more grounds in this field."  Dr Linganiso concluded.