TLC Acknowledges Student Peer Helpers and Tutors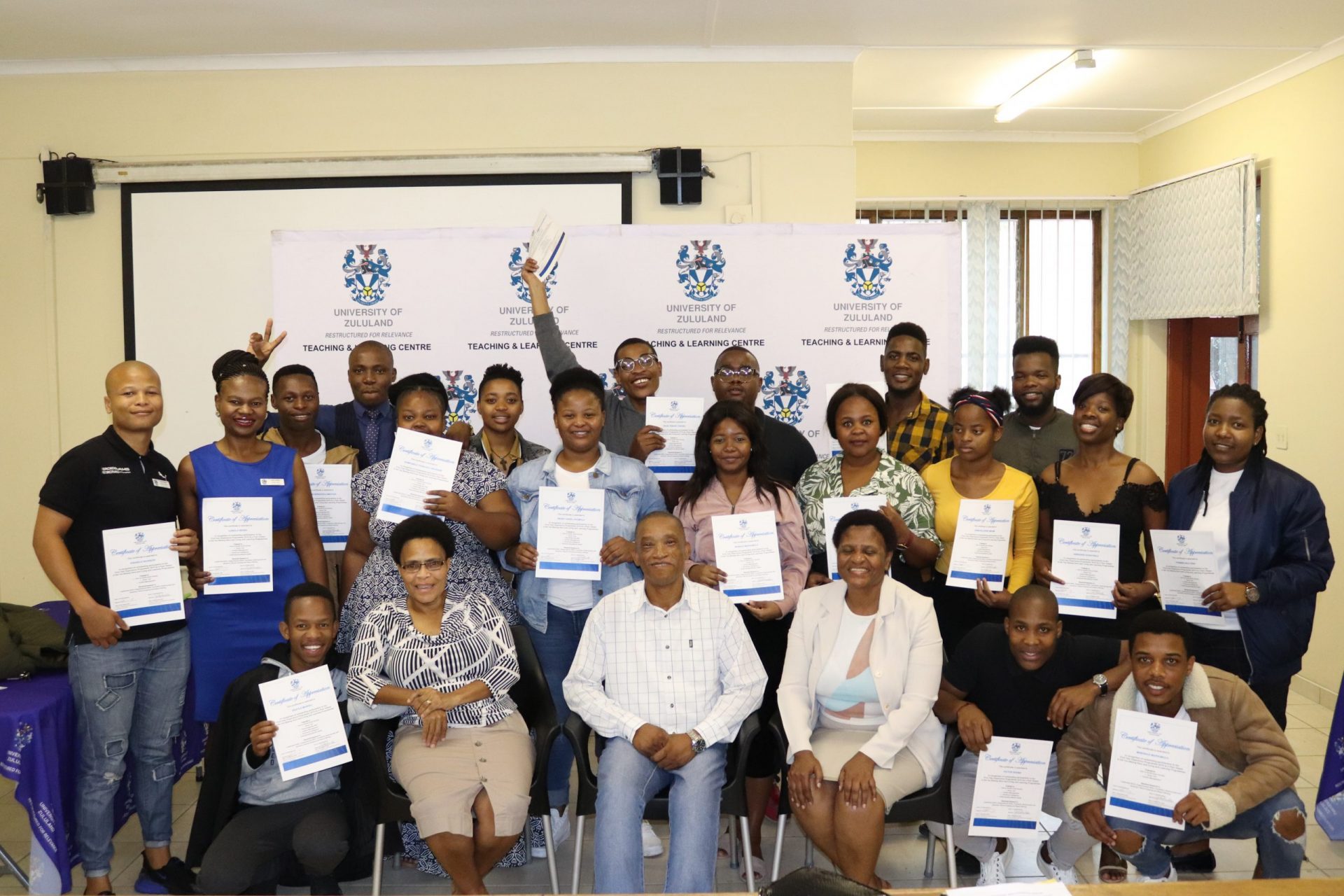 UNIZULU's Teaching and Learning Centre (TLC) recently held an event to acknowledge the student peer helpers and tutors for their outstanding dedication to providing support and assistance to students when needed, at KwaDlangezwa campus.
TLC awarded the student peer helpers and tutors with certificates for their participation in development skills programmes offered to enhance their services.
According to TLC's Programme Coordinator of student academic support Dr Jennifer Mthimkhulu, Student Academic Development focuses on the support and strengthening of a students' academic, social requirements and expectations in the institution. It is premised on the theory of learning that students perform better when allowed to include social and other activities in their learning process. The development focuses mostly on first-year students and academic support to selected students in identified high-risk modules across faculties and has yielded positive results, which includes students who are not first years.
Dr Mthimkhulu added that senior students play a big role in supporting students through tutorship, mentorship, and peer helper Programmes. Senior students work with small groups of students who are expected to actively participate in knowledge acquisition, retention, and application. Tutors, mentors, and peer Helpers were recognised for the good work that they did in 2019.
During the event, students were taught valuable life skills from TLC's Co-ordinator Foundation Programmes Dr Sithembiso Ngubane who motivated the students to assess and observe details in their lives so that they can make constructive decisions. He used day-to-day examples such as decisions in the household; deciding on the resources within reach to utilize to cook a meal as well as decisions for preparing adequately to enter the job market. He emphasized that these decisions need to be properly assessed so that they can adapt to cultivate their potential and become successful with the life choices they make.
Student representatives, Kwanele Davidson (KwaDlangezwa Campus) and Sifiso Ndlovu (Richard's Bay Campus) both thanked TLC for the contribution to their development and continued support. They urged students to use these skills and opportunities gained in their communities to uplift their lives and those around them.
"I appreciate what TLC has done in enabling me to realise my potential. This experience has increased my confidence; I can now speak in front of a large crowd without feeling inadequate. We (students) should use these skills to showcase the leadership abilities that UNIZULU students have when you go out into the world", said Richards Bay representative Sifiso Ndlovu.
Ndlovu continued to motivate returning students to truly make the most of this opportunity in assisting their peers. "Self-development is crucial in uplifting our community and our lives so that, we can become whoever we dream of becoming. This certificate is just a measurement of that success but, it's still just a piece of paper. It's what we put in that counts. People out there will measure our abilities and leadership skills because of our actions".
Dr Mthimkhulu thanked Nompumelelo Cele who assisted and organised all Richards Bay Campus student engagements and participation, Dr Ngubane for his motivation and all students who attended the certification ceremony. She urged students to take heed of the wisdom gathered at UNIZULU and to take care of themselves during the upcoming festive season.