THE UNIVERSITY OF ZULULAND AND KAGISO TRUST PARTNERSHIP IS SET TO DELIVER ANOTHER RIVETING CONVERSATION THROUGH THE LECTURE SERIES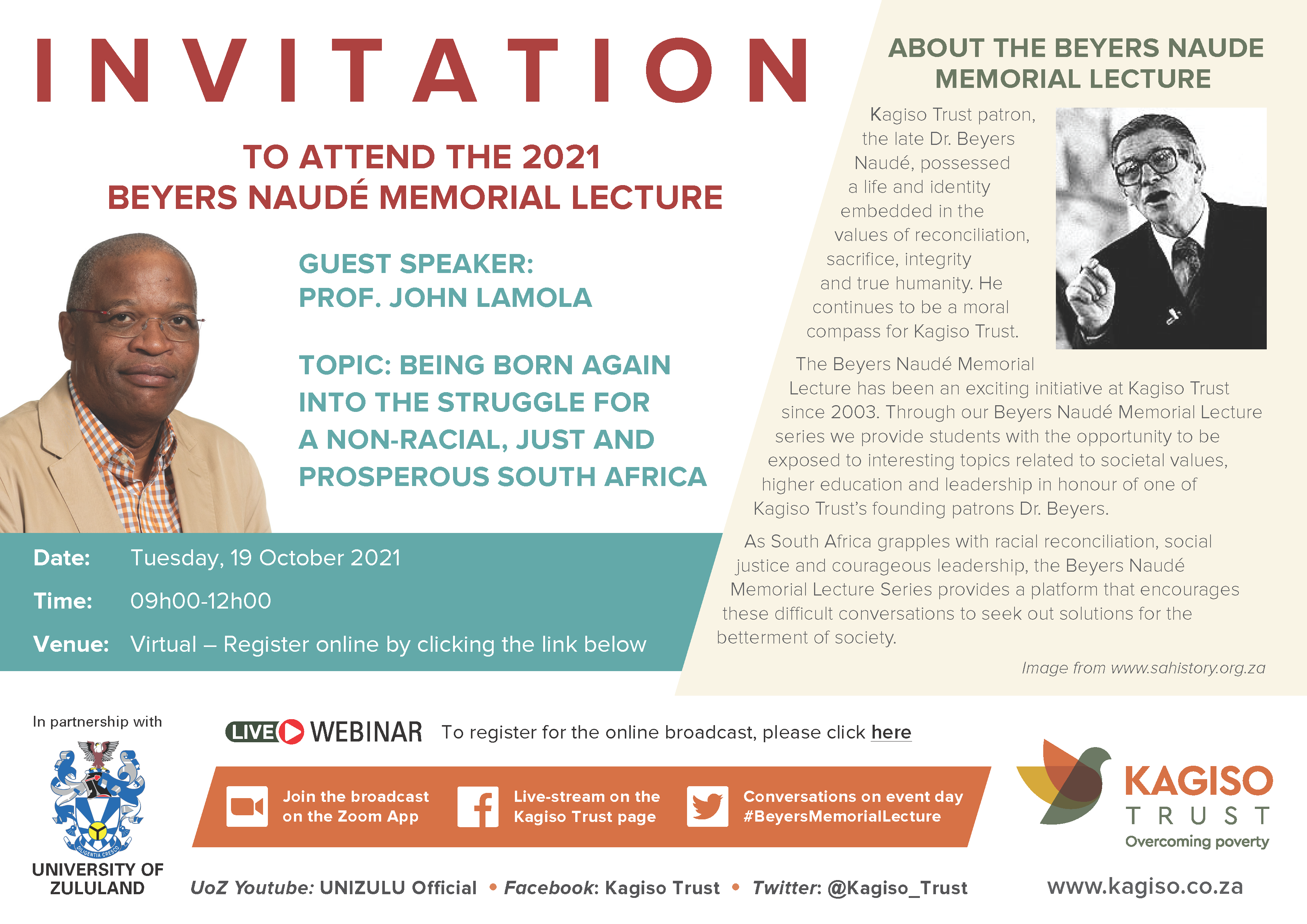 A partnership between Kagiso Trust and the University of Zululand which commenced in 2018 will see the final in the lecture series being conducted on the 19th October 2021 at the University of Zululand, KwaDlangezwa Campus. Dr Beyers Naudé is Kagiso Trust's founding trustee, alongside the likes of Archbishop Desmond Tutu, Dr Max Coleman, Reverend Frank Chikane, Prof Jakes Gerwel and other anti-apartheid's stalwarts.
The 2021 lecture in partnership with the University of Zululand will be presented by Professor Malesela John Lamola who is an Associate Professor: Philosophy of Technology at the University of Johannesburg's Institute for Intelligent Systems. He is the founding chairperson of the Research Group on Africa, Philosophy and Digital Technologies. The topic for 2021 is "Being born again into the struggle for a non-racial, just and prosperous South Africa".
Rationale for the topic
The intention of the topic is to address a subject that is deeply rooted into the spirit of the life that Beyers Naude lived and relating that to the contemporary challenges of the South African society and the country. In the current state and mood of the nation, and with the location of the audience being in KZN in the aftermath of the Phoenix events, the keynote speakers felt it necessary to talk about the floundering vision of non-racialism. At the same time zero on the consequences of the breakdown of the national moral fibre, in society generally, and particular in politics/government (corruption!). He draws from the Philosophy of Jean-Paul Sartre) call for moral regeneration.
About Kagiso Trust Partnership with UNIZULU and other Universities
Kagiso Trust is one of South Africa's leading development agencies working toward a prosperous, peaceful, equitable and just society. The agency works to overcome poverty by creating and implementing sustainable development programmes in the areas of education, capacity building, socio-economic development, fundraising and investment and through special projects. Over the past 30 years, Kagiso Trust has invested over R2 billion in development and implemented over 1,831 programmes.
The Beyers Naudé Memorial Lecture series is an exciting initiative through which university multifaceted stakeholders are provided with an opportunity to be exposed to interesting topics related to higher education and leadership. The inaugural Lecture was hosted at the University of Pretoria in 2003, with Archbishop Emeritus Tutu as the guest speaker. The lecture is hosted with different Universities on a three-year cycle so as to reach a wider and diverse audience and encourage the participation of a wider society in dialogue.
Previous university partners include Stellenbosch University as well as the University of the Free State whilst previous speakers include former South African President Thabo Mbeki, Dr Naledi Pandor, Advocate Thuli Madonsela and other notable public luminaries and going forward from 2022 will be with the University of the Free State.
End.