Students to benefit from UNIZULU and Rosatom & Schelkovo Agrohim MOU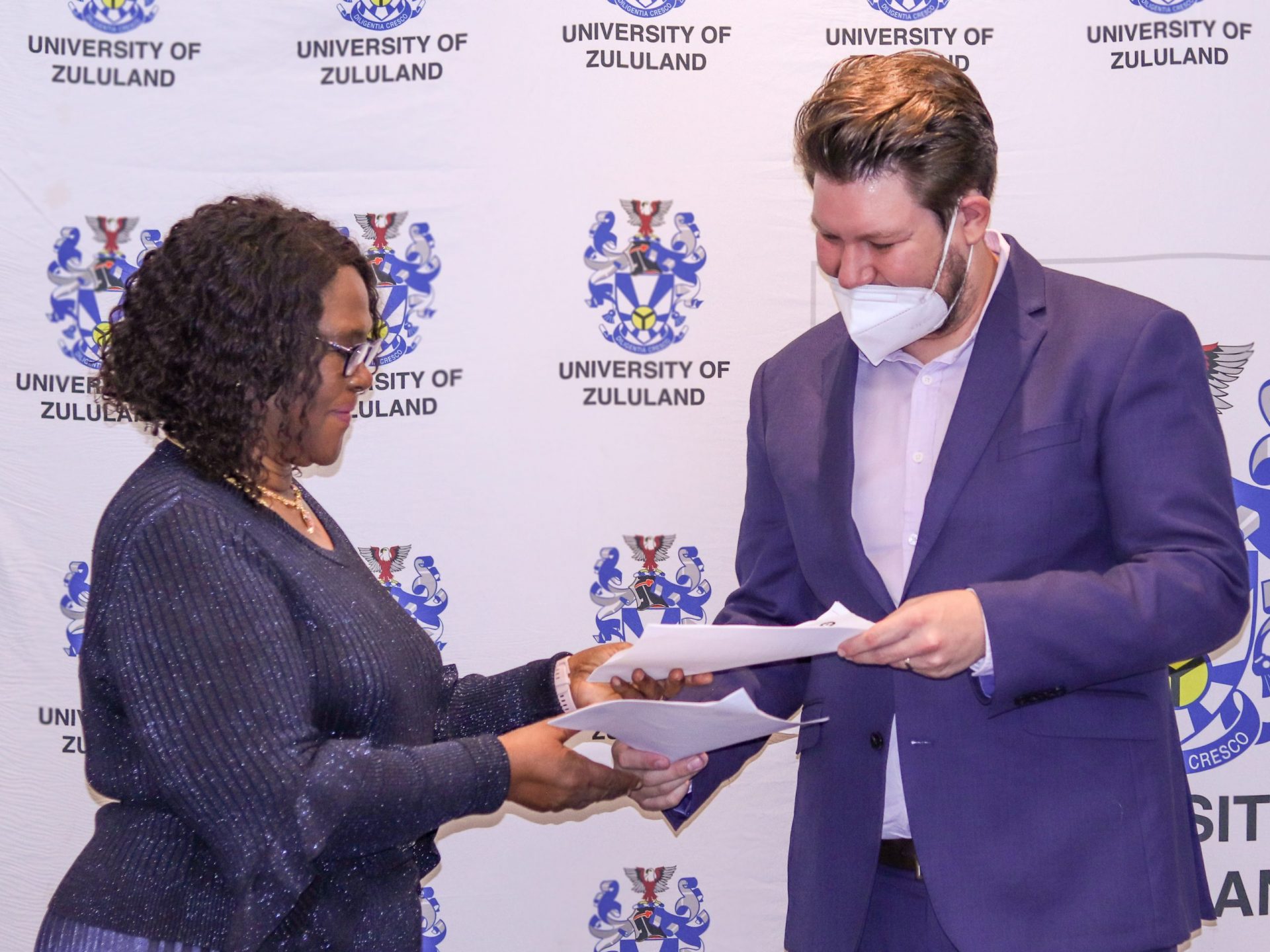 The University of Zululand (UNIZULU) recently signed memoranda of understanding (MOU) with Russian based agricultural company Schelkovo Agrohim and nuclear energy company Rosatom with a view of breeding a cohort of graduates with a specialised skillset that is relevant for the science, technology and agricultural sectors.
To append the signatures on behalf of the two companies were Alexei Semenov from the Russian Embassy of the Russian Federation and Ryan Collyer, Acting COO of Rosatom Central and Southern Africa. Representing UNIZULU was Vice-Chancellor Prof Xoliswa Mtose, alongside her executives.
In her opening remarks, Prof Mtose said the University is excited to forge the partnership with two of Russia's reputable companies. "The forging of these strategic partnership (is) consistent with the University's mission and vision of producing globally competitive graduates, relevant for the human capital needs of the country by providing quality education which upholds high standards of research and academic excellence. These partnerships speak directly to three of the University's six strategic priorities, which are to enhance research and innovation, enhance the quality and the profile of the UNIZULU graduates, and as well as to develop ways to manage national, regional, and international reputation of the University of Zululand.
"Viewed from this strategic point, these partnerships are not a mere nice pair of engagements; they are at the core of our business of contributing to the human capital development of South Africa. Schelkovo Agrohim is one of the largest manufacturers of pesticides in Russia.  The products are represented in all regions of Russia and CIS countries of major interest to the University of Zululand," explained Prof Mtose.
The areas of co-operation will include opportunities desirable and feasible for the development and strengthening of co-operative relationships between the two parties. Such opportunities may include:
Joint educational programmes between UNIZULU and Rosatom associated educational institutions in Russia;
Exchange of undergraduate, graduate, doctoral and post-doctoral students to Rosatom associated educational institutes in Russia;
Joint research projects between UNIZULU and Rosatom associated educational institutions in Russia
Joint educational events and seminars in South Africa and abroad;
Joint cultural programmes in South Africa and abroad;
Exchange of informational materials, publications, and other documentation;
Bursary programmes for South African students to study in Russia; and
Student outreach and student competitions.
Collyer said that they are looking forward to a fruitful co-operation and understanding between the three parties. "This memorandum aims to encourage various joint activities.  We look forward to a fruitful co-operation in terms of achieving these joint goals which are set out. With over 70 years of experience in the industry, I truly believe nuclear technology has a critical role to play in the enhancement of modern society. Not just through the production of clean sustainable energy, but also through the further advancement of nuclear medicine and through research and development. As a responsible vendor at Rosatom, we understand the necessity for comprehensive human resource development programme in its partnering countries. We therefore view education as a vital aspect of our continued co-operation with African nations and we play a very active role in the development of educational programmes in Africa.
We have more than 200 African students studying at the Russian institutions on various nucleus disciplines.  In total we have 1900 students from 45 various countries who are currently studying various disciplines in nuclear education programmes in Russia," Collyer concluded.
Caption
From left: Mr Ryan Collyer , Acting COO of Rosatom Central and Southern Africa and Prof Xoliswa Mtose, UNIZULU Vice-Chancellor.