Students Enlightened on their Role in Societal Development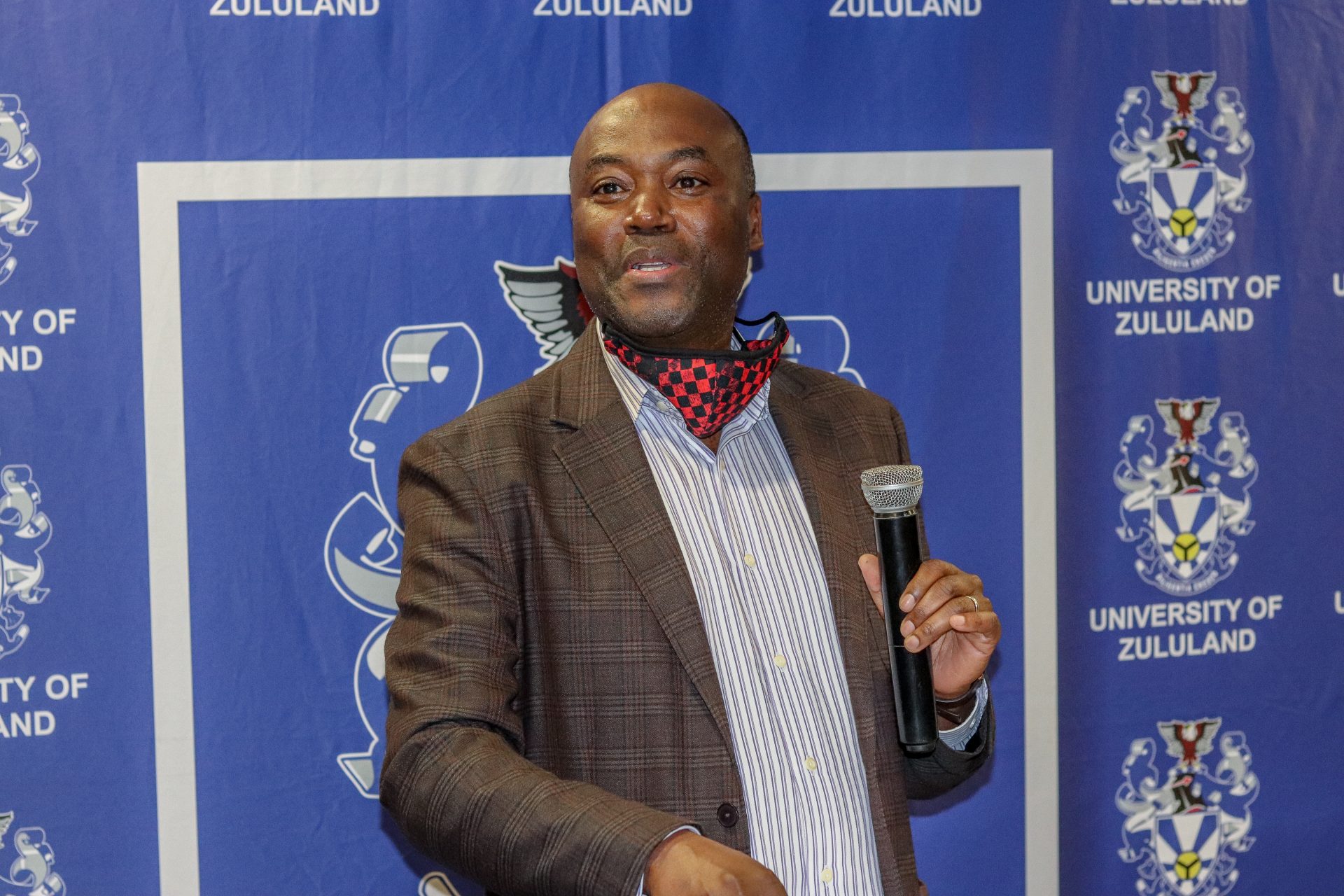 The University of Zululand (UNIZULU), as part of its many strategic undertakings, recently hosted a hybrid webinar under the theme The Role of Students in Societal Development: Drawing inspiration from the past experiences.
The keynote speech was delivered by renowned intellectual academic Dr Teboho J. Lebakeng.
UNIZULU Dean of Students Dr Teboho Ncokazi was among the attendees of the event. His role was to deliver the opening address and introduce the guest speaker. Addressing the audience, Dr Ncokazi mentioned that the rationale behind the student conversations was to advance the public thought leadership discourse that contributes to the body of knowledge by probing thought provoking topics.  Another reason for such engagements is the intended involvement of student leadership in discussions about relevant and critical issues facing South Africa. This is to be achieved by engaging experts from various backgrounds with diverse knowledge, expertise and wisdom to share varying perceptions and resolutions to constant challenges.
He also spoke about the challenges and the role of student leadership. "It is a given fact that the role of higher education in South Africa needs to adapt and respond adequately to challenges of the current epoch. The main disruptor of our time, as you will also concur, is the advent of Covid-19 and the consequent burden it brought to everyone's life. In the South African context, the dominant issues that hinder social justice in higher education are diverse and include racism, corruption, and unfair distribution of resources. These issues adversely affect mostly the marginalised black population that continues to be side-lined and cannot still play a meaningful role in the economic activity," he stated.
He further cited that "to this end, the current cohort of students (leadership) is challenged to acquire knowledge, wisdom and the academic will to participate in scholastic and intellectual discussions that prepares them to face, tackle and overcome the perennial challenges mentioned above".
Dr Lebakeng engaged students on a number of issues they are faced with. He clarified that his intention was for the students to be able to discuss relatable issues they encounter at the University on a day-to-day basis.  He said: "It is important to note that the conversations will enable you as students to be able to talk and exchange ideas, hence my brief is very simple, to trigger some discussions on key issues affecting your status as students. This will enable you to mount some arguments and counter arguments, to embrace the diversity of ideas and views that you have, then we can learn that we must at all times, when we discuss or exchange views, avoid what we might call 'silencing techniques' which might refer to someone you are arguing with as 'counter revolutionary' because you cannot sustain your argument."
In Dr Lebakeng's view, universities play a major role in shaping students for society. The main contributing factor to higher education institutions effectively fulfilling the said role is ensuring that all the needs of its students are met. "The university must make sure that there is sufficient infrastructure; housing, health, opportunities, security, funding etc. When all these conditions are met, studying becomes the main occupation of students," the academic noted, adding that transformed students ultimately lead to transformed societies.
In the same vein, Dr Lebakeng advised students to also become socially responsible citizens. He said: "There's nothing that stops you as a student to go out and do weekly literacy in the community. There's nothing wrong with helping plant trees as part of social service; there's nothing wrong in taking a course such as gender-based violence and making it something that you are passionate about. So over and above what you do in class, there's a lot that you can do outside class."
He left the students with a strong message upon which to ponder: it is the little things that begin to build you as a person; what we sow today is what we shall reap in future.