Spha's Love for Politics Earns Him Master's Degree with Merit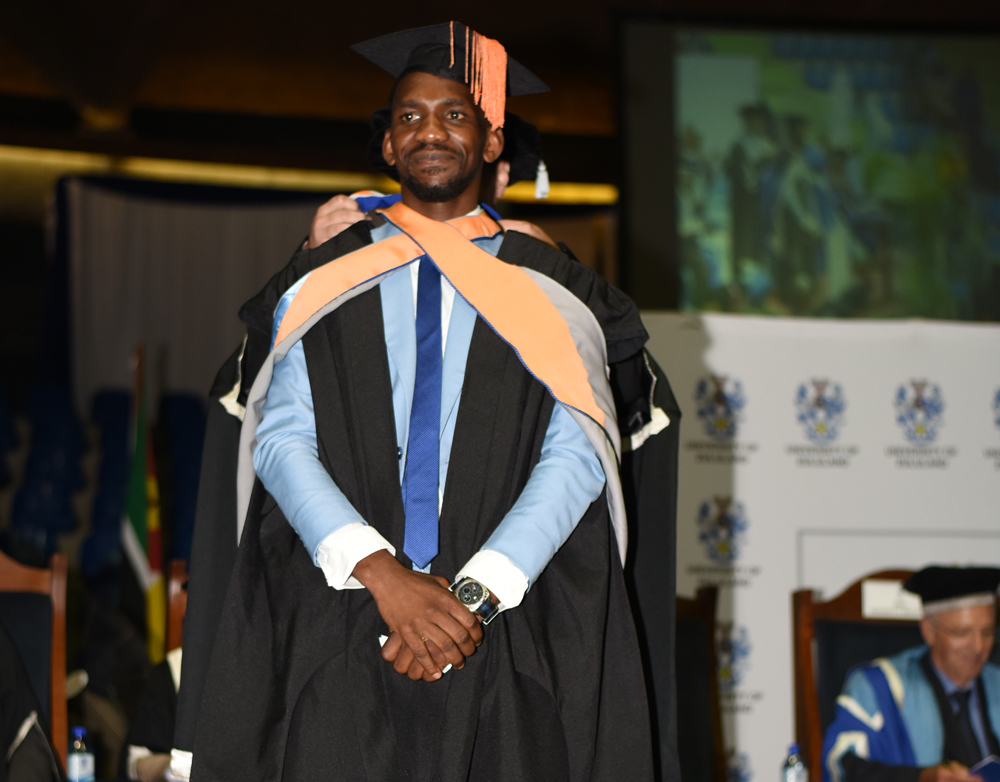 Although currently working in the Public Relations field, Sphamandla Gudeme, has always been fascinated by politics; so much so that both his dissertations at Honours and Master's degree were dedicated towards research in this field.
This interest has led to Gumede being awarded his Master's degree with Merit during the University of Zululand's (UNIZULU) Arts Faculty's graduation ceremony on Wednesday, 9 May 2017. The event takes place within the University's Graduation Ceremonies 2017. The ceremonies started on Monday, 8 May 2017 and end on Friday, 12 May 2017.
Titled: The organisational operations and impact of the Pan Africanist Congress on the struggle for liberation in South Africa, 1959-1990, Gumede's research looked at the role played by the Pan African Congress (PAC) in fighting the apartheid regime. "As far as I know and I've seen, the information we have access to largely says that the ANC was at the forefront of the struggle against apartheid yet there were other organisations that were participating in the struggle. The PAC played a huge role in the fight against apartheid yet information in this regard is limited, so my research aims to close this gap and shows that there were other political organisations that played a pivotal role in the struggle against apartheid such as the PAC," he said.
Gumede said his love for politics inspired both his Honours (History) and Master's research projects. "I happen to love politics, but not in such a way that I want to participate in it, but to follow and look at the field in a global view so that I can identify some mishaps within the field because if I love it (politics) too much, I lose my objectivity but if I merely view it from a global view, I am able to objectively look at the field," said Gumede.
The research project, supervised by Dr M.Z Shamase, received good feedback from external examiners. "A professor from the USA said that it's the first time he had seen my research at a Master's level; that he had expected it at PhD level. He said he was happy with my interrogation level which made me realise that I can continue academic research in politics. In Nigeria, I was given a 68% mark and in the US, received a mark of 74%. Both external examiners (in their comments) awarded my degree with distinction," said Gumede who is planning on enrolling for his PhD in politics as well.
Gumede said he is excited about getting his Master's degree, saying that he has mixed emotions about his latest qualification. "Right now, I'm thinking about my background and childhood. I was raised by mother and grandmother who both struggled financially and I was a sickly child. I had a problem with my sight and I remember that because of that problem, I wasn't able to write four subjects in matric because I would lose consciousness and my eyes would become problematic but I'm happy that although my life was complicated, I've been able to come this far. I refused to give up. I studied hard and dedicated myself knowing that if I persist and pray, God and my ancestors would help me move forward. While I'm happy, I also feel emotional; thinking about my mother and grandmother about how they worked hard at making sure that I achieve my dreams despite their difficult financial circumstances. I'm very grateful for the role they both played in my life and I thank them for their love, support and sacrifice," he said.
Gumede advised other students and young people to have strength as individuals and not to fear challenges or failure. "Emotional and psychological strength is very important as an individual. The road to success is often paved with good intentions and failure, so you must face challenges while you are climbing the ladder so that when you get to the top, you are able to withstand whatever bumps or pressures you encounter," he said.