Future of Richards Bay Campus
To provide academic programmes that are aligned with the following focus areas;
Maritime programmes that are recognised throughout the country and beyond the boundaries of South Africa, through the establishment of a centre of Maritime Studies.

Vocational or technical programmes that will facilitate progression of students from the FET colleges into the Higher Education sector.

Short courses, relevant to the local industry needs, through the establishment of a skills sector.
Scope
The Richards Bay Campus's vocational programmes,academic and research activities have been strategically designed to support the needs and goals of the University. The Campus's broader framework is informed by the following strategic goals:
Provisioning of high quality academic and career focused programmes, relevant and responsive to the needs of students and society.

Research outputs appropriate to a comprehensive University.

A positive image within Business/Industry, civil society, Higher Education Institutions and research organisations based on quality outputs, partnerships and marketing strategies.

The effective and efficient utilisation of human, financial and physical resources.

A caring environment underpinned by safety, good health and wellness.
The Campus intends on making a meaningful impact on society and industry through the expansion of its current offerings with particular focus and investment in programmes that will further develop the business sector of Richards Bay. A labour scope of the Richards Bayprovides a picture of broad industry needs that are highly technical in nature.Due to the financial, infrastructural and human capacity the Campus is unable to address all technical needs identified and associated with industryin the short-medium term. However, based on the current capacity and available resources the short-medium term plan, in partnership with relevant stakeholders, will focus on:
Dedicated focus in the provision of academic Maritime programmes.

Offering programmes within the higher education band that are aligned with the FET sector. This will ensure progression of students who have exited the FET colleges into the higher education sector.

Offering of short-term courses which are in line with local industry requirements.
ENGINEERING HANDBOOK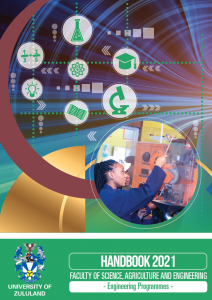 RICHARDS BAY CAMPUS HANDBOOK