Resilient Mkhize Graduates at the Top of His Faculty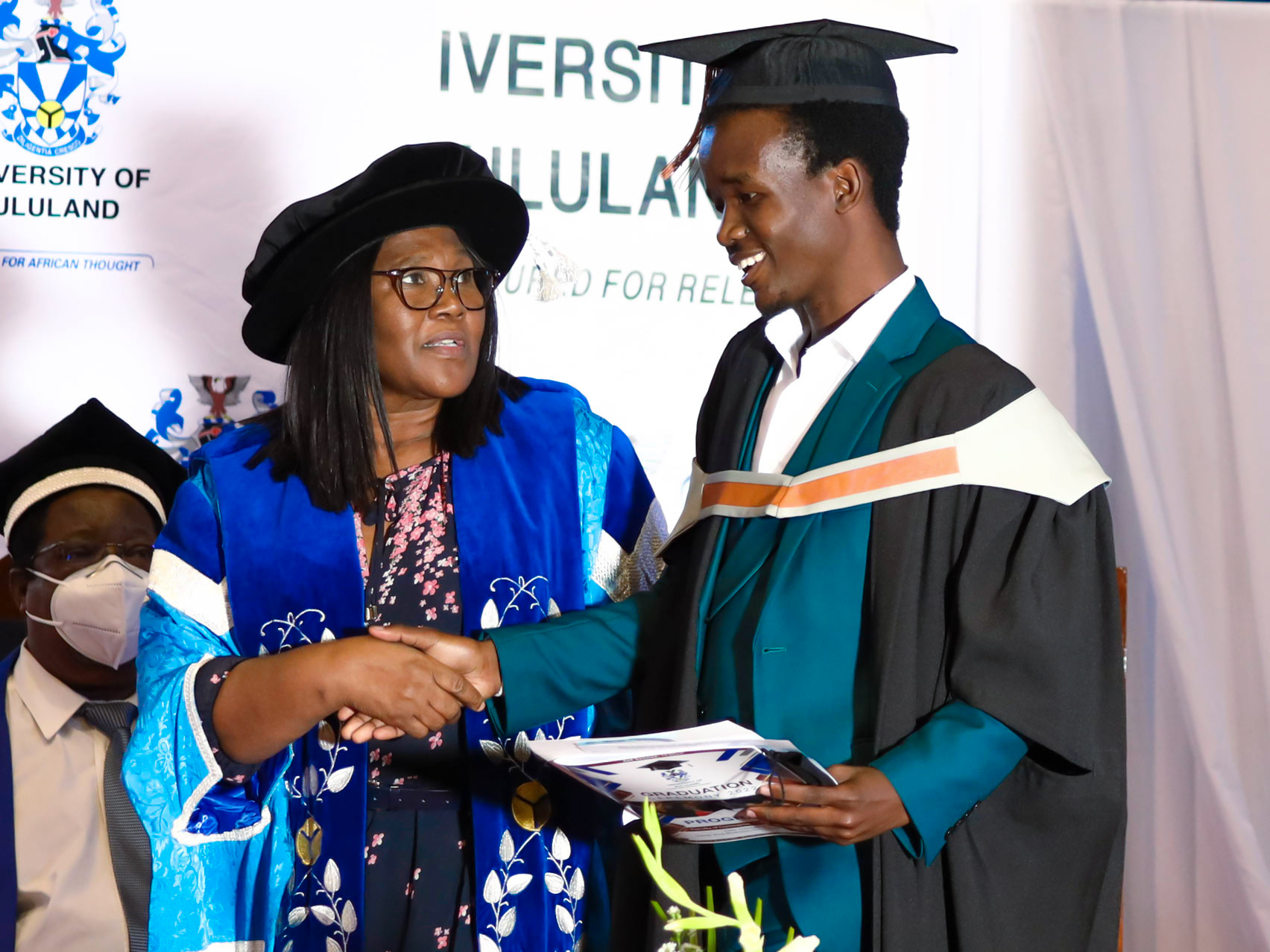 There are those who go to university with the intention of obtaining their desired qualification but sadly lose sight of their goal and never make it. There are those who have been gifted with intelligence and to whom academic excellence simply comes easy. There are also those whose outstanding academic performance is indicative of conscientiousness. Twenty-one-year-old Sphesihle Mkhize, who graduated with a Diploma in Transportation Management on Tuesday (10 May 2022), falls under the last category.
Mkhize hails from Emona village in Tongaat. Together with his two brothers and two sisters, he was raised by a single mother who, after years of enduring domestic abuse, eventually separated from her abusive husband in 2013. The family found refuge at a relative's home in Port Shepstone until Mkhize's older brother managed to build the home in Tongaat, which the family inhabited from 2016.
Working as a firm labourer, earning a meagre income, Mkhize's mom struggled to make ends meet. The situation slightly improved when Mkhize's two older brothers found employment in 2014 and 2016. However, their salaries could not be stretched enough to cover Mkhize's registration and tuition fees when he was accepted to study at an institution of higher learning in Durban after completing matric in 2017. Destitute, Mkhize was therefore forced to take a gap year in 2018.
"My eldest brother advised me to apply to the University of Zululand because he knew how interested I was in working in the logistics field. Fortunately, I was accepted for the 2019 intake. I also secured NSFAS funding. I vowed to focus on my studies because I knew how dire the situation at home was," Mkhize said.
Indeed, his focus never swayed. Even when the conventional mode of teaching and learning was abruptly altered by the advent of Covid-19, Mkhize remained consistent. Online learning was a complete culture shock, he admitted. Unlike a physical lecture, e-learning posed certain interaction barriers. "It was harder to get clarity on things I didn't understand because my lecturers were not physically there. There were times when I thought I would not pass because I wasn't sure I understood the content of my modules well. I remember dismally failing an assessment once; it felt like the end of the world. But with time, I got used to the new way of learning," the top student recalled.
Diligence and perseverance earned Mkhize a spot in the top five students in the Faculty of Commerce, Administration and Law. He attained an overall aggregate of 85%, placing him at the very top of his faculty. He also received a gift from the office of the Vice-Chancellor in recognition of his brilliance.
He attributes his excellence to his never-say-die attitude. Not even constant network challenges and power outages in his village could deter him. He also acknowledged the love and support he received from his university friends and study mates, church mentors and a staff member of the UNIZULU Writing Centre.
The ultimate highlight of his life though was undoubtedly his mother and eldest brother bearing witness to their first family member receiving a university degree.
Mkhize is eagerly waiting to begin a one-year internship with Transnet, his sponsor for his third year of study. He will be placed in the rail freight sector where he hopes to acquire adequate knowledge to propel him in his career. His goal is to establish a logistics company that would help create jobs and provide internships for graduates.
– Naledi Hlefane