Physics Students Fly UNIZULU Flag in Russia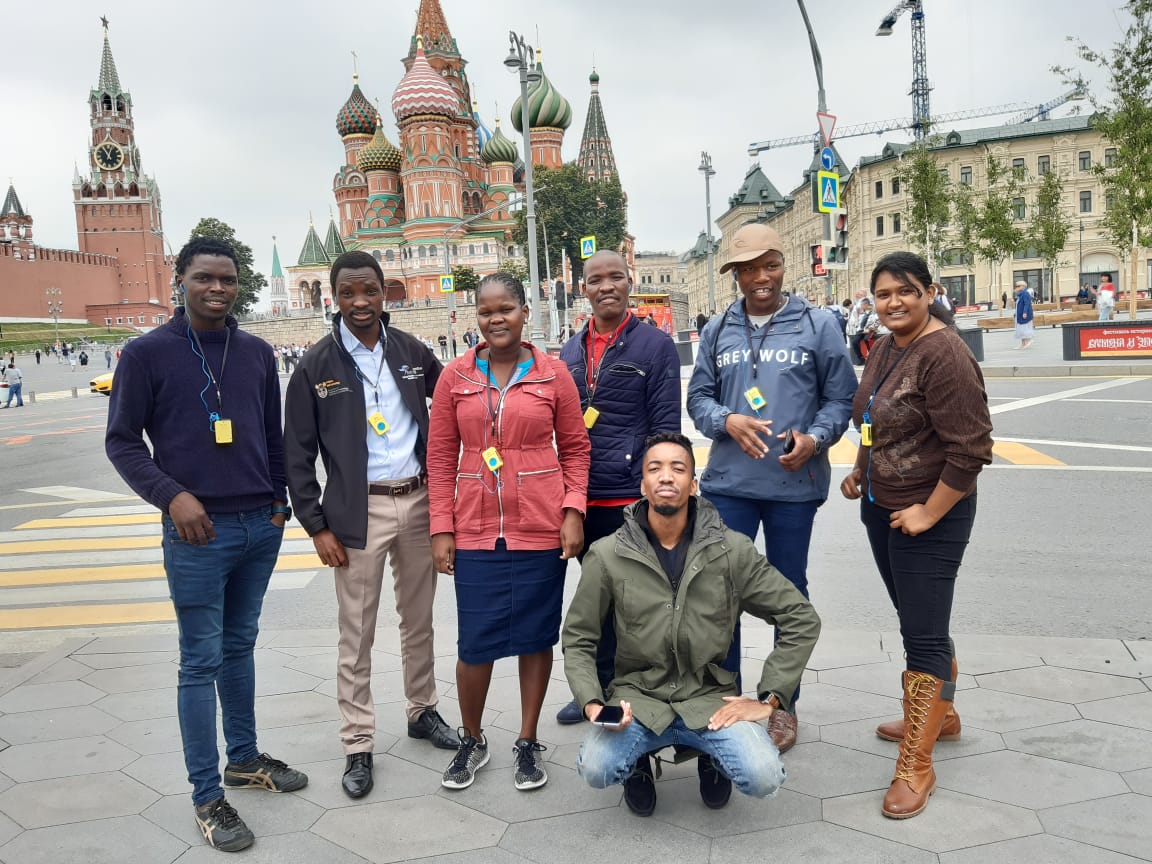 The Department of Physics and Engineering at the University of Zululand was represented by seven of its honours students who were selected by the Joint Institute of Nuclear Research in South Africa (JINR-SA) and the National Research Foundation (NRF) review committee to take part in the annual Student Practice held this month (June) at the JINR laboratories in Dubna, Russia.
The goal of Student Practice is to build a critical mass of students that may later advance in various nuclear and solid state physics research activities offered at JINR to the benefit of South Africa.
Phathizwe Majozi, Thembeka Ntombela, Lindokuhle Manana, Sumeera Gopal, Gift Mthethwa, Sifiso Mngonyama and Sphamandla Khumalo formed part of the group selected to benefit from this programme. The septet, which hails from KwaZulu-Natal and had never travelled outside of South Africa before, touched down in Moscow on 1 June 2019. Upon arrival, they underwent intensive training and were expected to work on nuclear, solid state and electronics projects which they were to later present to a judging panel. They returned to South Africa on Monday, 24 June 2019.
"Being in Russia was an honour and a privilege. We worked with world renowned scientists. We are grateful for the opportunity that was presented to us," Mthethwa said.
For Gopal, the trip unveiled a much more critical issue about the shortage of women in the field of science. There were only two females in the UNIZULU group and this concerned her. "The majority of female students do not pursue physics at higher levels of education because they either perceive the subject as difficult. Female participation in physics can be improved if necessary steps are taken to erase the widely held perceptions that have been associated with the study of the subject and its related career opportunities. I never thought that one could travel the world with Physics," said Gopal.
The students are grateful to their lecturers, Professor Sifiso Ntshangase and Dr Thulani Jili. They are all of the view that they are standing on the shoulders of giants.
– Precious Shamase
Caption
The septet that represented UNIZULU at the annual Student Practice held recently at the JINR laboratories in Dubna, Russia.