Pandemics, Poverty and Equality to Take Centre Stage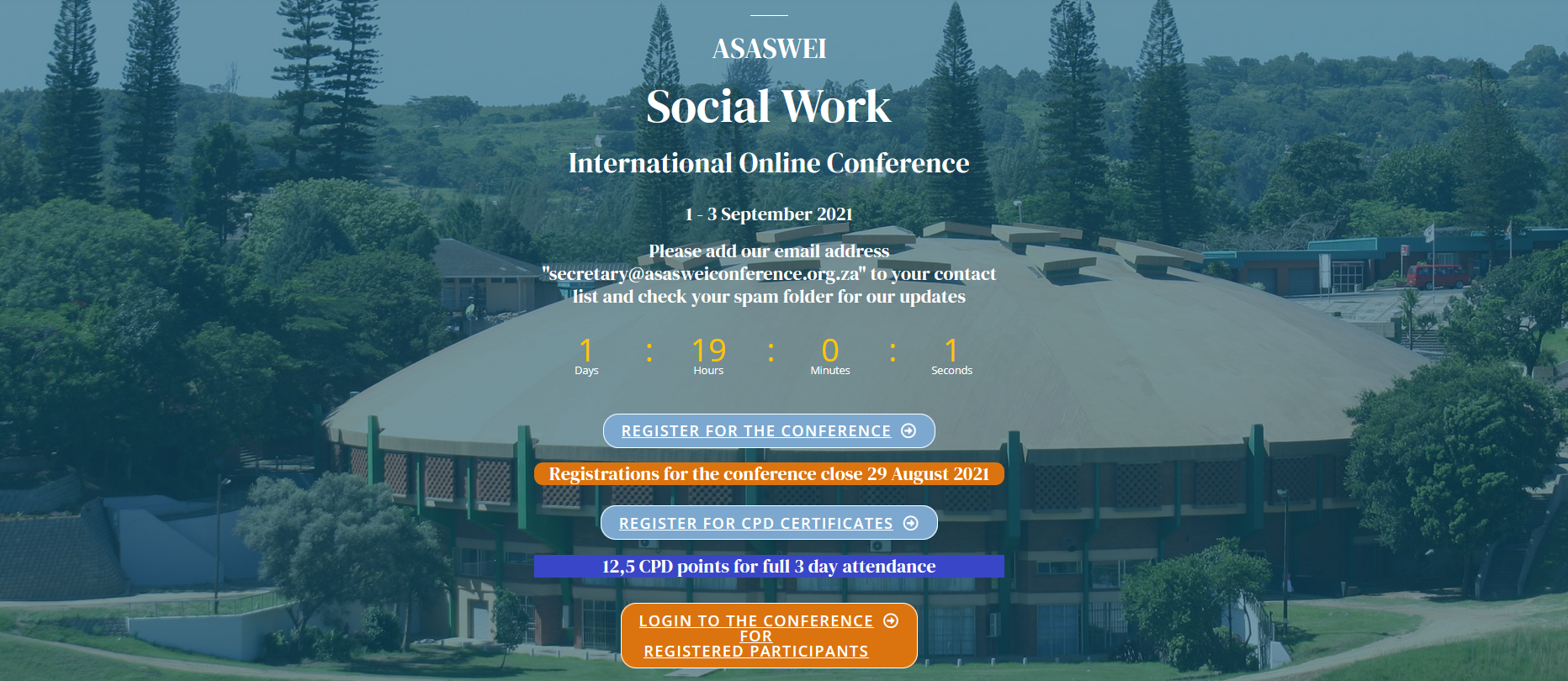 Pandemics, Poverty and Equality to Take Centre Stage During ASASWEI Conference
The Department of Social Work at the University of Zululand (UNIZULU), in collaboration with the Association of Social Work Education Institutions (ASASWEI), will be hosting the virtual 2021 Biennial Social Work conference from Wednesday to Friday (1 – 3 September 2021).
The theme for this year is "Pandemics, Poverty and Equality: Social Work in the 21st Century". Dissecting the theme of the three-day event, Professor Lulu Shokane said: "Hundreds of countries implemented unprecedented 'lockdown' restrictions to control the spread of the virus, resulting in the closure of many businesses, travel bans, a rapid increase in unemployment rates, and widespread disruptions to health and social services. There are varying narratives on the disease, with numerous criticisms of the way countries, and indeed the world, has responded to the pandemic. Arguments were raised that the responses were disproportionate, have unfairly shifted the burden of disease or indirect health effects from wealthier to poorer people and regions, have not been sensible, or have been driven by fear rather than data. The discovery of new variants of the virus suggests that it might prove an elusive target."
The 2021 conference will unite South Africans, Africans, and international social work scholars, educators, researchers, students, policy makers, managers and practitioners. There are almost 2000 registered participants from 45 different countries.
The keynote speakers for this vigorous virtual engagement are the honourable Minister Lindiwe Zulu, Minister of Social Development; Kumi Naidoo, human rights and environmental activist; Vice-Chancellor Prof Xoliswa Mtose; and the Dean of the Faculty of Arts, Prof Mogomme Masoga.
According to  Prof Shokane , the social work profession is known for advocating human rights, social justice and equality. "Our work has continued to emphasise building human relationships and fostering ubuntu, whist empowering the vulnerable during the new normal. The main conference theme and subthemes are designed to provide delegates with opportunities to network and deliberate around issues pertinent to social work education that promotes knowledge and skills of the theme."
In addition to the keynote speakers and plenary sessions, there are more than 180 academic papers being presented in parallel sessions. There are also four workshops.
"My expectations have been vastly exceeded. The conference will give social work academics, practitioners and students an opportunity to interact – to share knowledge and research that will greatly enhance the social work profession both in South Africa and internationally. It is a wonderful privilege for the University of Zululand's Social Work Department to be the academic partner and host for this conference. We are grateful to the support of the Vice-Chancellor, the dean of the Faculty of Arts, and to the ICT and CMD teams for all of their support," said Prof John V. Rautenbach, Head of the Department of Social Work in UNIZULU.