Paired Enchantment as Twins Graduate Side-by-Side with the Same Degree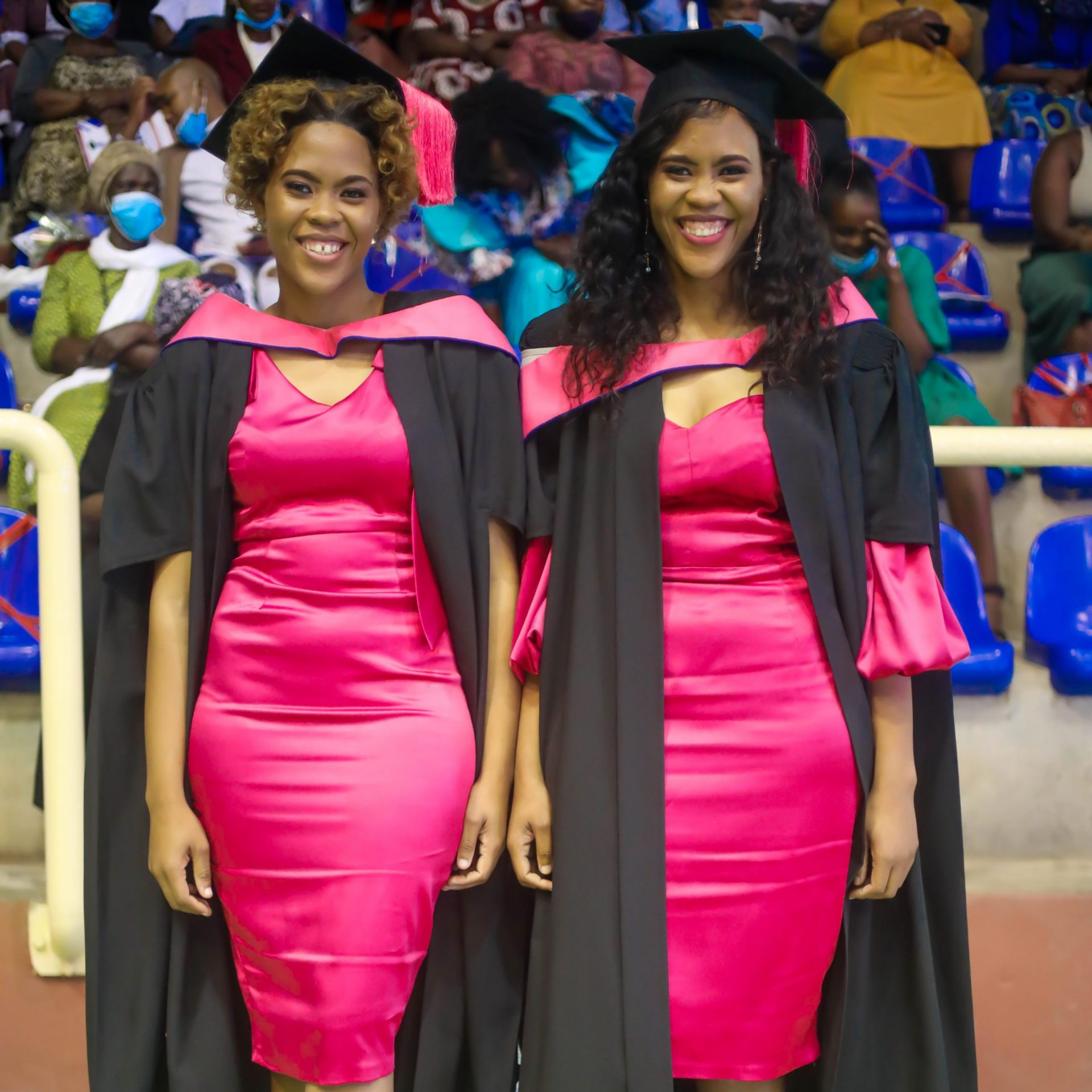 Together it has always been and is the best way to be for Mhlophe and Mhlophekazi Makhoba. They aren't just identical twins, they're inseparable best friends who tackle life as a team!
The twins grew up doing everything together and knew they would go to university together too. This May, they graduated together with the same majors.
The two hail from Inanda, Durban. In matric, they applied to one of the universities in Durban but only one was accepted. Since they cannot stand being apart, one of them going to another institution was not even an option.
Naming children is quite significant in some families. Mhlophe and Mhlophekazi, which when loosely translated means light or fair in complexion, were named by their dad since they were light skinned. He was also prophesying over their lives that wherever they go, there will be light.
From their preschool days, the twins have had a cheerful countenance from achieving success together. Mhlophekazi recalled that when they were in grade R, they entered a modelling competition. When it was her turn to go on stage she started crying because she was too shy and ended up not participating. Mhlophe did so well; she worked twice as hard and won. When it was time to take pictures, Mhlophe gave her twin sister the crown so that she could take pictures as well. This has remained a family joke. "Our mum still uses it to tease us," chuckled Mhlophekazi.
"Choosing the same career path has always been our dream. We have always shared the same friends and interests. We have always been best friends. Always. Our love for teaching was partly informed by how we would argue over who got the right answer and helping each other to understand certain topics," explained Mhlophekazi.
The duo is so intertwined that it often attained similar marks, differing by two or three points. Other times, they simply got the same result. In the end, Mhlophekazi managed to get 15 distinctions and 23 merits while Mhlophe obtained 16 distinctions with 24 merits.
Mhlophe is currently occupying a temporary teacher's assistant position. She shares her stipend with her twin who has not secured employment yet. "We get the most accomplished when we work together. We are the ultimate study buddies. It meant a lot to graduate alongside each other and I wouldn't [have] wanted it any other way," Mhlophe said.
The twin's mother, Lindiwe Tshabalala, could not contain her excitement at her daughters' recent achievement. "I could not be more proud of my girls. They have done exceptionally well!" said Tshabalala.