Dr Blade Nzimande Launches Engineering Programmes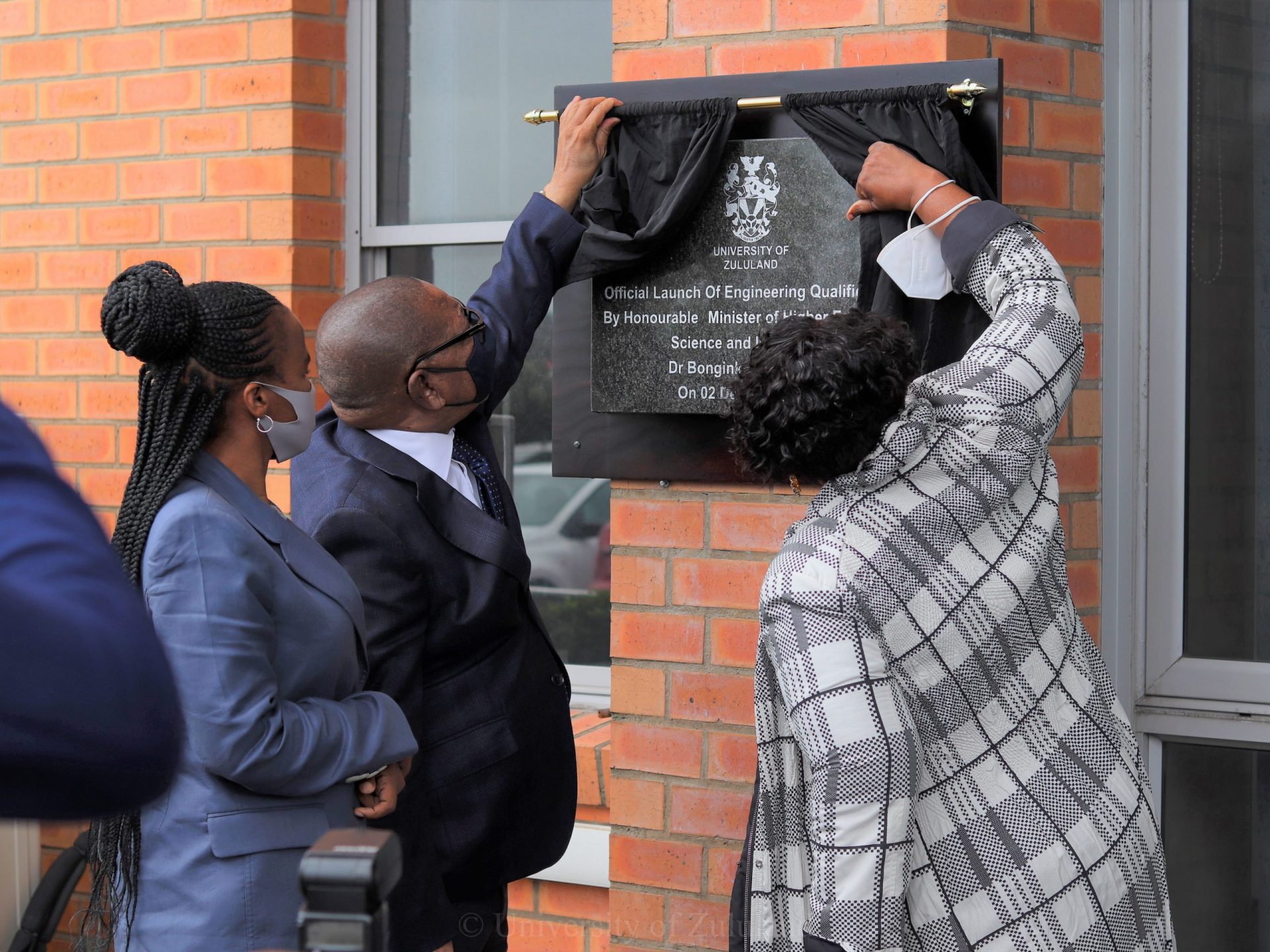 After a year of commemorating its anniversary, the University of Zululand (UNIZULU) is closing its sixtieth chapter with a loud bang as it prepares to officially open its new engineering department in which two recently launched programmes will be offered starting from January 2021.
The programmes are the four-year Bachelor of Engineering in Mechanical Engineering and the Bachelor of Engineering in Electrical Engineering.
To mark this breakthrough, a launch was held on Wednesday, 2 December 2020, at the Richards Bay Campus. The high-profile function was attended by principals of local high schools, industry representatives and delegates from the Department of Higher Education, among others. The plaque was unveiled by Dr Bonginkosi "Blade" Nzimande, Minister of Higher Education, Science and Innovation.
Not only is this a milestone for the institution, it is also a great feat for the entire higher education sector as this is the first engineering department to be launched in post-apartheid South Africa. In fact, according to UNIZULU Vice-Chancellor Prof Xoliswa Mtose, the last engineering faculty was introduced four decades ago.
As a historically disadvantaged institution, UNIZULU has simply rewritten history with this addition to its programme complement. "None of the historically black institutions were allowed to offer engineering. To register for an engineering degree in the apartheid era, one had to apply to historically white institutions. But to do so, one had to obtain a ministerial approval. This launch represents a departure from what some have called a geopolitical imagination of apartheid. Our constitution has been described as both forward- and backward-looking. It is backward-looking in that it seeks to correct and reverse the past mistakes and social injustices. It is forward-looking in that it seeks to imagine a future that is different. Establishing the engineering programme is thus an act of re-centring and one of creating new opportunities for the institution and communities," Prof Mtose said.
She added that the accreditation of the programmes coincides with the emergence of cutting-edge technology such as artificial intelligence, robotics, internet of things, 3D printing and many others. This then prompts the institution to consider the relevance of the current curriculum in the engineering discipline.
The launch of engineering programmes is a culmination of a project that began in 2013 where the institution submitted a business case for the establishment of a facility to offer engineering programmes. Delivering his guest speech, Dr Nzimande commended UNIZULU for its exemplary practice since becoming a comprehensive university. Among the laudable attainments, he said were the institution's aggressive upscaling of staff qualifications, recognition of stakeholder relations and upgrading of teaching and learning infrastructure. He thereafter stated that there had been a cash injection of 90 million rands, towards the infrastructure of the UNIZULU engineering department, from the Department of Higher Education.
In his congratulatory message, Professor Barry Downing, who assisted in the accreditation process admitted that the accreditation process of engineering qualifications is a time-consuming and stringent one. He said the two programmes are registered with the Engineering Council of South Africa, adding that the university is also among eight SA higher education institutions that have signed the Washington Accord.
– Naledi Hlefane
Caption
Minister of Higher Education, Science and Innovation Dr Bonginkosi "Blade" Nzimande unveils the plaque marking the launch of two new engineering programmes in the Richards Bay Campus.