Learners Get Inside View of UNIZULU During Open Day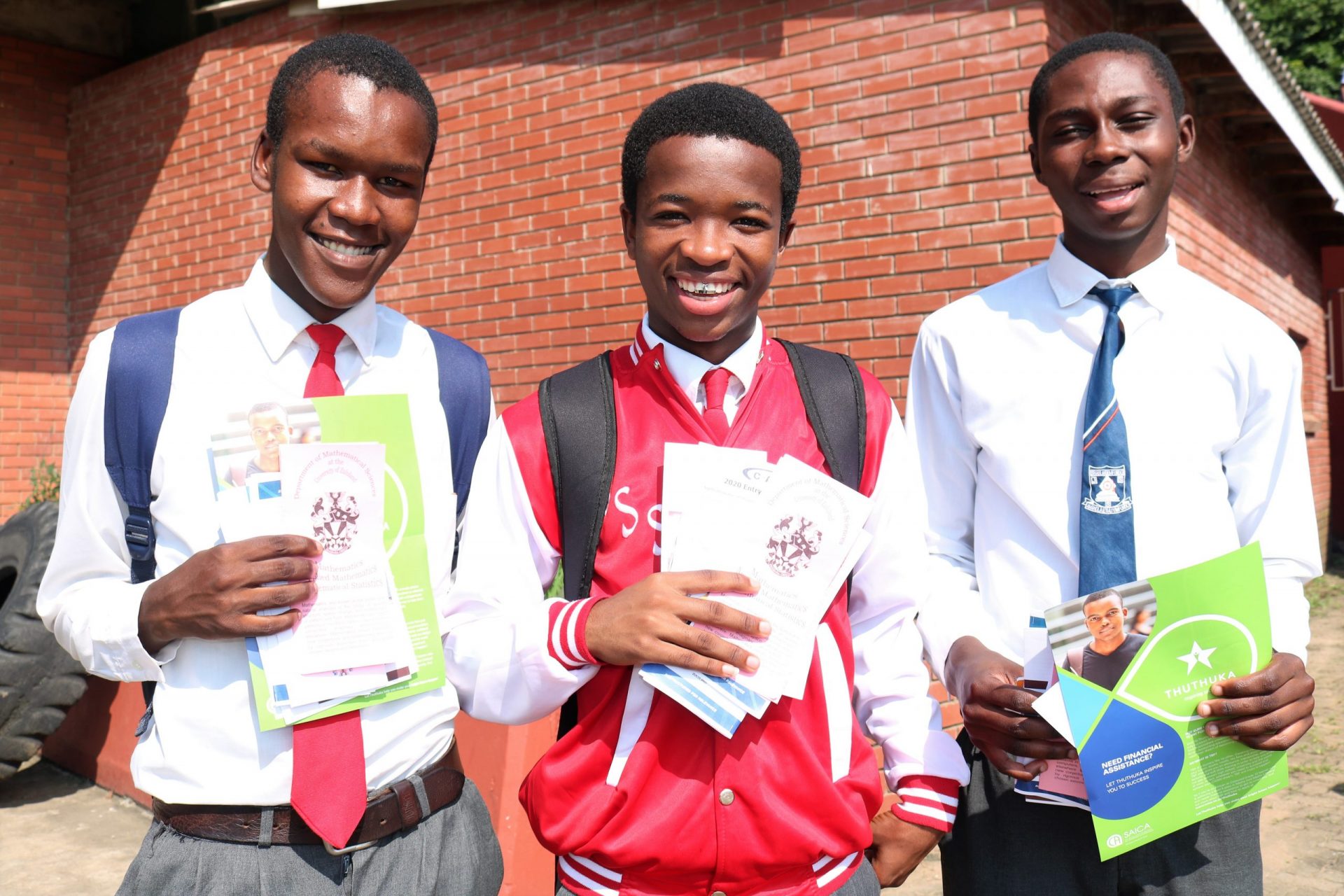 The University of Zululand's (UNIZULU) KwaDlangezwa Campus was abuzz with scores of high schools who attended Open Day 2019 yesterday (Thursday, 25 April).
An annual event, Open Day gives high school learners, who are prospecting for reputable institutions of higher learning to apply to, in-depth exposure and comprehension of various academic programmes offered at UNIZULU. Pertinent issues such as admission and financial aid processes are also highlighted to clarify any uncertainties the learners may have pertaining to these areas.
The mass event, which took place at the King Bhekuzulu Hall, attracted over 3 500 grade 11 and matric learners (who were accompanied by their educators) from high schools situated in the North Coast region. The programme began with short presentations by representatives from the four university faculties, support departments such as the UNIZULU Financial Aid Bureau and stakeholders like the South African Institute of Chartered Accounts (SAICA), the National Student Financial Aid Scheme (NSFAS) and the Central Applications Office (CAO).
In addressing the potential 2020 UNIZULU students, Prof Unathi Kolanisi, Acting Deputy Dean of the Faculty of Science and Agriculture, said: "Making decisions about your future career is a life changing verdict; so is choosing the higher learning institution that one will pursue his or her academic advancement in. The University of Zululand prides itself in being a comprehensive and rural-based university that strives to provide quality education through a curriculum that is restructured for relevance to produce graduates appropriate for the demands of the 21st century employer, globally. To our prospective students, as the University of Zululand, we promise a learning environment that will deepen and expand students' knowledge in their specialised fields of studies, build character traits, create learners who take intellectual risks, and we optimise opportunities to incorporate real-life problems into the classroom practices."
After the presentations, learners were afforded the chance to engage with the various exhibitors around the hall. The Department of Computer Science stall seemed to be one of the learners' favourites. Pragasen Mudali, one of the senior lecturers, was delighted to inform the learners about this field as he felt it was a scarce skill that the country could benefit immensely from, considering the Fourth Industrial Revolution being upon us.
For Thobani Mjadu, a matric learner at Sikhulangemfundo Secondary High School in Esikhawini, attending the event was an eye-opening experience as he was exposed to many career options. "I am currently studying Physical Science so, after visiting the stalls, I think I will either go the biochemistry or mathematics route. The next step for me is to apply on time and hopefully secure funding from NSFAS," Mjadu said, adding that he was grateful to UNIZULU for the life-changing opportunity to attend the open day.
Thabisile Mngoma, a teacher at Mdladla high School in Engwavuma, was also glad to have attended the event with her learners. She said the best way for the learners to get to know the university is to see it for themselves. As a product of the institution, she said she encourages her learners to make UNIZULU their first choice.
– Precious Shamase and Naledi Hlefane
Caption
Thandolwemvelo Mhlongo, Thobani Mjadu and Sfiso Majante, matric learners at Sikhulangemfundo Secondary High School in ESikhawini.