Marine Biology Meets Marine Geology: 2nd UNIZULU-NRF-SAIAB Summer School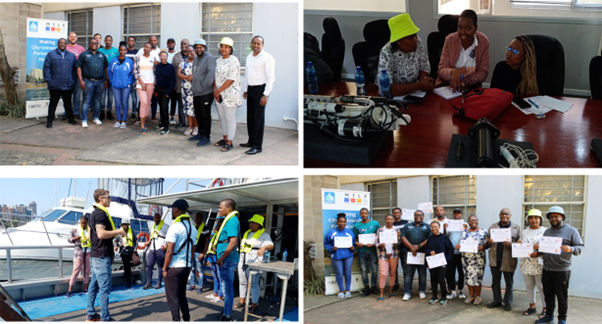 Zoology, an exciting branch of biology, studies animal life, particularly how these animals interact with their environment. Marine biology, therefore, studies how animals that live in the ocean interact with their oceanic environment. Marine animals can be generally categorised into two groups; those that spend most of their life in the water column (for an example, fish, sharks, whales and the lesser-known microscopic forms such as zooplankton) and those that spend most of their lives at the seafloor (for example, sea stars, crabs, worms).
The study of marine biology in South Africa, can be traced back to the early 1900s, when John Gilchrist was appointed as a marine biologist at the University of Cape Town's Zoology Department. The University of Zululand celebrated its 60 years of existence in 2020, with the Department of Zoology being one of the earlier departments to be established, albeit not one of the founding departments. Marine biology has diversified since the times of John Gilchrist and to keep up with the developments, the Department of Zoology at the University of Zululand has teamed up with the South African Institute for Aquatic Biodiversity (SAIAB; based in Grahamstown) to develop and implement a Summer School for the department's postgraduate students.
The summer school, therefore, supplements the department's marine science curriculum offered to students at an undergraduate level by exposing them to wider topics and skills within the marine sciences.
The summer school was developed and piloted in 2021 by staff from both SAIAB and UNIZULU Zoology Department. In 2022, the 2nd UNIZULU-NRF-SAIAB welcomed a new partner, MILE (Municipal Institute of Learning); which is eThekwini's Knowledge Hub. This summer school, which ran for two days (1-2 September), provided a unique opportunity (i.e., out-of-classroom learning experience) and this year, our postgraduate students (honours to MSc level) were introduced to marine geology, seafloor mapping and the technical side of marine research. On the first day of the summer school, the presentation by the Programme Manager at MILE (Dr. Collin Pillay) provided students with a unique insight on how government (particularly at a local or municipal level) can collaborate with, and/or absorb research knowledge in answering socioecological challenges.
This was followed by an open discussion that was mainly led by the students who raised various issues including employment opportunities, skills development (including soft and hard skills) and the important of integrating related disciplines to increase the marketability of students in seek employment. Students were then introduced to Marine Geology by Dr Errol Wiles from SAIAB. His lecture mainly focused on how Marine Geology can be integrated into Marine Biology, and how the integration of these two disciplines can provide a more holistic understanding of the marine ocean environment thus providing a better context of how marine organism may cope in the marine environment.
The second day of the summer school was dedicated to the technical side of marine sciences. The importance of technical support and/or staff in marine sciences (including research assistants, general laboratory assistants, marine technicians, skippers) is often overlooked, yet very little research can be conducted without this support. Mr. Thor Eriksen, SAIAB's Marine Technician, lectured students on various sampling equipment (e.g., nets, grabs, ACDP, CTD) and techniques based on research objectives, highlighting the importance of a good research study design. This lecture was then followed by a practical session where students completed an exercise on study design before they boarded a research vessel for a demonstration on how some of the instruments are deployed and/or used in marine research. The enthusiastic feedback from students was very encouraging and the organisers from NRF-SAIAB, MILE and UNIZULU Zoology Department were commended by students for their contribution to the success of the summer school.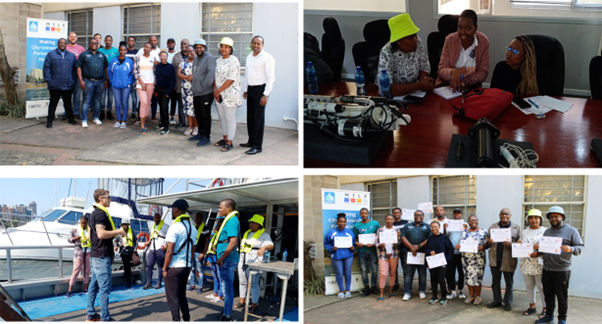 Top left: Participants of the 2nd UNIZULU-NRF-SAIAB Summer School. From left to right; Mr. Fezile Njokweni (MILE Senior Manager), Dr. Errol Wiles (SAIAB GeMap Platform Manager), Dr. Ntuthuko Masikane (Zoology Lecturer), Mr. Thor Eriksen (SAIAB ACEP Marine Technician), Mr Blessing Xulu (MSc Candidate), Ms Mbali Mthethwa (Hons Candidate), Mr Marvin Ntsalaza (MSc Candidate), Ms Lungelo Nsibande (MSc), Mr Skhumbuzo Ndwandwe, UKZN Hons Candidate, Mr Sibusiso Mkhabela (MSc), Mr Mduduzi Mzimela (Zoology Lecturer), Mrs Sithembele Mpanza (Zoology Lecturer), Mr Sazi Nzama (MSc), Ms Ntando Majola (MSc), Dr Collin Pillay (MILE Programme Manager). Top right: Practical exercise on marine research design. Bottom left: Mr Thor Eriksen conducting a safety briefing before heading out to sea. Bottom right: Conclusion of the summer school.