It Runs in Dr van Biljon's Family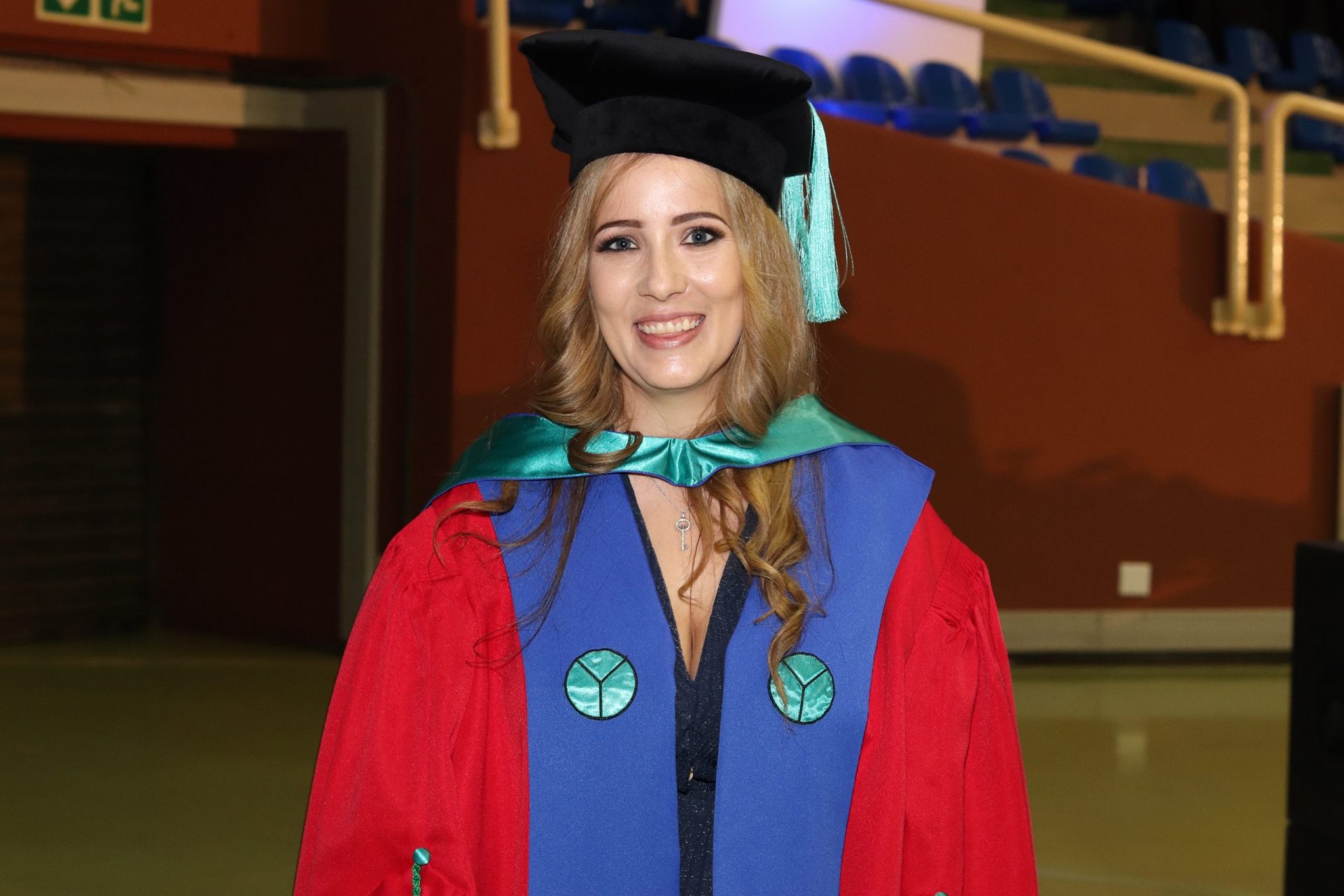 Dr Anneke van Biljon, a University of Zululand (UNIZULU) lecturer, graduated with a PhD in Human Movement Science on Friday, 17 May 2019 at the institution's KwaDlangezwa Campus.
Her study was an in-depth focus on physical activity and cardio metabolic health for the past ten years. During this time, she produced eight high-impact publications in accredited journals.
Local engagement is a fundamental aspect of her field of expertise and over the years, she has worked tirelessly towards growth and change within the KwaDlangezwa High School community. Teaming up with schools in the KwaDlangezwa area, Dr van Biljon managed to re-establish physical education as a stand-alone subject by providing schools with scientifically proven exercise programmes that induce optimum cardio metabolic health benefits. This partnership led to the establishment of an annual sports day in the community raising awareness about the importance of physical activity in schools.
The thesis profiled cardio metabolic disease risk factors among black South African children and their individual associations with cardiac autonomic nervous system activity. This may have important implications for the prognosis of cardio metabolic disease in this population. This thesis is also the first South African study to report on the effects of exercise intensities on cardiac autonomic nervous system in children of black ethnicity.
Elaborating on what led her to choosing a career in this particular field van Biljon explained: "Studying human movement science just felt natural to me as my family has always been very active as primary and secondary sport participants. My dad was mostly the athlete in the family and represented South Africa in dueathlon (running & cycling event) and had provincial colours in triathlon (running, cycling, swimming event) and cross country. Having an elite athlete in the family exposes you to things like exercise, eating well and being active, all of which falls under the field of human movement science."
Dr van Biljon has had many highlights in her career. Between 2014 and 2017, she served as the acting head of the Department of Human Sciences at UNIZULU. Her proudest accomplishment was hosting visiting celebrity professor Timothy Noakes in January 2016. In October 2016, she married her life partner Riaan Geel in a non-traditional wedding ceremony.
In 2017, she received the research development grant, allowing her to focus on completing her PhD. In early 2018, she discovered she was expecting her first child. Despite the difficulties she faced during her pregnancy, the academic rose to the challenge. Welcoming her baby boy into her life, she embraced the balance of motherhood and career by beating the odds and successfully completing her studies. Strength, focus and unwavering perseverance are recurring attributes throughout this inspiring woman's journey to conquering her mountains and achieving her PhD success.
"My mother and my husband have been with me throughout this journey. They are accompanying me today. My son is also here to cheer me on," Dr van Biljon said on her special day.
Ever since she graduated with her honours degree, it was Dr van Biljon's father's wish for her to get a doctorate degree. Unfortunately, in 2010 her father passed away. Therefore, this one is dedicated to him.
– Precious Shamase
Caption
An elated Dr Anneke van Biljon after obtaining her PhD in Human Movement Science on Friday, 17 May 2019.