Informative Knowledge Imparted to Postgraduates During Induction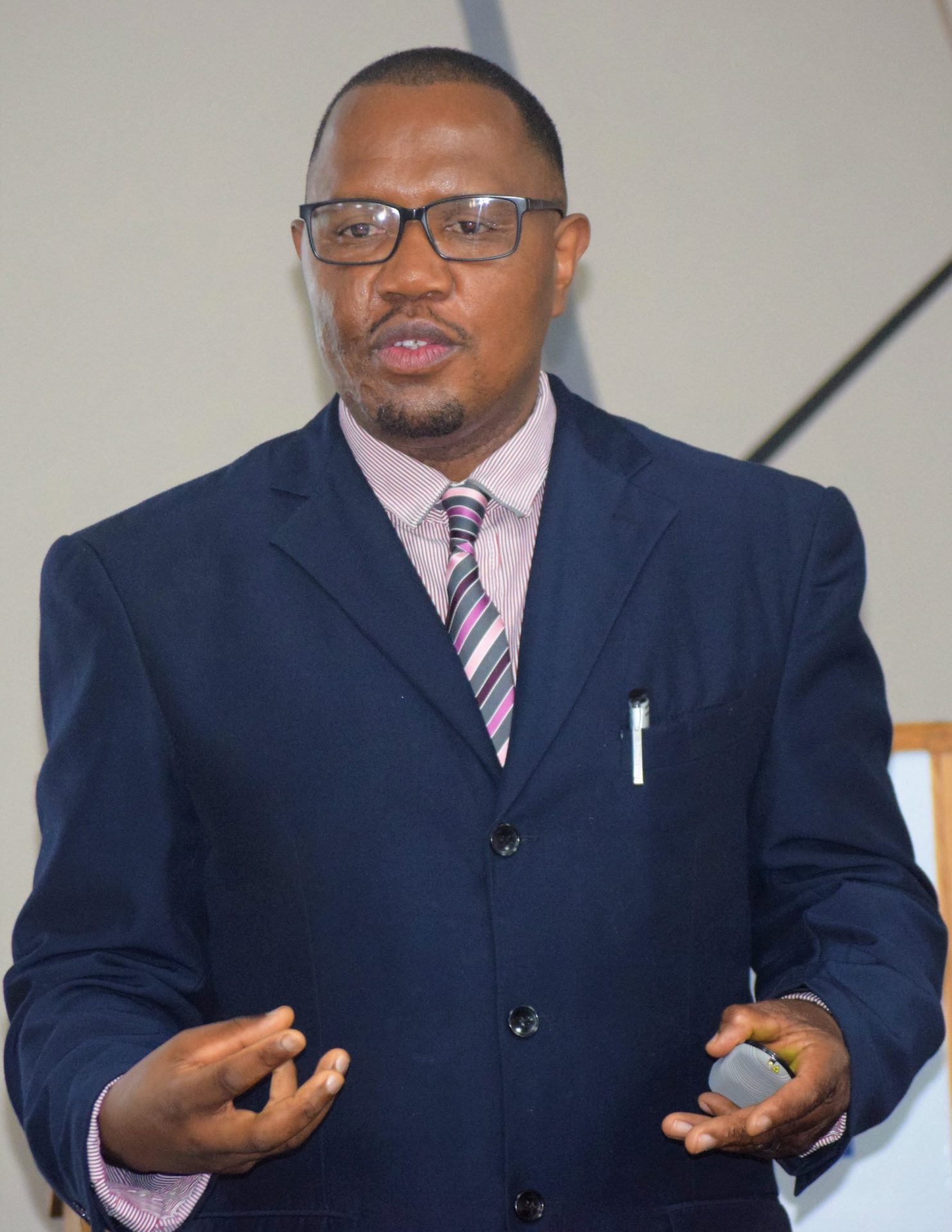 Postgraduate students were recently treated to an educative induction during which they received pearls of wisdom regarding how to conduct efficient postgraduate research.
Held online, the session was organised by the Research and Innovation Office with a view of shedding light on the tools required for a postgraduate student to successfully complete their research.
To unpack the theme, Professor Emmanuel Mgqwashu, Director of the Centre for Teaching and Learning at North West University, was invited as the guest presenter.
Prof Mgqwashu chose to title his presentation 'Revisiting "disciplinarity" in Postgraduate Research: knowing, knowledge and dissemination'. He began by describing the various types of studies and the role each play in knowledge production. These are hypothesis-testing studies, theory-generating studies and mixed-purpose studies which are a combination of both hypothesis-testing and theory-generating studies. He also explained the purpose of honours, master's and doctoral qualification studies. In his view, at honours level, a postgraduate student replicates existing knowledge, using a different context, with the aim of increasing the data in that particular topic or area. In master's level, the student demonstrates mastery of a phenomenon, while in the doctoral stage, they are expected to produce research that not only contributes to the body of knowledge but "develops or extends" new knowledge in an area.
One of the essential steps while conducting a study, in Prof Mgqwashu's opinion, is identifying the scholarly contribution of the thesis and/or dissertation. "Ask yourself this question: to what extent is your study challenging the community of practice's way of looking at the topic you are looking at. What do we mean by community of practice (CoP)? We mean a group of academics called biology or history or anthropology or education. That is a community of practice and they have been understanding a particular issue in a specific way," he said. The professor added that a study needs to challenge CoP to re-look, re-visit, re-think, re-present, and re-position the manner in which a phenomenon is currently perceived. In so doing, the student would then distinguish themselves as a scholar in their particular field.
After discussing other topics such as positionality, knowledge acquisition versus knowledge creation and referencing, Prof Mgqwashu concluded by sharing what examiners expect from a thesis or dissertation. Among the points, he counted the accuracy of the student's interpretation of the field, the appropriateness of the student's study and whether it addresses a significant gap in literature and lastly, the importance of the contribution made by the results and conclusions to the debates within the study and filling a gap.
The induction was also utilised a medium to expose postgraduates to the library as well as the Research and Innovation, Internationalisation, and Community Engagement offices, which provide different forms of support to the students in question.
Addressing postgraduates, Professor Nokuthula Kunene, Deputy Vice-Chancellor: Research and Innovation, assured them that choosing to pursue their studies at UNIZULU was a wise decision.
"We commend your choice of doing postgraduate studies at UNIZULU. I think you already know about the successes of our previous postgraduate students- all the master's and doctoral graduates we have produced. They are found everywhere, in academia, different institutions, they are also specialists in the industry and are also in government. So, you definitely will be successful when you complete your postgraduate studies," she said.
Having mentioned this, Prof Kunene urged students to make use of the various support units for postgraduate students within the institution as that would guarantee completion of their studies in record time.
– Naledi Hlefane
Caption
Professor Emmanuel Mgqwashu, Director of the Centre for Teaching and Learning at North West University.