In Harmony Making Their Mark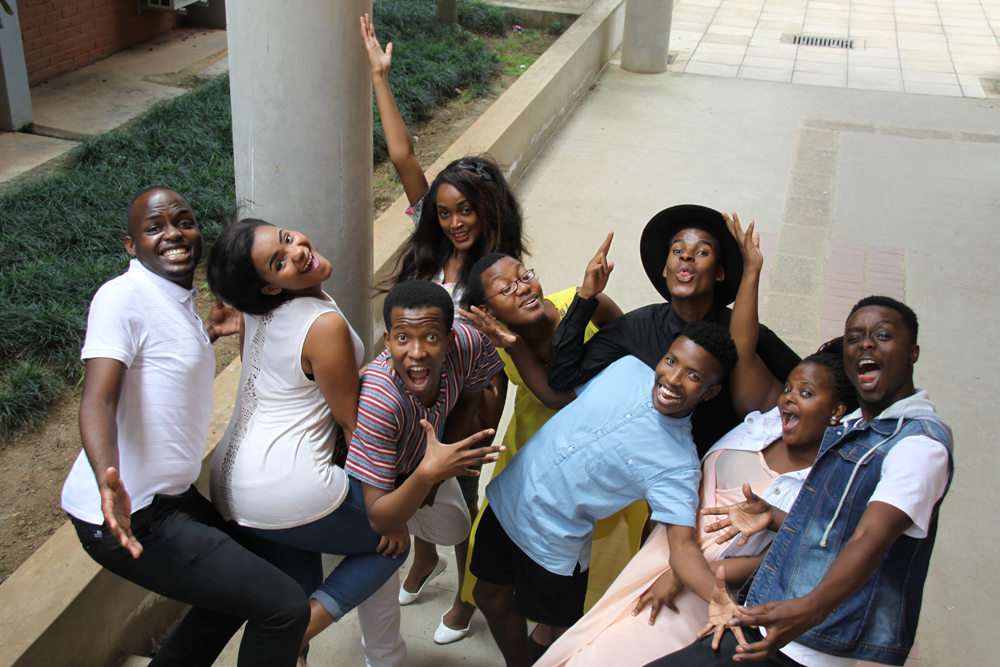 Not so long ago, Bhekani Buthelezi, UNIZULU Choir Conductor, needed a team of singers to help come up with songs for the 21st musical instalment of South African biggest and most loved gospel ensemble, Joyous Celebration.
Back then, there was a large number of people who were involved in that process; most who were also a part of the UNIZULU Choir. That large number of participants eventually dwindled down to 11, and that group of students decided to form an official group: In Harmony.
The name of the group, whose name was coined following a prayer where the group asked God "to help them sing in harmony", consists of Kutlwano Mohanoe, LLB level 3 student; Thembalihle Hlophe, BsC Botany and Zoology alumna; Qinisile Faith Ntimane, BA Development Studies alumna; Nosipho Luthuli, BsC Hydrology and Zoology level 3 student; Mlamuli Eugene Madiya, B Ed alumnus; Sinaye Thandile Mbelu, Bachelor of Administration alumna; Sibusiso Lindokuhle Mazibuko, BsC Mathematics and Statics level 2 alumnus; Mboyazi Sandile Nduduzo, BSc Botany and Microbiology level 3 alumnus; Ntsike Mbambo B Ed History and Language (FET phase) level 2 student; Phindile Fortunate Ntinga, BCom Accounting Science level 2 student and S'bonile Shozi, Bsc Consumer Science (extension and rural development) level 3 student.
Kutlwano is the creative mind of the group and every song that has been done by the group was selected and rearranged by him. Sibusiso is the group's music director. He is their instrumentalist and keeps them on key.
The group, which has no formal musical training, attributes its recipe for success to shared leadership, dedication and continuous practice. The fact that some of the members of the group are and have also been members of choirs further adds value to the group. "If you need back up vocalists, we are your go to group," said the group, adding, "If you need tom work out a melody for a song you've written, or with shifting the sound of your choir to a more pop oriented one, or you'd like a group to perform at a function, contact us".
In Harmony's official performance was afforded to them by UNIZULU during one of the University's annual Women Day celebrations event last year (2016). The group scored the gig based on videos posted on their Facebook page.
Through a collaboration, In Harmony performed on SABC's "Imizwilili" a local choral music show that entertains and informs viewers by presenting choral groups in a fresh and exciting way. On 22 June 2017, the group will be recording again for Imizwilili; this time as a singular unit.
The group has done quite a bit of production work for choir oriented music shows and is planning on expanding the field. "There are a few songs that we have written that we wouldn't mind recording as a unit and thereafter releasing. That might happen sooner rather than later," said the group. "On the far end of the spectrum, and right now to be honest, we want to be rich. God willing, we can do this and make a solid living out of it", added the group.
The group is planning on venturing into varying forms of businesses. "We are unstoppable", said the group.
Contact the group by emailing inThisHarmony@gmail.com.
– Sphamandla Gumede