Honouring Staff Loyalty and Longevity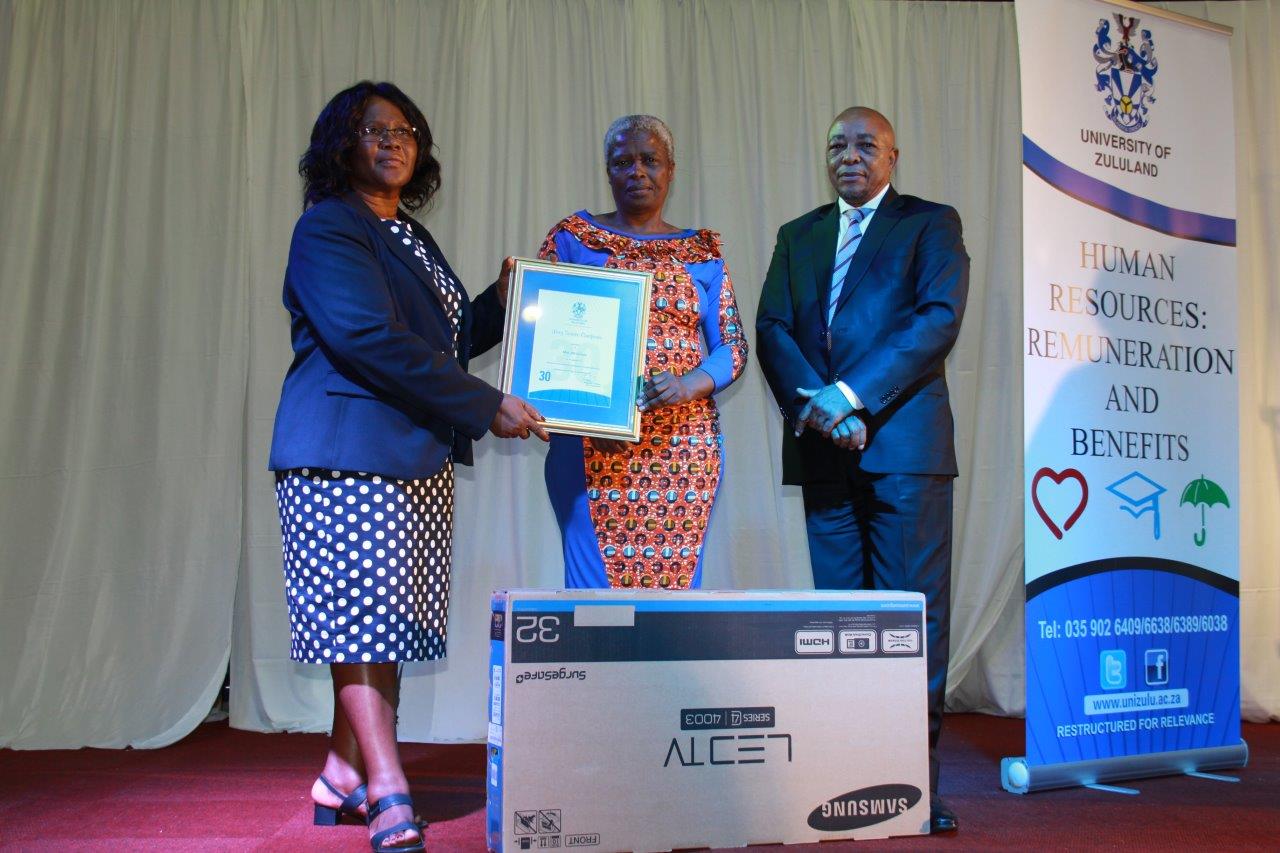 The University of Zululand values staff loyalty and recognises the fact that long service brings about lasting contributions to an organisation.
It was against this backdrop that the University of Zululand held its annual Long Service Awards at the King Bhekuzulu Hall, KwaDlangezwa Campus, yesterday (6 December 2017) in acknowledgement and appreciation of the contribution and commitment made by staff who had served at the University for ten, 20 and 30 years.
Organised by the University's Human Resources Department, the event was attended by the University's Vice-Chancellor, Professor Xoliswa Mtose; Deputy Vice-Chancellor: Teaching and Learning Professor Sandile Songca; faculty deans and heads of departments, to name but a few.
Human Resources Executive Director, Raynolds Ngcobo, in his congratulatory remarks said that the University owes its ongoing success to the commitment and dedication of its employees. "This is an opportunity to recognise the hope, resilience and determination that have been shown over the years and to celebrate you, our long-serving employees, for your efforts to help build the legacy of our university. We are proud of you for having stood the test of time. We acknowledge you and wish you well," he said.
Sizwe Zwane, UNIZULU Convocation Secretary, expressed his pride in the University, saying, "Today I can see further than others because I have stood on the shoulders of giants. On this day I wish to congratulate our own giants who have been in the field for many years and having worked to reach this milestone," he said.
One of the recipients, Dr S Govender, a lecturer in the Faculty of Education who was honoured for twenty years of service at the University said, "I joined the university as an undergraduate student and never left. You must be asking yourself 'why would anyone dedicate so many years of their lives in one institution?' The answer is simple. It's because of the people. People make UNIZULU. Choose a job you love and you will never work a day in your life," she said.
In her vote of thanks, Dr Yasmin Rugbeer, the Director in the Office of the Vice-Chancellor, said the awardees were a 'rare breed' with a different set of aspirations. She thanked and reminded them that they were very special people who have been loyal and committed to UNIZULU.
– Precious Shamase
Pictured: One of the awardees (middle) with Professor Xoliswa Mtose, UNIZULU Vice-Chancellor and Human Resources Executive Director, Raynolds Ngcobo, during the UNIZULU annual Long Service Awards.