Dr Sphamandla Gumede in Focus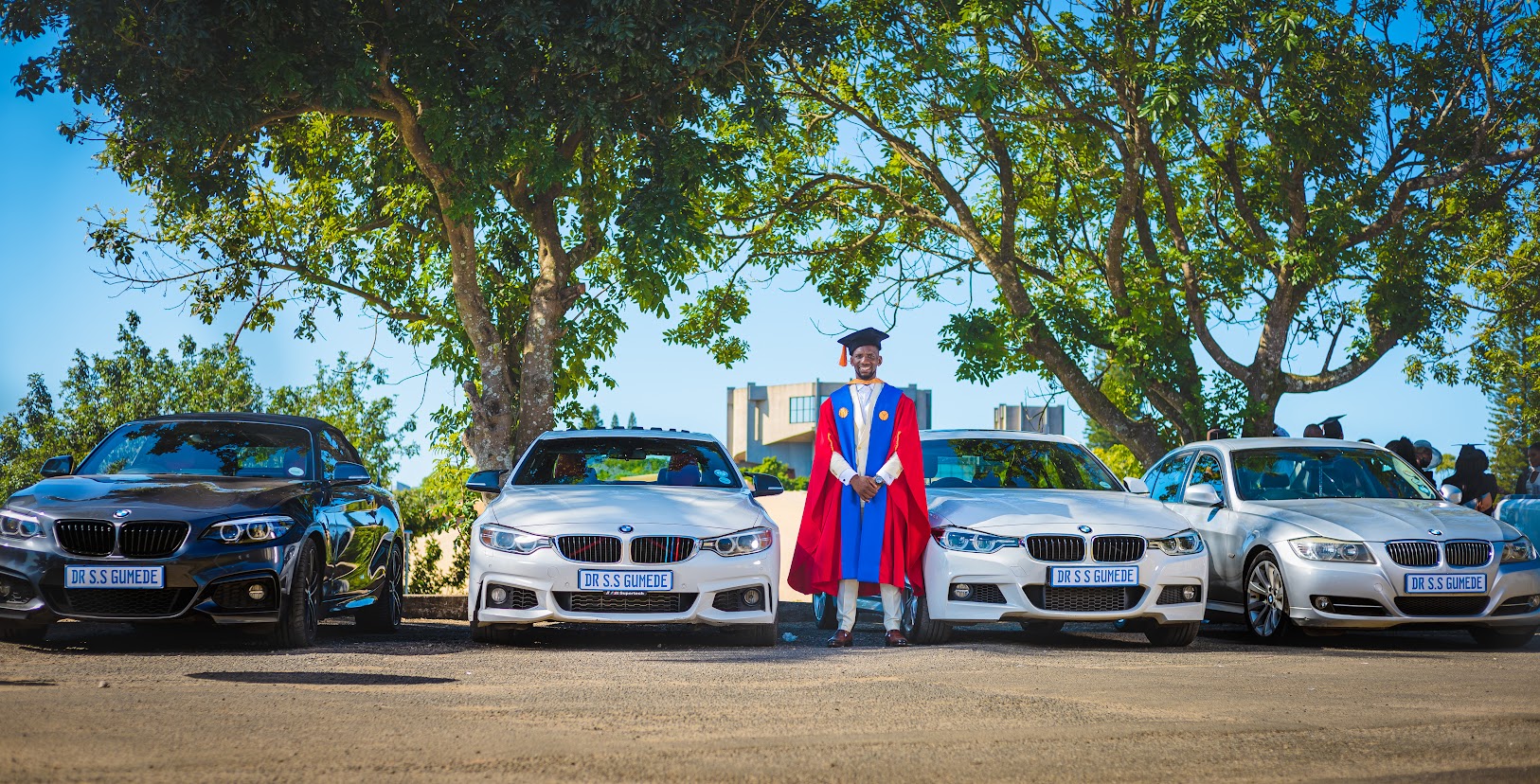 Picture a convoy of four sleek, high-speed BMW sedans slowly driving into the premises of a university. Inbetween the cars is a posh charcoal convertible. Inside it stands a debonair graduate adorned in an expensive cream suit, proudly carrying his red graduation gown. The resounding hooting of the vehicles, all sporting a uniform number plate (Dr SS Gumede), brings the loud screams of graduation onlookers to a halt. Their cheers and attention are immediately diverted to the man of the moment: Dr Sphamandla Siyabonga Gumede.
No, these are not scenes from a movie. This is exactly how University of Zululand (UNIZULU) PhD graduate Dr Gumede's grand entrance, before entering the graduation venue, unfolded. In this age of visual communication, it was to be expected that the spectacle would go viral on social media- which was the case. This was the reaction the boastful Doctor of History had intended.
"It is important to celebrate oneself. There is this tendency in our society of seeking validation from others. For me, what matters is how you see and rate yourself," he asserts.
Most importantly, the 34-year-old deemed it fit to honour himself considering the hardships he's been through in his schooling. Dr Gumede's origins are in Nhlazatshe village in Vryheid, where he was born and spent the first few years of his childhood. His parents separated after he was born. His late maternal grandmother Thobina Mbatha loved Dr Gumede dearly thus she volunteered to raise him, despite the fact that he would be the 15th mouth to feed in the household.
"That lady was so special to me. I can say I was her favourite grandchild. We did not have much, but we definitely were not poor. Yes, there were times when we would run out of food, but that woman always made a plan for me," the graduate recalls.
Over time, Mbatha's health began to deteriorate, so young Dr Gumede had to relocate. His heart was wrenched. The move came with an advantage: a relief from his weekly routine. He would always cry when he had to wake up at 4am to get ready for school in the winter season. Braving the chilly morning weather while travelling to school for one hour and a half on foot was difficult to bear. The graduate went to live with Mbatha's younger cousin who, together with her husband, lived and worked on a farm near the Vryheid CBD. It was in this new setting where his character was shaped. The farm owner, Thys Odendaal, and the farm manager, Terrence Jansin- who are both deceased- were fond of him because of his excellent behaviour. On weekdays, Ondedaal would drop Dr Gumede off at his school.
"He did not tolerate any of the children in the farm missing school because he valued education. This is where my love for education was developed," he says.
On weekends, the scholar would lend a hand in the various sections of the farm and was generously compensated. This experience taught him responsibility, a trait that would continue to distinguish him in high school, at university and in the workplace.
After completing primary school in 2004, Dr Gumede relocated to Ongoye area in Empangeni to live with his father. He registered at Sihubela High School, where his friendly and boisterous demeanour instantly gained him popularity. He also made an impression on his teachers as one of the top learners. His fate would soon change.
"In grade 10, my whole life changed. I was in class one day then my vision was suddenly blurry. I felt an excruciating pain around my sockets; it was as if someone was sticking millions of needles in the area all at once. This problem persisted until I was in matric. It was strange because it would affect me only when I was at school or when I wrote tests and exams. As a result, my performance in matric was poor because I was unable to complete any of my exams," the scholar sombrely remembers.
His dream of studying towards a communications degree in 2010 was deferred since he had not met the entry requirements. With doctors struggling to diagnose his illness, he resorted to seeking spiritual intervention from the Shembe denomination, which significantly decreased the episodes. Not one to easily give up, Dr Gumede upgraded his marks at a finishing school. In 2011, he then began his journey towards obtaining a Bachelor of Arts in Communication Science and History. To gain insight into the world of communications, he volunteered in the University's Communications and Marketing Division for the bulk of his undergraduate years. His dedication and zeal made him an obvious choice for an intern position that eventually became vacant. Subsequent to that, he was appointed as a communications assistant/receptionist. He would later become popular all around the University for his impeccable execution of his photography duties. Securing the new position coincided with his enrolment for an honours degree.
"Working and studying at the same time takes discipline. This was especially important when I started my PhD journey. Thankfully, I had a great support system, my supervisor Dr Maxwell Shamase; my understanding director; family; friends; partner and the UNIZULU Vice-Chancellor, who always motivated and pushed me to complete my PhD. Prof Mogomme Masoga and Prof Allucia Shokane also played a vital role through organising academic retreats for PhD candidates in the Faculty of Humanities and Social Sciences," notes the graduate.
The South African Humanities Deans Association which is a derivative of the National Institute (NIHSS) for the Humanities and Social Sciences is also worth acknowledging for awarding the scholar with a three-year scholarship. Dr Gumede is also grateful to Prof Paulos Zulu, the NIHSS mentor for the KZN region, for his constructive criticism. The scholar is intrigued by political history. Thus, his honours, master's and doctoral studies were based on this area. For his PhD, he focused on "the role of the South African Communist Party in the struggle for liberation in South Africa from 1921 to 2015". His studies have all revealed one crucial and worrisome fact: political parties have completely strayed from the vision of the founders. Gone are the days of working towards liberating the masses from the chains of poverty. The graduate believes that the government of the day should employ young scholars as advisers. Their "solution oriented" mindset would help bring the change the country is in dire need of.
Besides his academic and professional careers, Dr Gumede is also a responsible citizen. He co-founded and directs Inkazimulo Foundation, a non-profit organisation which assists matric learners in Vryheid with extra classes and all aspects of university entry. He is also greatly concerned about the rising cases of gender-based violence (GBV) in the country. On 9 August 2021, he ran 53 kilometres (from Paulpietersburg to Vryheid) to raise awareness about the scourge. The following day, he donated sanitary towels to three schools in Vryheid. A multi-faceted man, Dr Gumede is also a fitness enthusiast who helps many others on their journey to achieving a healthy lifestyle.
On what the future holds, the graduate counted publishing more research and collaborating with other scholars.
Pertaining to other areas of his life, he shares that he is writing that script as he moves along. If his graduation extravaganza is anything to go by, one can almost be certain that the events to follow will be worth seeing.
– Naledi Hlefane